Without fail, almost every day my children hopped into my car after school the very first thing that would as is "did you bring any snacks?"
Despite the fact that they go to school with a very full lunchbox every day that includes a SNACK for the afternoon, they are always starving when they get home. I'm often really worried they might start chewing on their seatbelts sometimes. We're talking that hungry!
We're a busy family and much of the time we do the typical after school snacks ; granola bars, fruit, cheese sticks and such. But sometimes it is fun to change things up a bit. Plus, I swear the more interesting the snack, the more likely they are to stay full until dinner time.
However, did you just hear me mention "busy". Yes, like all families today, we are B-U-S-Y. Our schedules are hectic and I don't have too much time for getting creative with food. But I did track down some super easy after school snacks for busy families that are fun without too much fuss.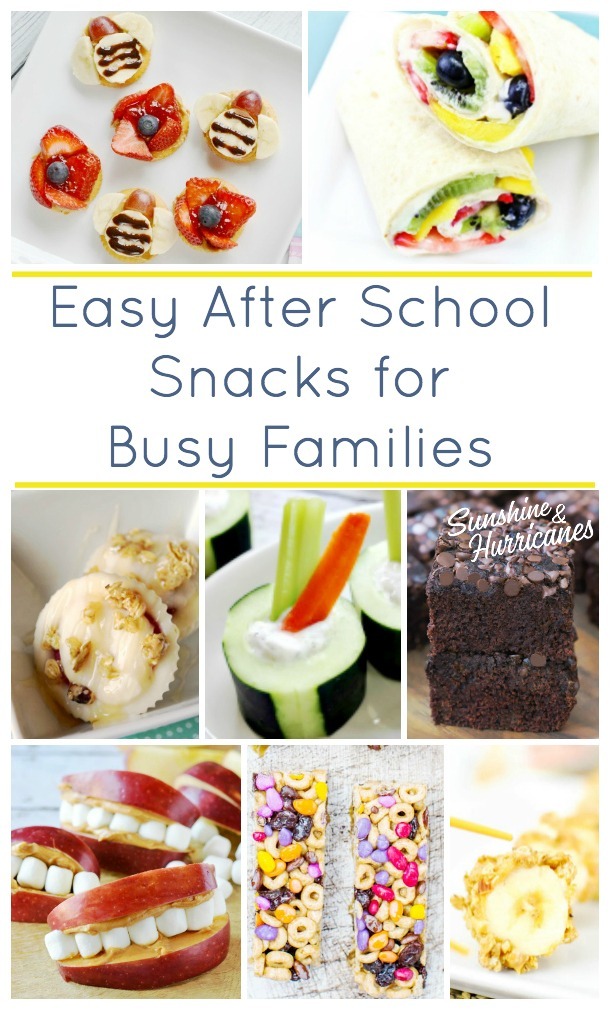 Easy After School Snacks for Busy Families
Banana Sushi Rolls – Mommy Musings
Apple Peanut Butter Teeth Snack – Mom Foodie
Cucumber Dip Cups – Eating on a Dime
M&M Energy Bites – Lemon Lime Adventures
Bumble Bees and Flowers Snack – A Mom's Impression
Froyo Fruit Cups – Who Needs a Cape?
Cereal Bars – I Heart Naptime
Fruit Wrap – Natural Beach Living
Chocolate Banana Cake – Chocolate Covered Katie
No-Bake Honey Nut Cherrios Snack Bars – Averie Cooks
Parmesan Zucchini Crisps – Yellow Bliss Road
Pizza Pinwheels – Yellow Bliss Road
Kid-Friendly Charcuterie Board – The Gingered Whisk
Peanut Butter and Jelly Tacos – Homemade Interest
Fruit Pizza Crackers – Sunshine & Hurricanes
Cucumber Stacks – Lil Luna
Animal Cracker Parfait – Fun Learning Life
Chocolate Whole Wheat Muffins with Pear – Baby Foode
Cereal Yogurt Bark – Hello Wonderful
Chunky Monkey Bites – Living Well Mom
Feeding a busy family isn't easy, whether it's snacks, lunches or dinner. Let's make it a little easier for you:
20 Fast Dinners for Busy Families Everyone will Love
20 Easy and Cheap Dinner Ideas For Families on A Budget
The Best Fast and Easy Sheet Pan Dinners for Families