If you've got a little one in your house, chances are they might go through a dinosaur stage….or craze! My son and one of my daughters both experienced a huge fascination with all things dino during their preschool/early elementary years and my living room resembled the set of Jurassic Park for weeks on end, minus the blood & gore.
I wish I'd figured out how to make these super fun Dinosaur Discovery Eggs when my son was younger but honestly, he's had a pretty good time with them during his younger sister's dinosaur period, even though he's a tween these days! Whether it's a classroom science project or a way to keep your scientists busy on a rainy afternoon, these Dinosaur Discovery Eggs are loaded with fun and learning!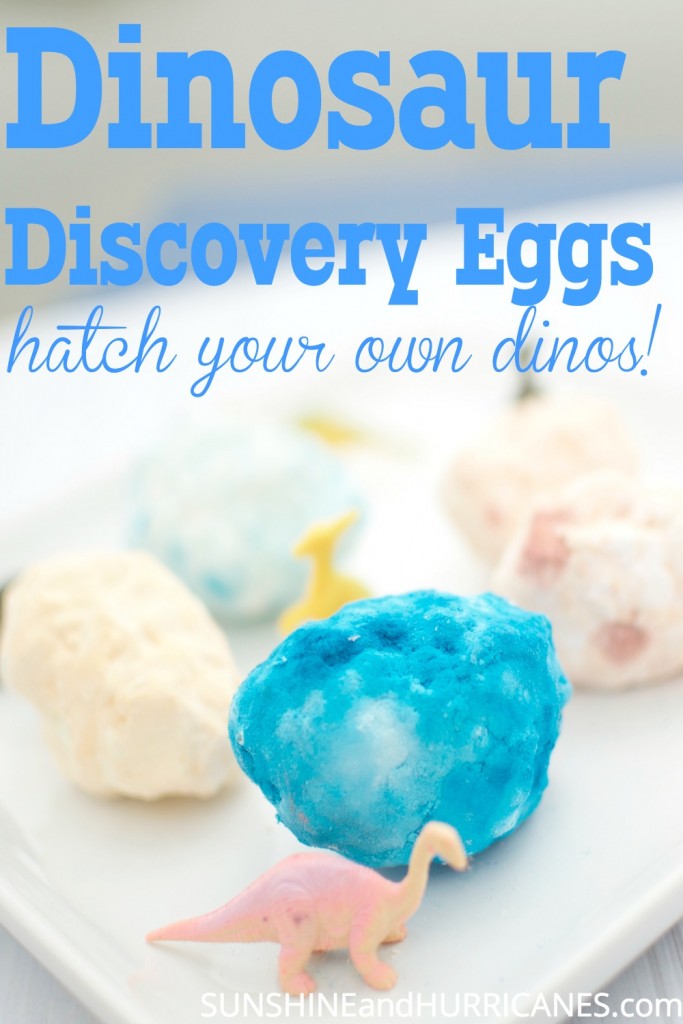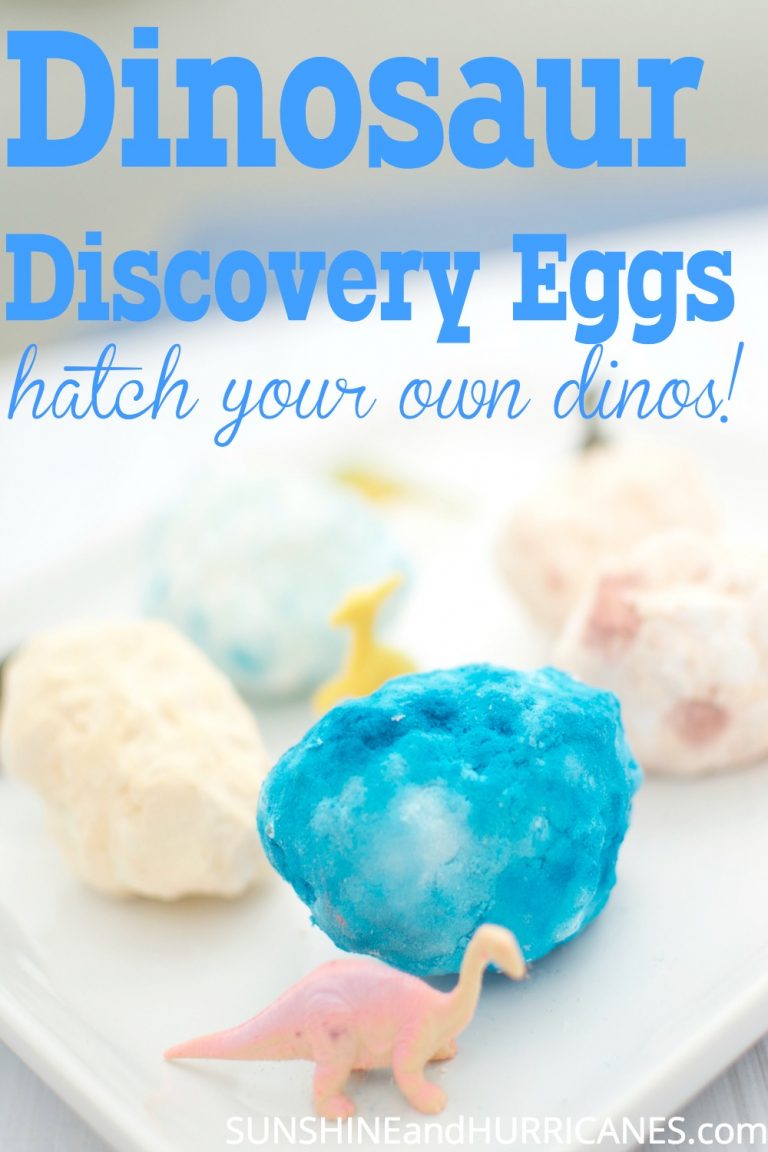 Dinosaur Discovery Eggs
I originally made these DIY Surprise Eggs and filled them with Shopkins, Disney Tsum Tsums, and even Minions because I thought they'd be an awesome Alternative To Birthday Party Goody Bags and they were a HUGE hit with the neighborhood kiddos. My son remarked that our Surprise Eggs reminded him of dino eggs and this version was born!
My favorite part of this little project is that it only requires 3 everyday household items that I'm guessing you already have on hand: baking soda, vinegar, & food coloring.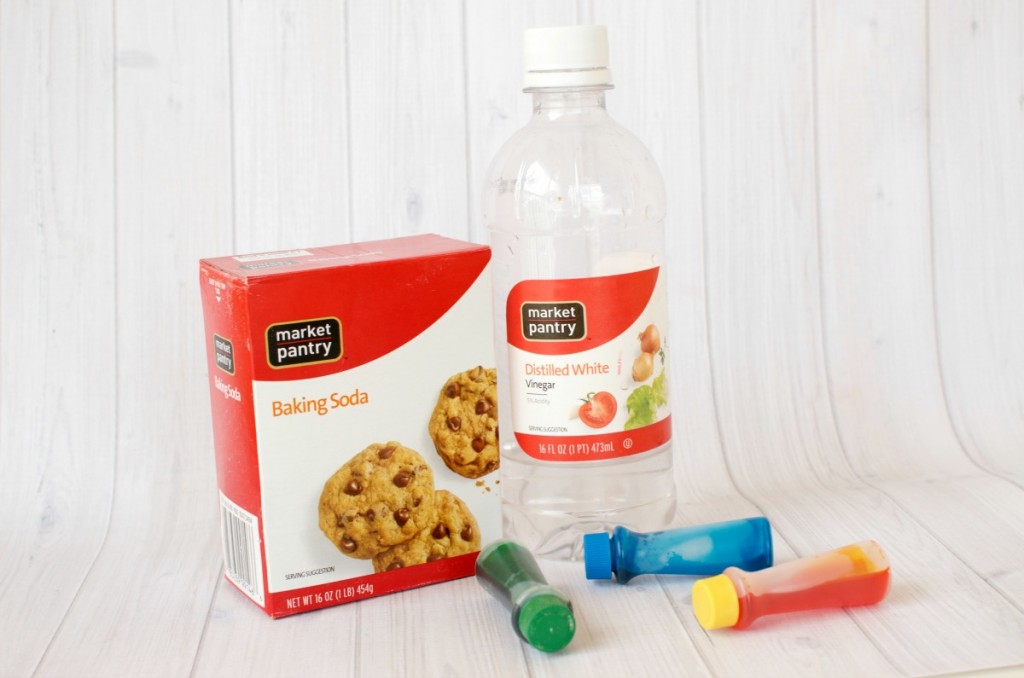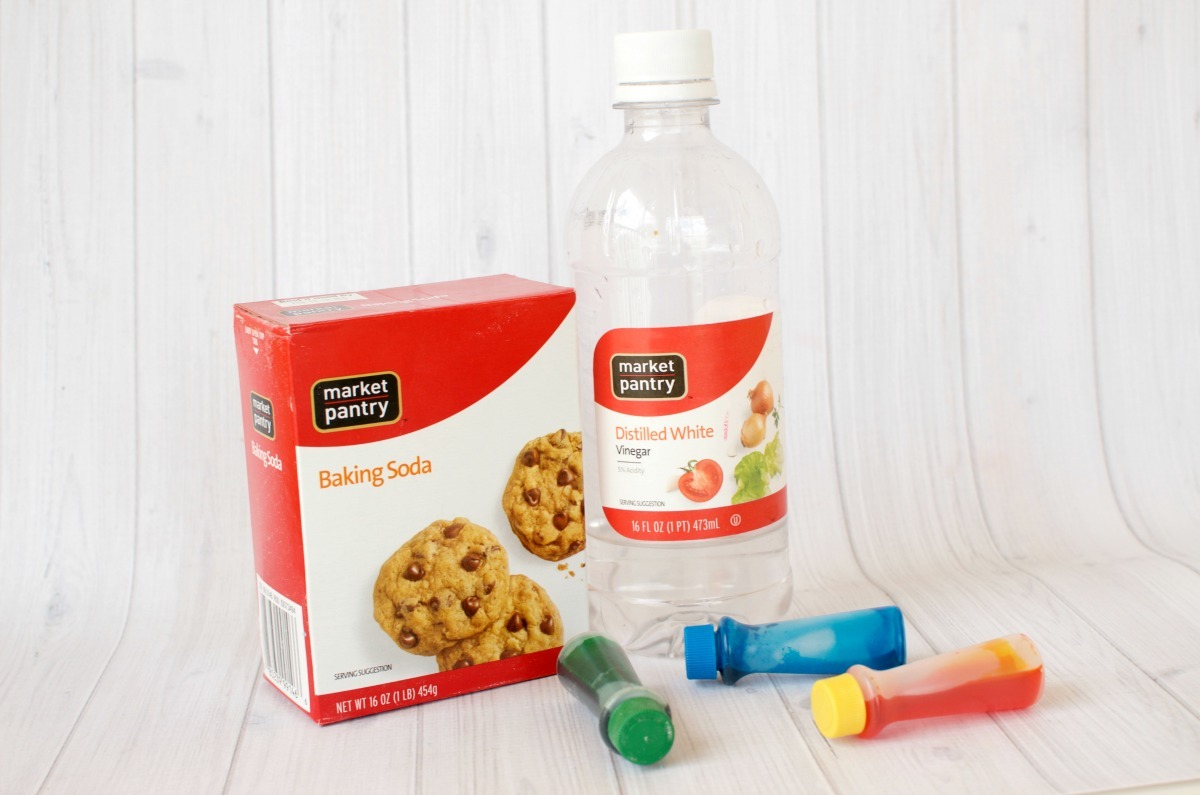 Combine 1 cup of baking soda and 6-10 drops of food coloring in a medium sized bowl. Try to distribute the color throughout the baking soda by mixing it with your hands, then slowly add 1/4 cup of water, a little at a time. I started out using a spoon but my hands worked far better!
Now that your mixture has formed a soft dough, the real fun begins!
Place a little bit of dough in the palm of your hand, add a dino, a bit more dough and form into an egg shape. Allow the eggs to dry on a baking sheet for at least 24 hours or until you're ready to open them!
Now for the best part, here is how to reveal the fun prize inside your DIY Surprise Eggs. Just pour some vinegar over them and then watch as the colored shell dissolves. When only a little of the shell remains, kids can use their fingers to crack away the last bits and find the hidden dinosaur inside.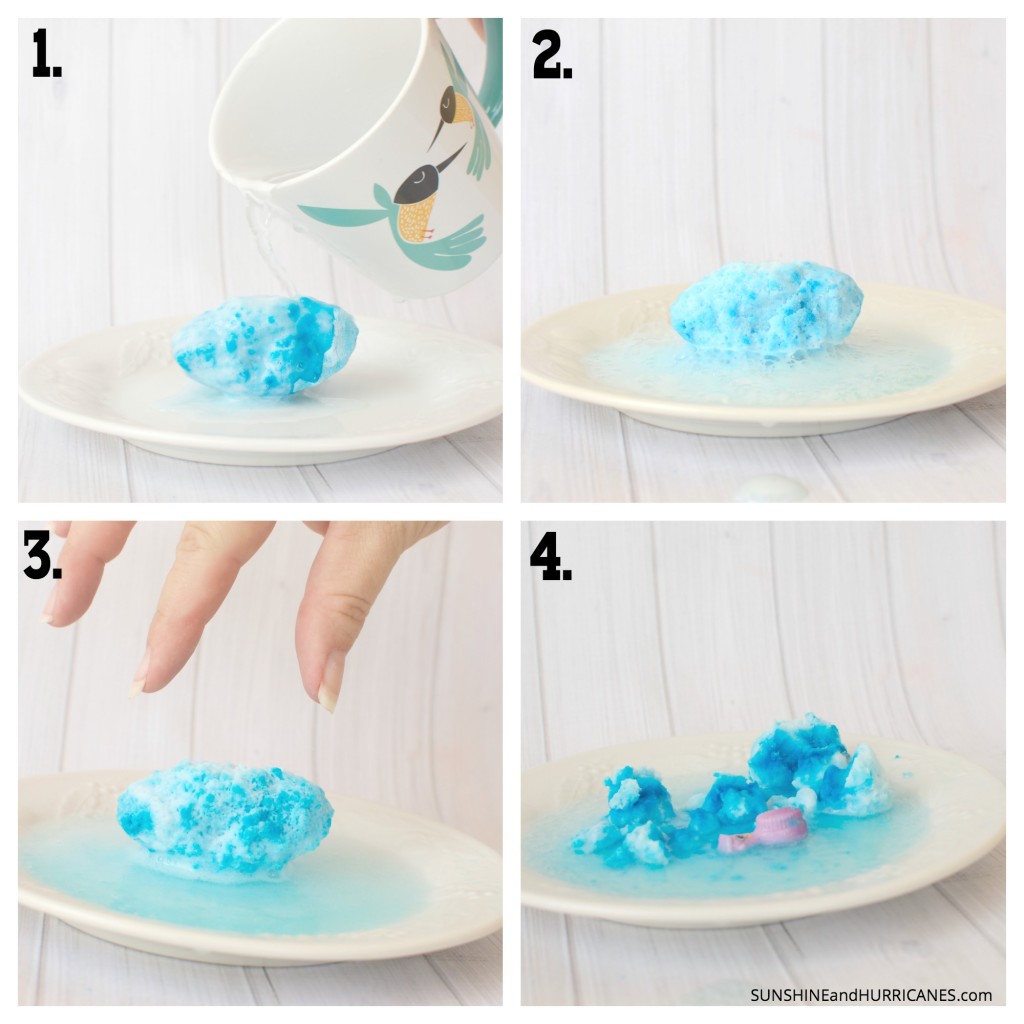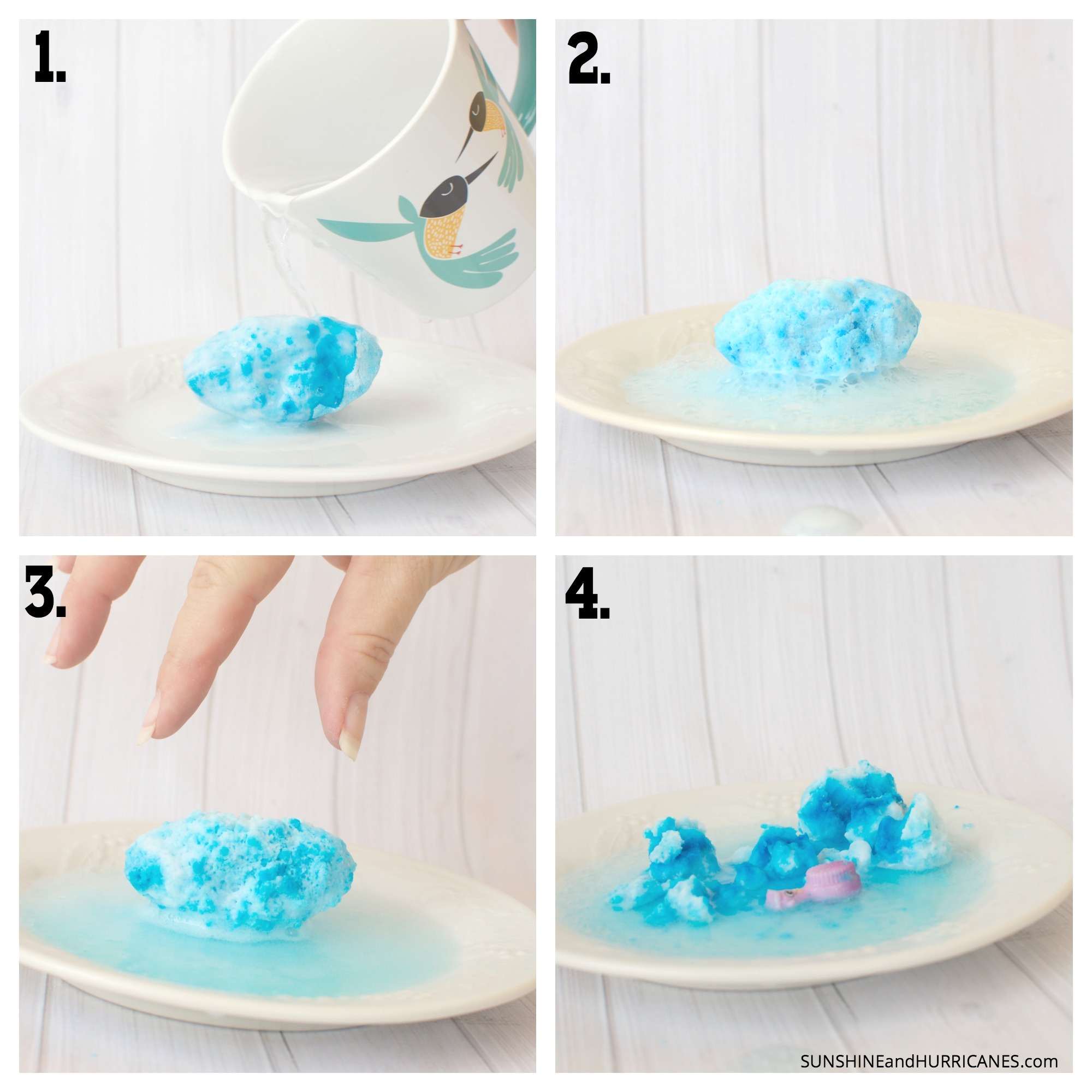 I wound up creating a set for my daughter's preschool class and they were absolutely mesmerized with the entire process. This is a fabulous project for use in the classroom, Summer camp, or anytime you need to occupy curious children.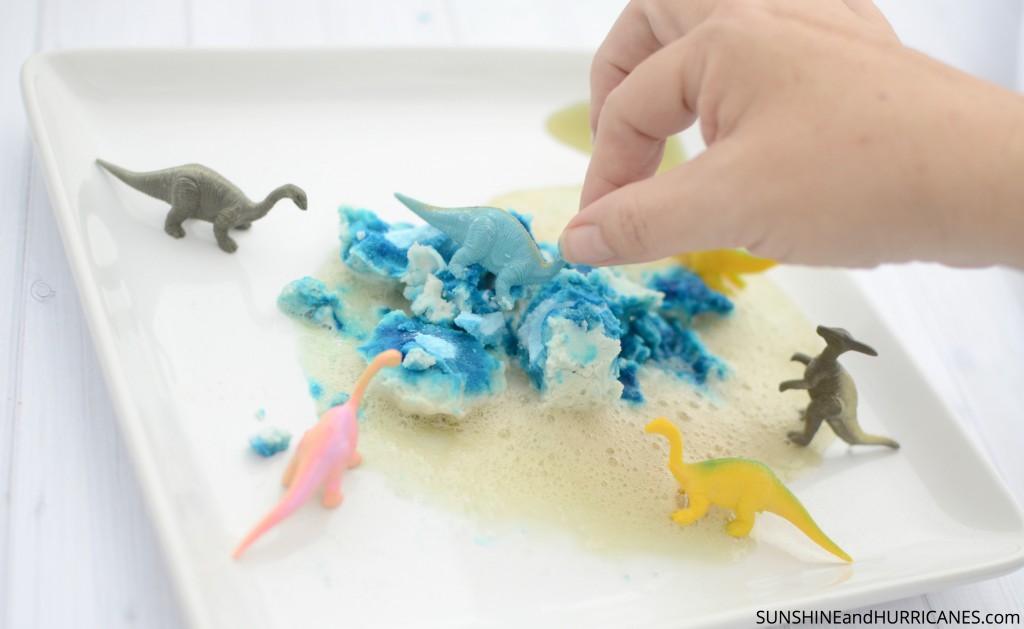 We've got more clever suggestions that promote hands on learning, check out our Lego Challenge Game, with FREE printable cards, an Easy No Sew DIY Teepee, and EASY Paper Plate Flowers .