Here's a fun way to beat the Summer heat or the Winter blues: build a No Sew Patchwork Teepee using some easy DIY skills! This project was so fun to create and our whole family helped which made it take longer even better. This was also a pretty inexpensive endeavor because I had a stash of fabric from my compulsive fabric buying days. SIDEBAR: I generally purchased any fabric that was $3/yd or less, regardless of what it looked like, don't judge the flashy patterns you're about to see.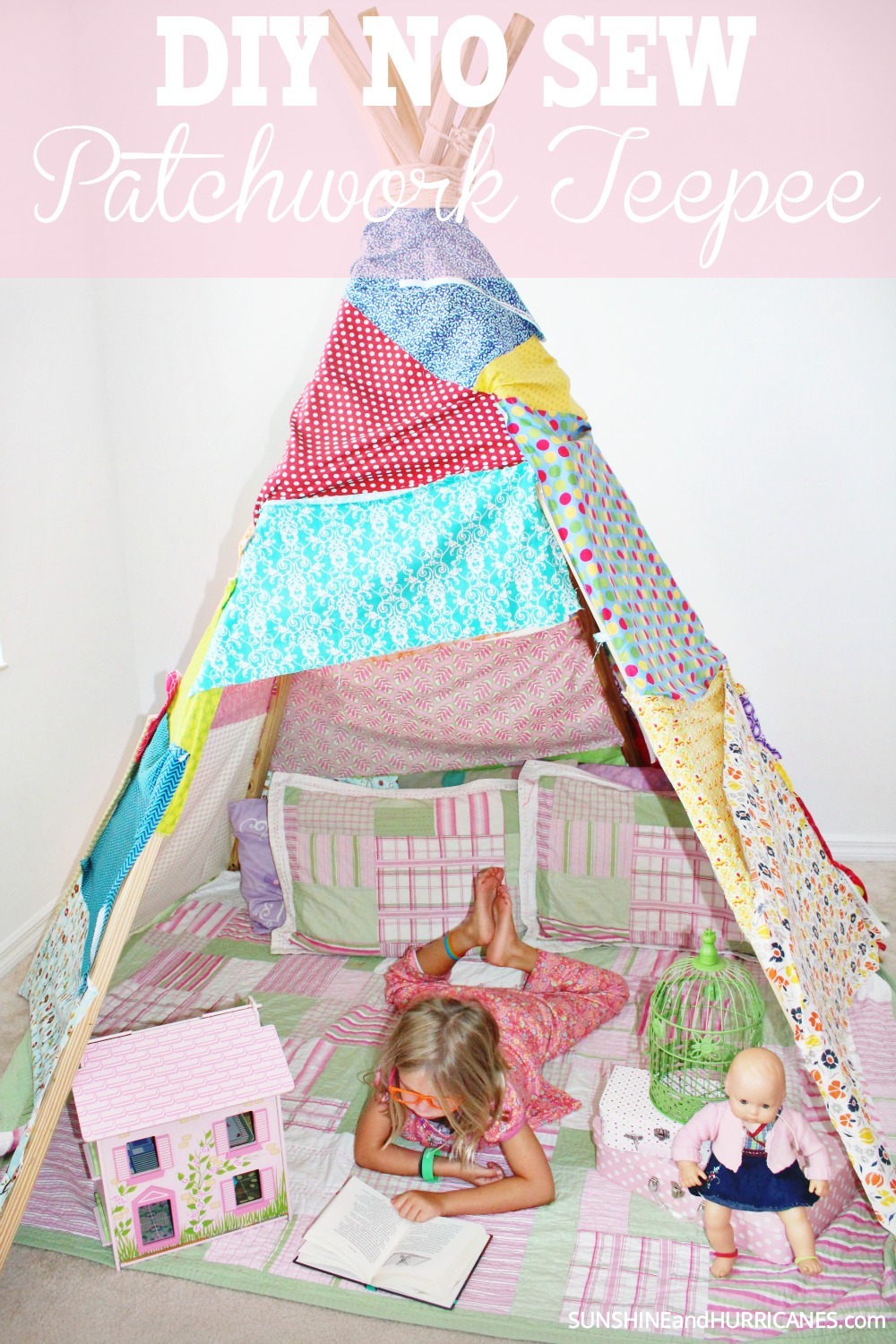 My favorite thing about this activity is that perfection is not required. It's definitely a laid back way to create some fun without worrying about measured angles, precise fabric cuts, or pattern clashing!
No Sew Patchwork Teepee DIY Materials:
6 pieces of 2x2x8 wood
random fabric pieces
drill with a 1/2″ bit
sisal rope
staple gun & staples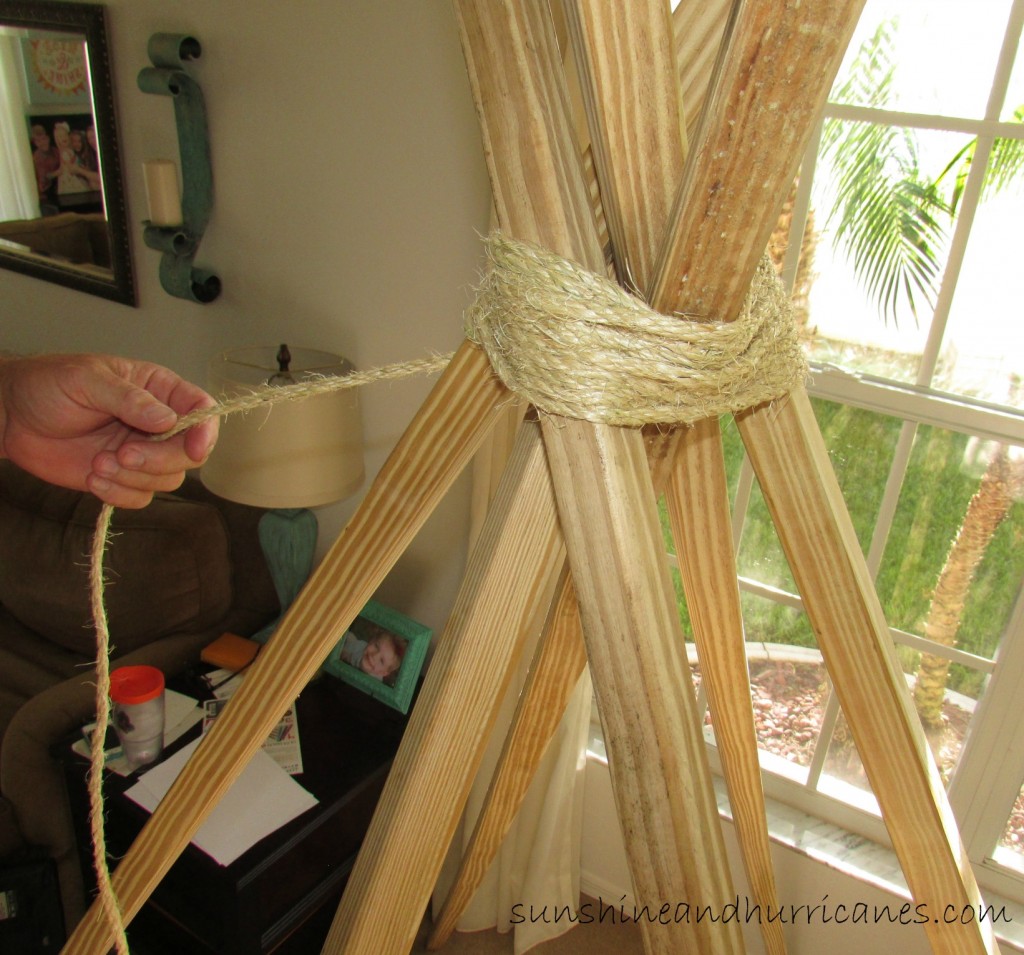 Step 1: Drill a hole 12″ from the top on each wood pole, bring into the house for assembly. Run the rope through 1 pole, then another, crossing the wood at the top in a teepee design. There really is no specific formula for this, weave your rope through the holes and ultimately around the 6 poles, adjusting the wood for a basic teepee shape as you go. It was helpful to have a few hands positioning things until we had the basic shape in place. After you've wound the rope multiple times, tie it off with an overhand knot or whatever knot you know how to make.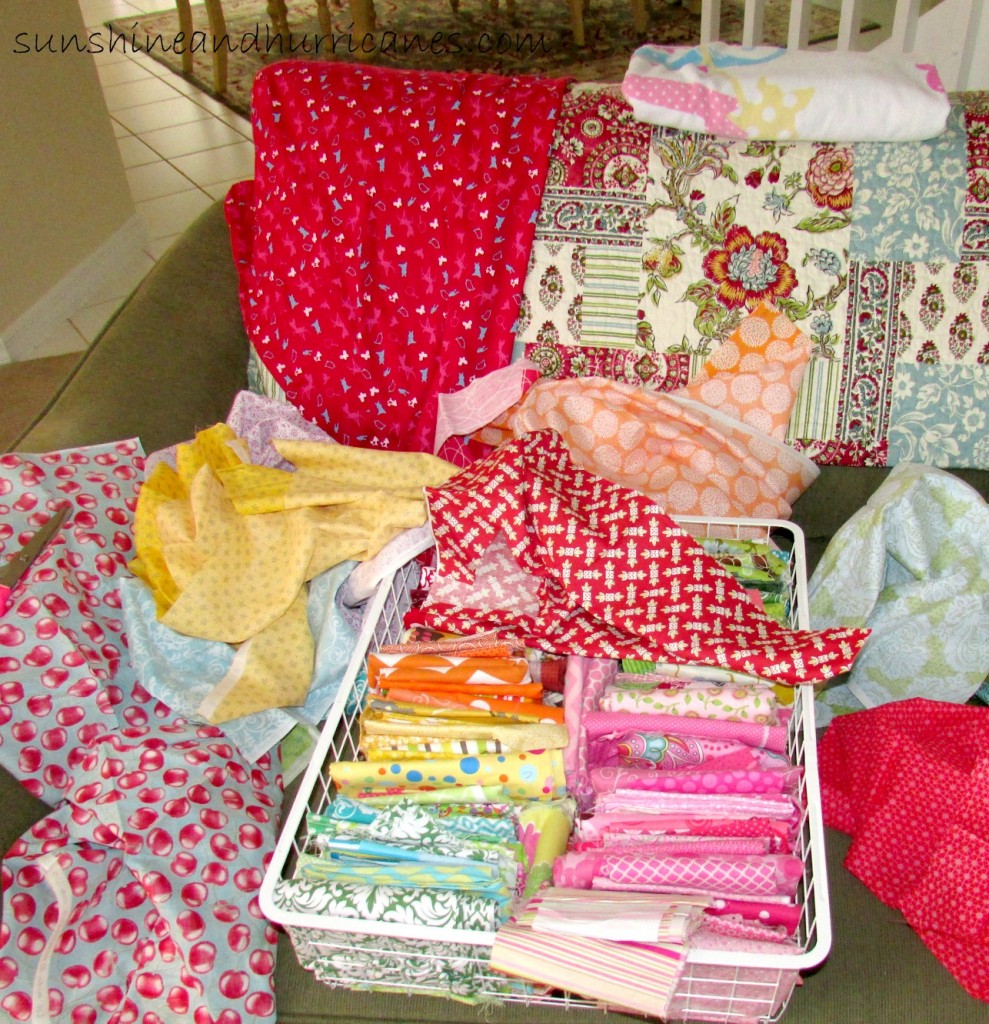 Step 2: Now the fun starts! Lay out your fabrics and start with the smaller pieces for the top. Position them across the wood and then staple them to the wood with the gun. Sometimes we wrapped the fabric around the pole and stapled, sometimes we didn't. We kept the fabric as taught as possible when stapling, layering and overlapping as we went. Again, there isn't a specific way to do this, just grab the fabrics you like and start stapling. All my kids took turns choosing fabrics and getting under our feet helping as we attached.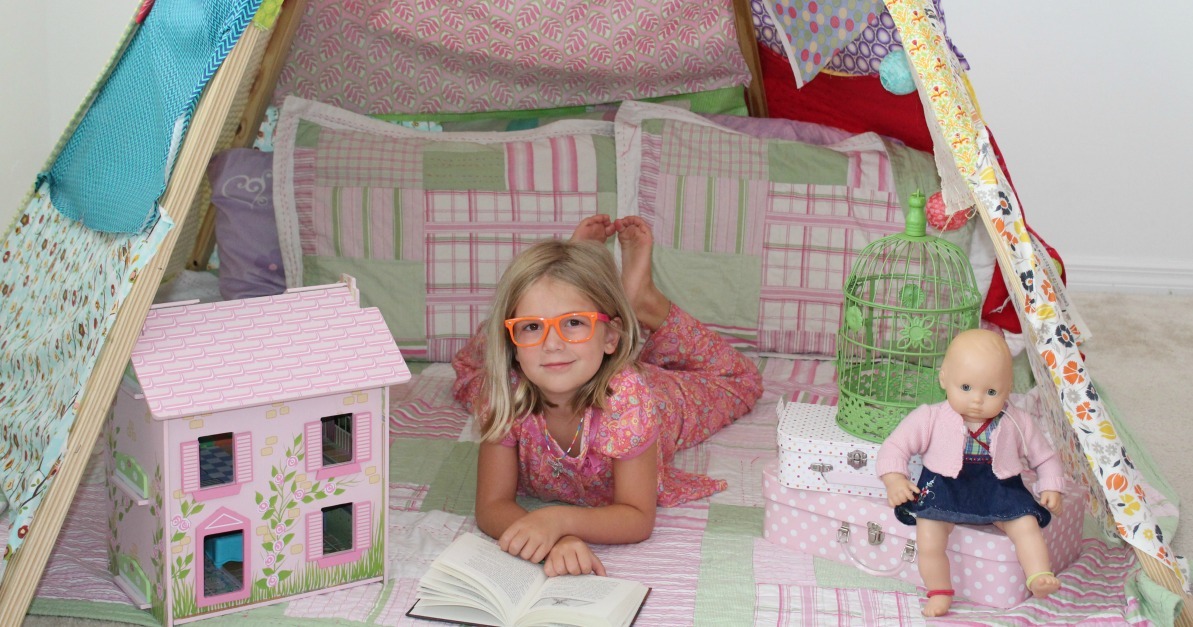 Step 3: Trim off any pieces that seem out of place or are making you unhappy, staple pieces that are too loose for your liking and be sure to take a good look around the inside for any extra loose pieces that certain 3 year olds may feel the need to yank on, you know, should you have that certain type of 3 year old.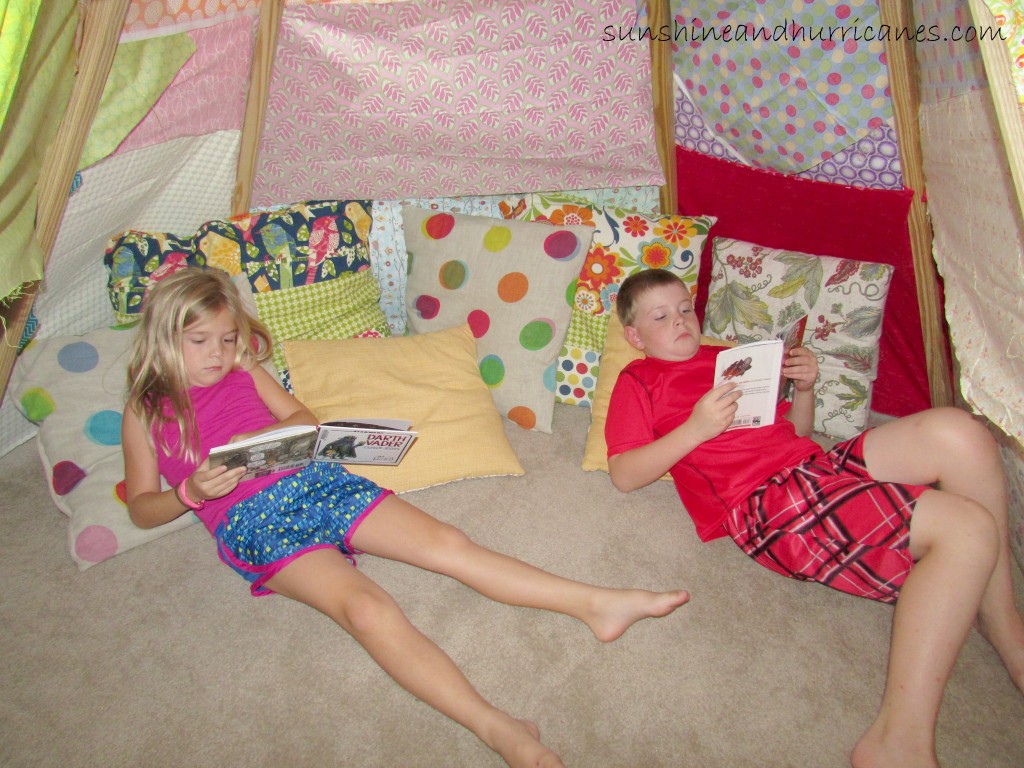 Step 4: The kids piled some pillows in there and also want to hang a string of little lantern lights for night time use. I've dubbed it the "Reading Teepee" and explained how fabulous it would be to lay quietly in there and spend quality time with books…they've embraced that theory but have also informed me it's a Jedi Temple, a princess castle, and an Indian teepee on the frontier, no cowboys allowed. Whatever it is, I love the colors in what was an empty corner of our living room & had fun busting up my fabric stash while creating something fun!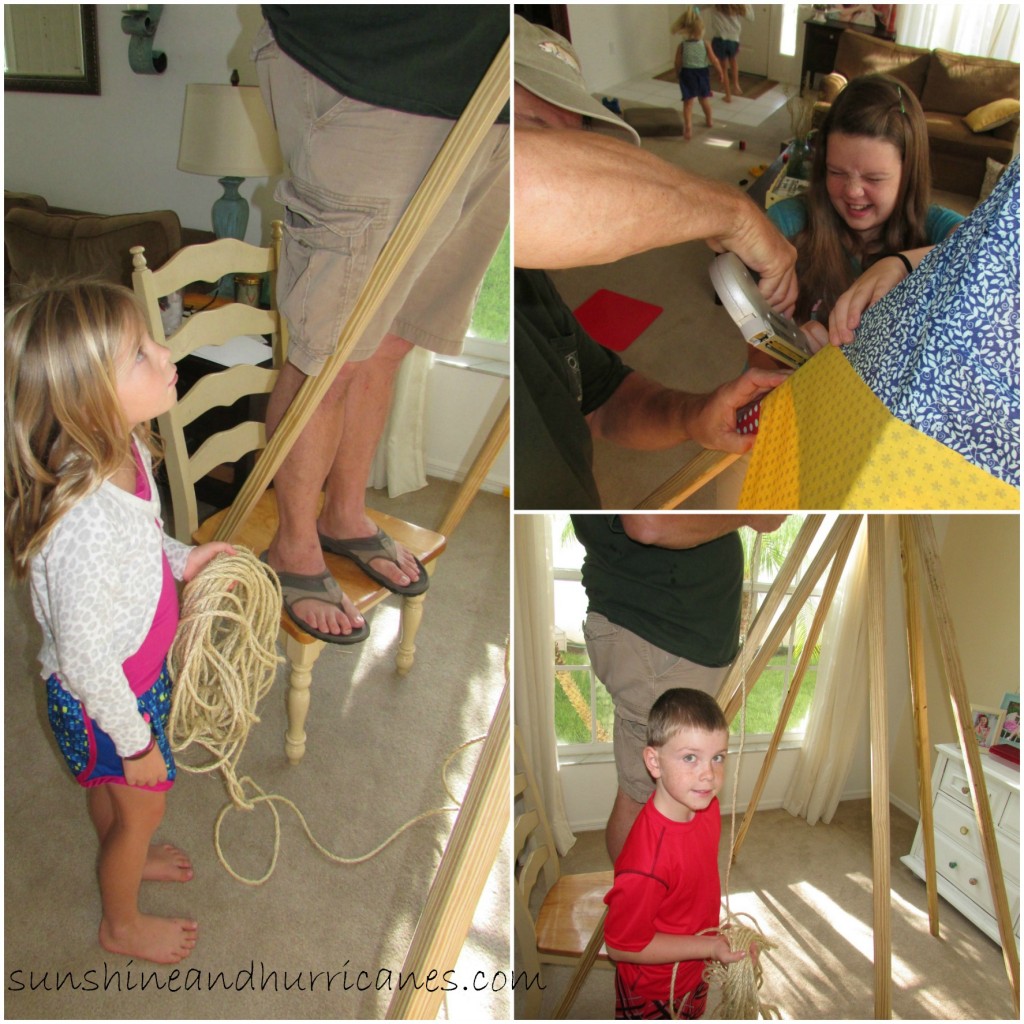 This would be a fantastic project for Dads to complete with the kiddos, like we mentioned over here.
A few more pics because I just LOVE all the happy colors!!!!!!!!!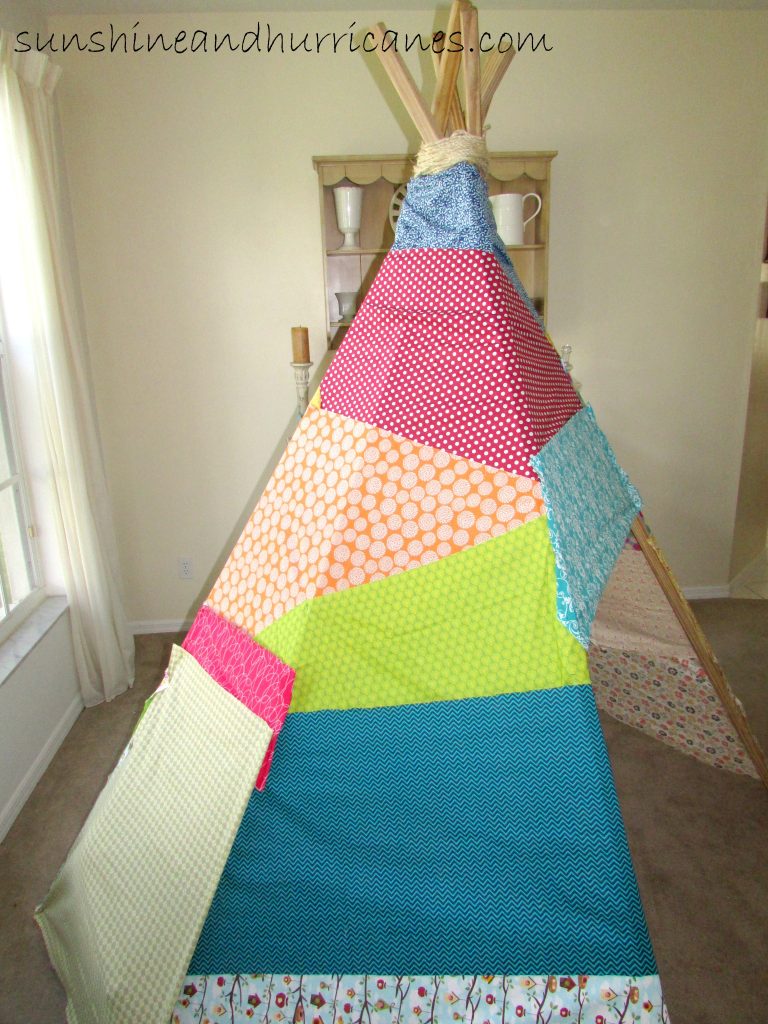 The Handmade Home also has a fun take on a No Sew Teepee, I saw it several months ago and it inspired this activity!