Silly pet tricks, laughing babies and MINECRAFT tutorials are just a few of the things kids today LOVE to watch on YouTube. This video based social media website is yet another area of technology that our children have embraced with enthusiasm, but that we as parents need to monitor and set-up for their safety. Here's what you need to know about YouTube for Parents: Safety, Fun and Learning.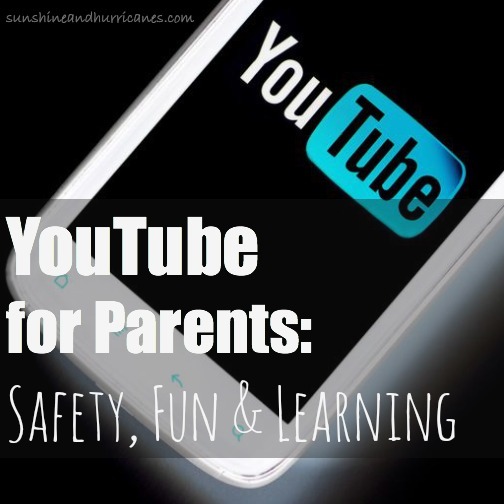 YouTube can absolutely be a fun experience for our kids (and us too!) as well as a place for them to gain some amazing knowledge. Here are just a few ways we use YouTube in our family:
1. Ideas for New and More Complex Lego Creations
2. Instructional Videos for Projects (This was HUGE for rainbow looms)
3. Insider Tips for their Favorite Games (Minecraft, Pokemon, Harry Potter, you name it)
4. Supplemental Academic Resources (phonics,nursery rhymes, math concept tutorials)
While there are tons of great resources on YouTube, it is still a social media website that has limited filtering of its content. As parents, we have to be aware of what our kids are searching for and watching. Simple searches that may seem innocent enough, can turn up results that are anything but age appropriate.
In addition, some people both intentionally and unintentionally include inappropriate language and images in videos aimed at children that aren't always immediately evident. Luckily, there are several tools and tips for parents that can make YouTube a safer environment for our kids.

YouTube for Parents
SAFETY FILTERS BY DEVICE
First, there is a simple setting that can be found if you scroll to the bottom of YouTube's main page when using a desktop computer. Here you'll find a little box labeled "SAFETY." You want to switch that to the "ON" position.


Since more and more kids are using YouTube on mobile devices or iPads, for those devices you'll have to take a few different steps.
If you're child is using a browser and not an APP to access YouTube
Once on the YouTube mobile site:
1. In the upper left of the screen you will see an arrow in a red box with "You Tube" directly after it – Click the Arrow
2. A menu you will pop up with an image of a small gear in the upper right – Click the Gear
3. You will now be at a MENU with SETTINGS as the first option. Just below will be an option for "SAFETY MODE" – Switch it from "OFF" to "ON". (just touch the word "off" and it will change it to "on")
If your child is using an APP on an iPhone, iPad or on an Android Phone, Safety Mode is Not Available. However, You Can Set-Up Safe Search
On an Android:
1. Go to MENU then to SETTINGS then to SEARCH then to SAFE SEARCH FILTERING
2. Change the SAFE SEARCH FILTER to "Strict" (there is moderate option, but especially for younger kids 'strict' is optimal'
On and iPhone or iPad:
1. In the top left corner are three bars (this is the menu) Tap the Bars
2. A Menu will open with a picture of a gear in the top right corner – Tap the Gear
3. The very first options will be "Safe Search Filtering" and then the words "Don't Filter" to the Right
4. Tap "Don't Filter" and then select "Strict"
Watch it With Them or Watch it First
I wish keeping our kids safe from unwanted content on YouTube was as easy as flipping on those safety filters. Unfortunately, while it definitely will eliminate many of the potential hazards for children, it's not perfect. Even YouTube's own disclaimer states "No filter is 100% accurate." At the end of the day, it still is going to be a better option if you watch videos on YouTube with your kids or pre-screen them before they watch. Over time, as you and they become more familiar with YouTube, you'll begin to identify certain individuals and channels that you can rely on to be kid friendly. At that point, to give them and you a little more freedom, you can consider setting up subscriptions on YouTube for favorites. This will allow them to go directly to the pre-approved content in the future, rather than having to search.

How to Get Started with Kid Friendly YouTube Videos
If you're looking for a few places that are well regarded and where you can be confident you'll find quality content for kids on YouTube, here are some channels that are worth a look.
The Learning Station – Singing, dancing, and imagination games will get kids up and moving and having fun.
HooplaKidz – One of the most popular YouTube channels for the pre-school set. Nursery rhymes and other learning fun.
Disney Animation Studios – All the latest and greatest going on in the land of Disney animation.
Sesame Street – Bert, Ernie, Big Bird and even the Grouch will all be happy welcome you to their neighborhood.
Lego – The title says it all. Everything and anything you might want to know about your favorite building blocks.
Steve Spangler's Sick Science – Move over Bill Nye, there is a new science guy in town. He's dubbed the "high school science teacher we all wished we would have had." Science made fun for all ages.
Kahn Academy – YouTube is just one of the ways this non-profit is working towards its mission to provide a free education to anyone who wants it around the world. Lessons on almost any subject you and your child can imagine.
Ted Talks forYouth – Many adults are familiar with Ted Talks, but there is a series given by kids from on many fascinating topics. A good option for tweens and teens.
Want other resources to help you with parenting in today's technology driven world??
We have many great posts on everything from MINECRAFT to Apps You Don't Want on Your Kids Phone, and How to Set Technology Boundaries. Just Click this link – Technology 101 for Parents.
Also, don't hesitate to leave us a comment about what information you would like us to write about in the future. We want to hear from you about what areas of technology are creating the biggest challenges for you as a parent, so we can best meet our readers needs. Thanks for YouTube for Parents!