Please Note: We struggled with whether or not to leave this post published, because most people are seeing the title and leaving comments without having read the whole post or any of it for that matter. This is NOT about actually turning away children who are 6ft or taller from our doors on Halloween or people with special needs or even teenagers with a true spirit of Halloween.
It's more about that as a society we say we want kids to be kids and we love these nostalgia filled posts that feed our visions of this, but that we're not really seeing that sentiment through in our parenting. We're nurturing a certain immaturity in our kids long past the point that it is proper by not giving our kids real responsibilities or allowing them real freedoms that are age appropriate. While at the same time, we're giving them cell phones in elementary school with unmonitored access to the internet, letting them watch television shows and movies at younger and younger ages that are entirely inappropriate and deal with subject matter far beyond their years and demanding achievements of them in school and activities that are 10x what was required of children of the same ages even a decade ago.
We continue to feel that this is a valid perspective, although not one that is nearly as warm and fuzzy as the post that inspired this one. There is a place for both and both serve a purpose. So, the post will remain, but the ability to leave comments is being disabled.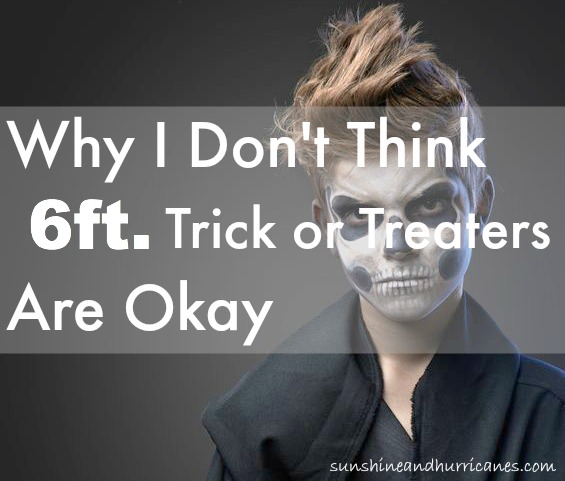 I stumbled across a post this week entitled What You Need To Know About 6 Foot Tall Trick or Treaters. In it, a mother shares the story of her 15 year old son and a bunch of his buddies randomly deciding at the last minute to go trick or treating one Halloween night. The article was widely shared and generated a huge number of positive comments, primarily from other mothers praising how wonderful it was that these young men were reclaiming their childhoods in thrown together costumes and carrying grocery store bags through the neighborhood having good ol' fashioned fun.
Many were quick to add that there should be no age limit for trick or treating and that it might even be a great way to help keep those teens out of trouble. It was one big love fest about how we should do all we can to preserve childhood for as long as possible.
While I'm all for letting our kids be kids, here's the thing. I TOTALLY disagree with the post and all those glowing comments.
I don't dispute for one minute that childhood passes far too quickly and maybe faster than ever for this generation of kids. And I'm absolutely in support of being intentional in our parenting choices so that we can try to slow things down. However, I think we should be very cautious about letting our choices be driven by romanticizing immaturity. All children develop and grow, it's the natural order of things and there is a difference between preserving their childhood and interfering with their path to adulthood.
Why is it robbing childhood from a 15 year old by coming to an understanding that at certain ages, things end? No one expects a teenager to believe in the tooth fairy or Santa Claus, or to order from the kid's menu, or to carry toys in their pocket. All of those things were fun and exciting while they lasted, but eventually there was the knowledge that the time for those things had passed. I think we're sending mixed messages when we're both guiding our maturing children towards adulthood and simultaneously encouraging them to cling to their childhoods. Perhaps this is part of why so many of our young adults today are struggling to manage the demands of adulthood.
It's okay to explain to our kids that they've outgrown something, that a season ended and a new one began. It's okay to say no. We don't seem to have any trouble letting go of buying Barbies and Legos and replacing them with iPads and Beats. We may mourn the joy of toy shopping but we stop because we realize a season ended. We don't expect our older kids to read Captain Underpants books or have the same chores they had in 4th grade, so why are we applauding when they're reverting to this behavior on October 31?
The more valuable lesson we can teach our kids is to carry the spirit of their childhood with them as they become adults, but that it doesn't mean acting like a child. Why not show them that there are still plenty of ways to have fun on Halloween as you grow-up? You can encourage your teens to help decorate the house for Halloween and pass out candy in costume on the big night. You can even host a Halloween party and let them invite some friends over, eat candy, and watch movies, if you're concerned their missing out on the holiday fun.
If a 6 foot tall trick or treater arrives at my door this Halloween, I'm not going to give him a lecture or refuse to give him candy. I'm just going to wonder as he leaves my door if he really is just a kid being a kid OR is he a kid whose parents just don't want him to grow up?