How can you go wrong with a month that ushers in the lazy days of summer, national dairy month and national donut day! Nope, totally not kidding. So, if you think a little shopping is also going to be on the agenda, keep on reading for all the hot Summer savings when it comes to What to Buy in June. There are definitely deals to be found, but be careful not to get burned by buying stuff you don't need or that isn't at it's best price of the year yet.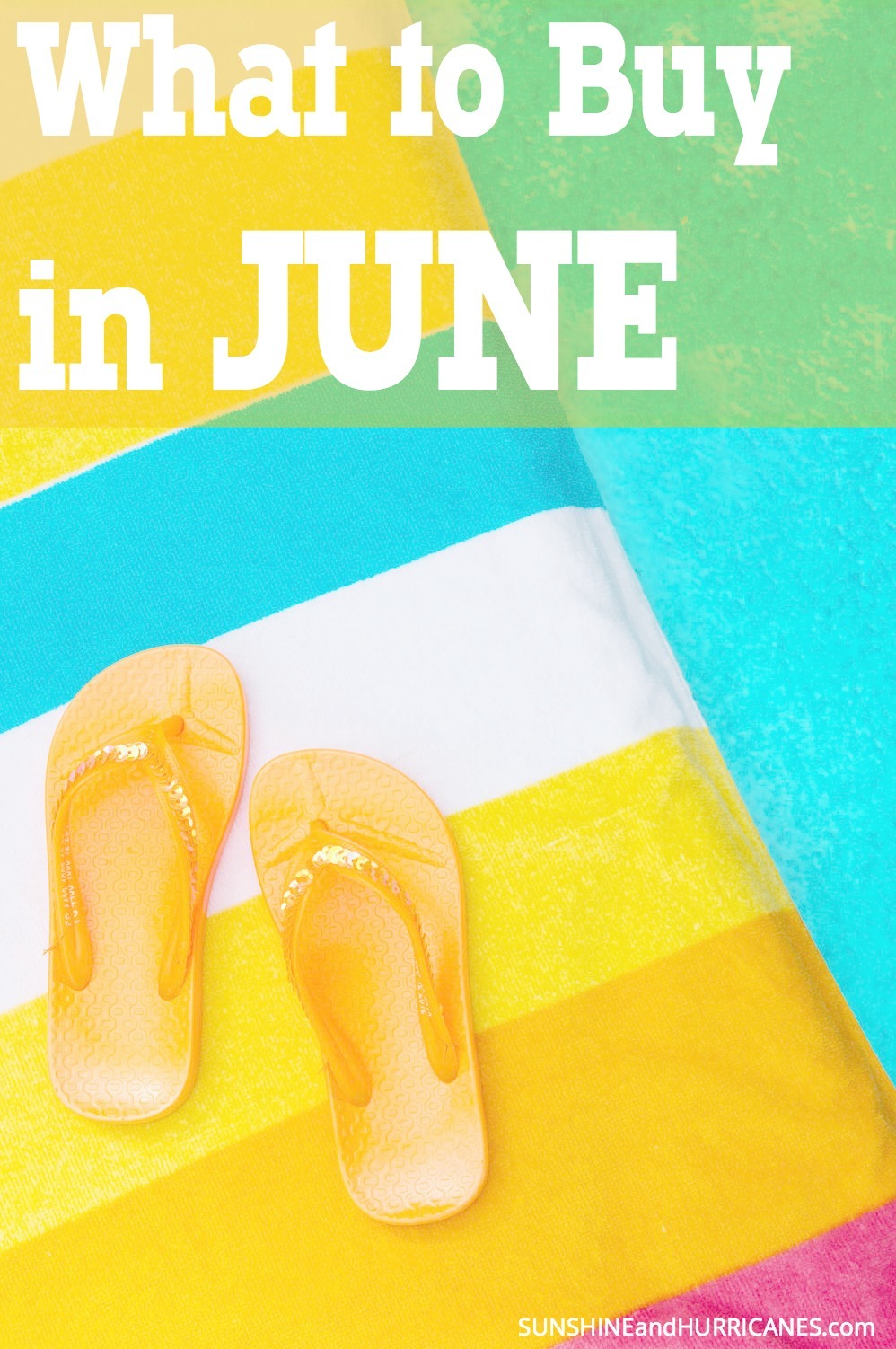 What to Buy in June
Wedding Gift Best Buys
Wedding Season reaches its peak this month, which can mean surprisingly good deals on dishes, glasses, silverware, kitchen gadgets and other popular wedding gift items. Stores want to incent those purchasing presents for a lucky bride and groom to maximize their spending. Plus, they are also hoping to entice all the spring newlyweds to pick up the items that they didn't receive and complete their registries.
Gym Membership Discounts
June doesn't just mean wedding bells; it also brings warmer weather to a large part of the country. This means in many states, exercise junkies will start heading outdoors for their workouts, which can lead to a steep drop off in new gym memberships for popular fitness chains. Floridians benefit since we trend in the opposite direction with high summer temps driving us in search of air-conditioned spaces to keep in shape. Even if specials aren't being advertised, don't hesitate to negotiate with a membership director to waive sign-up fees and to lower monthly payments. If you already have a membership that will be harder for you to use because the kids are out of school, check into putting your membership on hold for a few months. Most gyms and clubs offer this service and it can definitely save you some cash over the summer.
Father's Day Finds
Now of course, what month can pass without holidays to drive the engine of our country's consumer spending? We should all be aware of Father's Day on Sunday, June 15th. Tools are a favorite gift for many Dads and there will be an abundance of Father's Day sales offering significant discounts on everything from screwdrivers to saws. However, keep in mind that stores know the demand during this month. So, while the deals are good, they won't necessarily be on par with those of Black Friday and end of year holiday sales. Another option to consider, if you're willing to wait until after the big day and take a little bit of a risk, stores may have overstocked and be looking to get rid of the extra inventory. As a result, you could find better pricing in the last half of the month, but there is no guarantee.
Save Dollars On Dairy
June also brings us National Dairy Month. Originally established in 1937 to stabilize demand for milk during peak production periods, it has evolved into a marketing opportunity to promote all dairy products with sales and coupons throughout the month. Definitely check out coupons.com and your favorite grocer's website and in store circulars for some possibly high dollar coupons on items like milk, cheese and eggs. Coupons for these items are not that common the rest of the year and especially not in conjunction with the sales you're likely to see this month, so take advantage while you can.
Oh, Don't Forget National Donut Day Deals
Last, but certainly not least, National Donut Day falls on the first Friday of June each year. Whether you prefer pink frosted with sprinkles like my daughter or Boston Cream like my husband and son, you could get your favorite breakfast treat for free. In the past, the primary donut dealers like Krispy Kreme and Dunkin Donuts have given away donuts to commemorate this special occasion. Even if the deals aren't quite as sweet this year, you're still likely to find some discount for all you donut lovers.
Secret Sales
Whether you're looking to bring a little of the summer heat inside or you simply need to freshen up your undergarment wardrobe, put a lingerie shopping trip on your schedule this month. Every June, Victoria's Secret holds it's semi-annual sale, and most other major lingerie retailers follow their lead. This is definitely an opportune time to stock up if you're in need, but you can also hold out until November and December when comparable if not slightly better pricing will be available.
Thrifty Travel
Now that school is out, you may be looking for a few family friendly vacation options that won't break the bank. Consider a getaway to any of dozen or more nearby Caribbean destinations from the Bahamas to Belize. As we well know living in Florida, June ushers in the beginning of hurricane season. There may not be many upsides to the constant threat of these extreme weather occurrences, but it does result in reduced travel costs to areas falling in hurricane zones. Since we know it's a rare occurrence for these weather events to occur early in the summer, take advantage of the budget pricing and book yourself a long weekend in a beachside paradise. Just to be safe, use a little bit of your savings and tack on some inexpensive travel insurance.
BBQ Dreams On Hold
A few parting words for June purchases. If you're looking for a new grill, as much as you can smell the burgers and BBQ ribs, you really need to wait a little longer. July 4th Sales typically start the serious deals and then seasonal clearance won't happen until late July and August. However, having lived in Florida for almost six years, I do know that our summer clearance typically starts quite a bit earlier than in many other states. Since our kids go back to school in early to mid-August, retailers here need to make room for school supplies and back to school clothes sooner. In the past, I've seen patio furniture and other outdoor décor at Target and other big box stores go on steep discount in June. So, it doesn't hurt to keep watch over those summer related items you've got on your wish list. A surprise sale could just make your day!
Looking for Other Ways to Save? Check out These Posts:
Boredom Busters That Won't Break The Bank