Growing up, I was not a fan of tomatoes. Red sauce over pasta was the extent of my tomato consumption, I didn't even like ketchup! As an adult, I became a more adventurous eater and soon tomatoes made regular appearances at my meals.
In college, I traveled to England as part of a humanities class one Winter and we had the most delicious tomato soup at a tiny inn outside London. It was my first time trying tomato soup and it was so savory, I've never forgotten it. This Homemade Tomato Soup recipe is as close as I've come to the perfection of my first bowl and it's a family favorite at my house.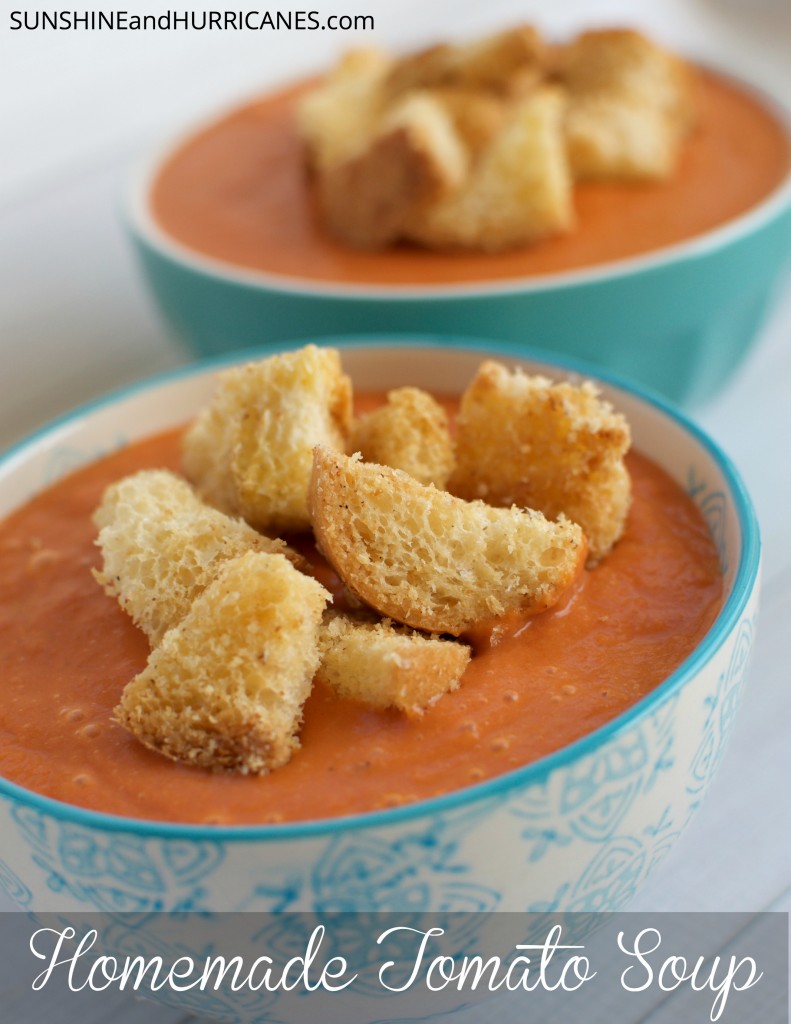 This soup has converted a few "I don't like tomato soup" folks and I'll bet your friends and family will love it as well. Fair warning: after eating this scrumptious soup, you're likely to become a fan, as will anyone you serve it to; prepare to make this on a regular basis.
Homemade Tomato Soup
This is a fairly simple recipe and I usually double it and stick a batch in the freezer or deliver to a friend.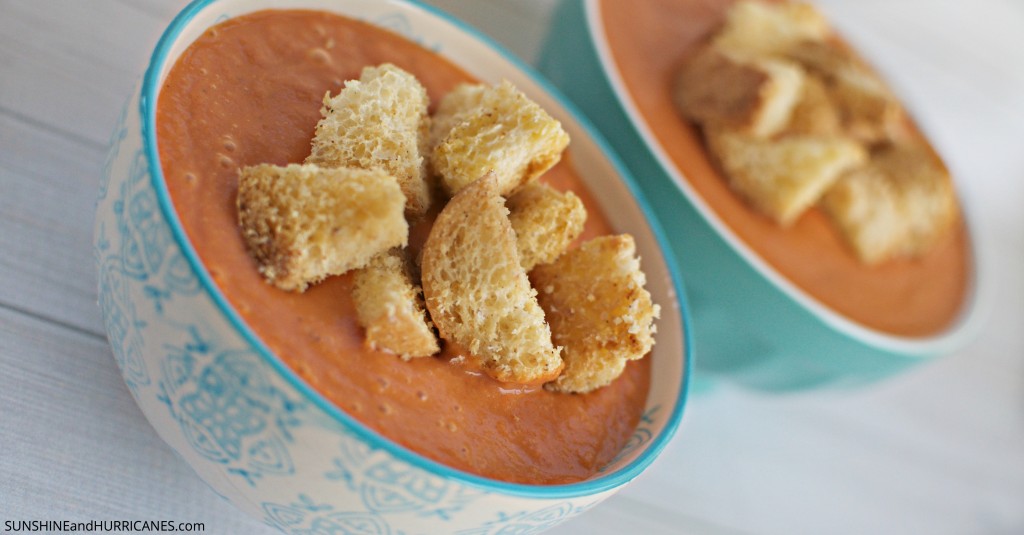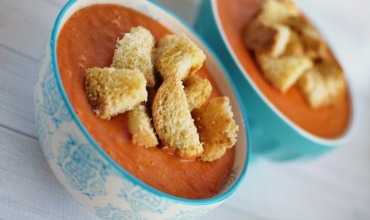 Homemade Tomato Soup
Ingredients
2

Tbsp.

unsalted butter

2

Tbsp.

olive oil

1

medium onion

sliced thin

6-8

crushed garlic cloves

5

cups

canned whole tomatoes in juice

1

C.

water

2/3

C.

heavy cream

2

tsp.

salt

1/2

tsp.

red pepper flakes

1/4

tsp.

oregano

1/4

tsp.

basil

1

T.

sugar

CROUTONS

5

T.

unsalted butter

1

small loaf Italian or French bread

Salt

pepper, & garlic powder
Instructions
Heat the butter and olive oil in a large saucepan and sauté the onion and garlic until the onion is translucent, approx. 5 minutes. Add the tomatoes, water, cream, salt, red pepper flakes,oregano, basil and sugar. Bring to a boil, then lower the heat to a simmer and simmer for 15 minutes.

Remove from the heat and puree in batches in the container of a blender. Return the soup to the pot and reheat to a simmer, seasoning to taste with more salt and pepper.

Meanwhile, to make the brown butter croutons, preheat the oven to 350°F. Heat the butter in a small pan over medium heat and cook, stirring often, until the butter is golden brown and aromatic, about 3 minutes after the butter melts. Remove from the heat. Put the bread cubes in a bowl and pour the brown butter over them, tossing to coat. Season to taste with salt, pepper, and garlic and toss again. Spread the bread cubes on a baking sheet and place it in the oven. Bake until the croutons are toasted and golden, about 20 minutes, stirring occasionally. Remove the pan from the oven.
Listen, these croutons, they'll change your life, SERIOUSLY! Once you make these crunchy, savory drops of heaven, store bought will never do again. My kids ask me to make these so they can eat them as a snack, they're that awesome! I always make a huge batch of croutons and use them on salads and this soup, if my little darlings don't find them all first and devour them. I may have hidden a container of these in my closet, just to keep them from the the people I live with…
Need help planning meals at your house? We have a simple and amazing method that you'll love, check out our Pinterest Meal Planning System. And what goes best with Homemade Tomato Soup? Why Gourmet Grilled Cheese Sandwiches of course! Be sure to check back for those delicious recipes soon!