This is a guest post from our friend Jen Reyneri, founder of the Faith & Family Travel Community, WordTraveling.com. Jen says "I'm so grateful to guest post here and have Sunshine & Hurricanes be a part our 31-Days of "Vote for Travel" on Word Traveling. Check out my post, Vote For Florida Family Travel. All month, you'll have the chance to hear from some of the best authorities on family travel and to win an incredible getaway for your family!"
Florida Family Travel Adventures
Florida is the perfect place for your family travel adventures! Even with as many years as I've been in the "SunShine State," there's still so much more to discover with my family! I've been traveling to Florida my whole life, even before my family became full-time residents when I was in the fourth grade. I'm talking way before digital media, back when DisneyWorld was still a baby after opening in 1971.
Childhood Memories
My dad was a golf pro, and we were "snow birds," forced to escape the cold so he could continue to work and play. I still remember being on the beaches of New Smyrna as a little girl, cow pastures in Palm Beach county that are now shopping malls, U-Pick strawberries, riding teacups while you still needed paper tickets for rides at Disney World, and eventually riding with my dad to his friend's small-town auto parts store in a tiny town of Hobe Sound.
That tiny town had such impact on me, that even after I was "grown up" and my husband and I have lived all over the world, from Orlando to Myrtle Beach, Las Vegas and even Europe, we chose to bring our family to settle back in Martin County. And there's still so much to discover here!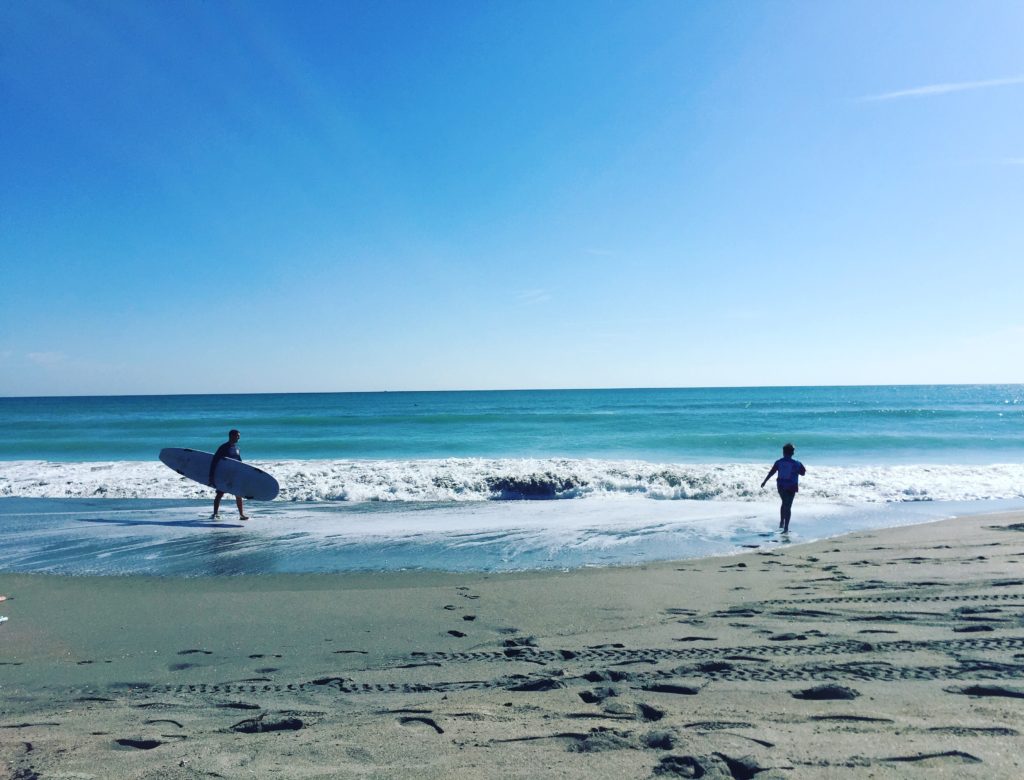 Our "Big" Small Town
I love living in Martin County. Our "big" small town, Stuart, was recently voted "Happiest Seaside Town in America" by Coastal Living magazine. I tell everyone it's a "sleepy old-Florida beach town vibe," and I hope it always remains this charming. We steward our land wisely, over 26% of our land is dedicated to preservation, and we are full of state and national parks. Beach front property cannot be built higher than four stories, and we have a 12-mile stretch of untouched beach at our Hobe Sound National Wildlife Refuge. It's truly amazing. Come pay us a visit!
You can kayak hidden mangroves, fish some of the best waters and wander the fishing villages, surf one of Florida's most famous breaks at Bridge Road, paddle board, snorkel, visit the Elliott Museum and it's incredible vintage car display, spend a day at the Children's Museum, check out our art, festivals, world-class golf, camping, fabulous food and so much more! Watch this short video and see for yourself!

Orange Blossoms Smell Heavenly
Have you ever heard how your sense of smell helps activate memories? Another childhood memory deeply embedded is the glorious scent of orange groves in full bloom. Pure heaven, those orange blossoms. I remember loving the scent so much my mom purchased some orange blossom perfume for me from a road-side tourist stop.
Last month, when I took the boys to LegoLand, those memories of Florida road-tripping as a little girl came flooding back with one whiff of the heaven-scented air of orange blossoms on the drive to Lake Wales. You must experience this! And, while you're at it, take a tour of on orange juice factory and Bok Tower gardens. Of course, visit miniland at Legoland and let your kids see the best of Florida and go "around and out of this world!"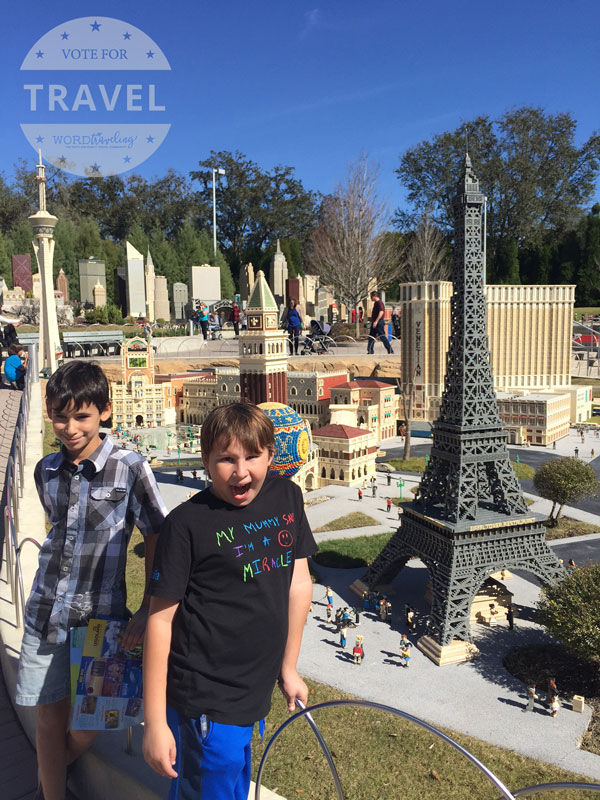 My Florida Bucket List Keeps Growing
My Florida bucket list keeps growing, and we recently got to "check-off" one more item. I fell in love with the gorgeous lighthouse and state park at the quaint fishing village of St. Marks on the Apalachee Bay. I felt like I was in another state! The national forests and wildlife preserves were gorgeous and so different from the tropical landscape of South Florida.
We met the most lovely couple, retired special education school teachers, who own and operate the Sweet Magnolia Bed & Breakfast. Andy and Denise treated us like family with charming accommodations and a full breakfast of fresh baked blueberry scones, cheesy eggs and chocolate chip pancakes before we ventured out to Wakulla Springs State Park and Florida's longest old-fashioned marble soda bar at the historic Wakulla Spring Lodge.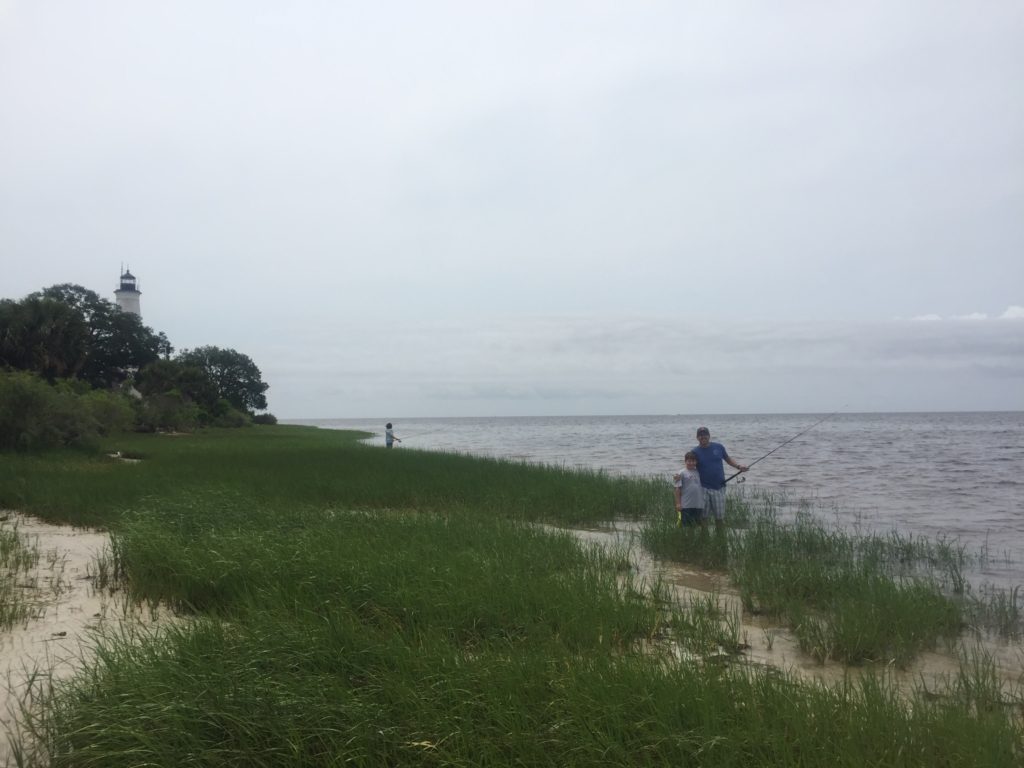 After all my years in Florida, I'd never been on an Everglades tour. That changed last month and we had an airboat tour through the swamps and marsh of this diverse but suffering eco-system. I was saddened to hear of the severity of the python problem in these wetlands and yet awed at the stillness and beauty. And, hey, we got to hold a baby gator!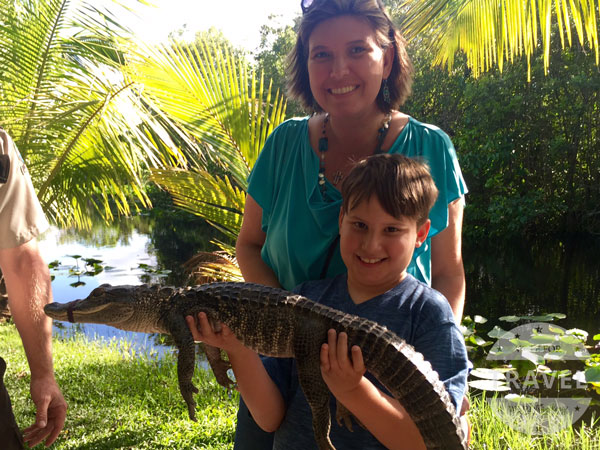 The more I live in the Sunshine state, the more I realize there are incredible places to discover without even leaving the state lines. Our state is so diverse it even has two time zones!
Here are some of my other favorite destinations with family and our family's Florida bucket list.
More Favorite Florida Destinations:
–30A. LOVE this area. The people are amazing, the crystal-white sand beaches are pristine, the dune lakes are extraordinary and the diverse coastal architecture of it's many towns including Grayton Beach, Watercolor, Seaside, Alys & Rosemary Beach, and more is so charming. ( I'm writing this post from our hotel in Destin. We homeschool, and life goes on the road often!)
–Orlando. I still love it; it's where I met my husband, and there really is so much to see, do and explore. We've recently discovered over 70 lakes in the area for fishing!
–Big Pine Key. Incredible nature just 30 miles from the charm of Key West. Perfect.
–St. Augustine. The charm, history and beauty make this an incredible destination. I've not yet taken the boys. It's on our short list to return as a family.
–Sanibel Island. The shells. OH my…. the shells! The beaches are incredible. Did I mention the shells? Truly some of the most incredible treasures from the sea you will ever discover. I'm thrilled to be invited to visit for National SeaShell Day in June. (Make sure you enter the giveaway for your chance to win a trip!)
–Sarasota. I love this area on the gulf coast so much we considered moving here when we relocated to Florida before settling in Martin County. I think the big appeals are the beautiful beaches, gorgeous moss covered oaks, amazing food scene and the incredible artist's community. This is home to the renowned Ringling School of the Arts.
–Jupiter. Our church family is here, shining light as bright as our historic lighthouse. Don't miss DuBois park, Roger Dean stadium and the new HarborSide Place.
My list could go on for pages…..
Our Family's Florida Bucket List
–Amelia Island
–Cape Canaveral and Kennedy Space Center
–Ocala/ Marion County (we drove through the other day, and it reminded me of some of the most gorgeous Kentucky landscapes!)
–Lake Mary
–Weeki Watchi and Crystal River Springs
–Cape San Blas
It's hard to put my love for my home state into one blog post. I hope it inspires you to search out some of the hidden treasures, and maybe even find a new spot to discover some sunken Spanish gold.
What about you? Do you know of hidden gems in Florida? What's on your Florida bucket list?
Vaya con Dios~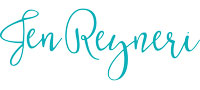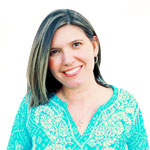 Connect with Jen on Social Media!
Make sure you click over to Wordtraveling.com and Cast your "Vote for Travel' by entering the awesome $1500 vacation giveaway to the incredible Beaches of Ft. Myers/ Sanibel and to read more posts from other bloggers and family travel experts in our third annual series! No purchase or real voting necessary!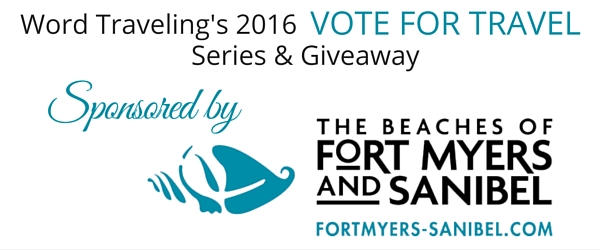 Read all of the posts for our 2016 Vote for Travel Series by clicking the image below: