Florida Family Travel Useppa Island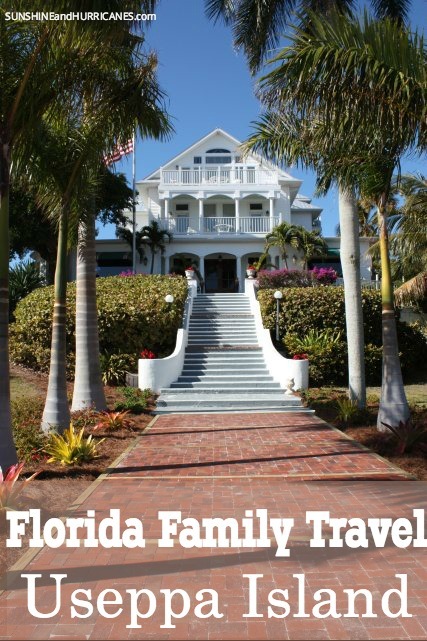 The History
Ever wondered what it would be like to have your own private island? Well, if you head to sunny South West Florida, you'll discover it is only a boat ride away. Useppa Island, included in the book "1,000 Places to See Before You Die," sits just north of Sanibel and Captiva as part of the Pine Island Sound. Originally settled by the Calusa approximately 10,000 years ago, the island has a rich history that includes everything from pirates to politics. In the early 1900's, wealthy landowner Barron G. Collier acquired the property, built an upscale hotel and it quickly became a popular playground for the rich and famous. By the 1950's, the island was abandoned and the U.S. government took over Useppa to use it as a base for the Bay of Pigs invasion.
The current owner, who purchased Useppa in 1976, revitalized the island's lush landscaping, built several upscale home and cottages and developed a small member's only community. Since the island is private, access is fairly restricted. However, Captiva Cruises has developed an exclusive relationship with Useppa and is able to put together a variety of vacation packages for families. The summer is an especially good time for Florida locals (or visitors from across the country) to plan a visit since most of the snow-bird residents have fled north and you will virtually have the island all your yourselves.
Accommodations and Activities
Guests can stay at the fully restored Collier Inn that offers seven elegant guest suites or a limited number of the homes and cottages are also available for overnights. Gourmet dining is part of the experience at the Inn's restaurant; famous for its Floridian favorites like Bahamian conch chowder and key lime pie. As far as activities, nature lovers will not want to miss walking or biking along the famous "Pink Promenade" which is rich with botanical beauty and birdlife. Definitely make a stop at The Barbara Sumwalt Museum to learn more about the island's fascinating history. For fisherman, bring your rods and reels, as Useppa is known world-wide for its Tarpon fishing. For those who prefer to stay on shore, there is a white-sand beach as well as heated pool, and then plenty of games for the kids to play like volleyball, bocce, croquet or even a giant checkers set.
Day Trip
If you can't get away for an overnight, consider at least taking one of Captiva Cruise's scheduled day trips. Boats depart daily from McCarthy's Marina and The South Seas Resort on Captiva. Whether you are able to stay for a few days or only a few hours, a visit to Useppa is more than worth the time, and when you return, you'll be able to say that now you only have 999 more places to see before you die.
If You Go:
Useppa is a private island community located South of Boca Grande and North of Sanibel Island within the waters of the Pine Island Sound.
Phone: Captiva Cruises 239-472-5300
Website: www.captivacruises.com
Rates: Overnights and Weekends can range from $200 -$500 based on availability
Daily tours leave at 10:00 a.m. and return at 3:00 p.m., cost $40 per adult