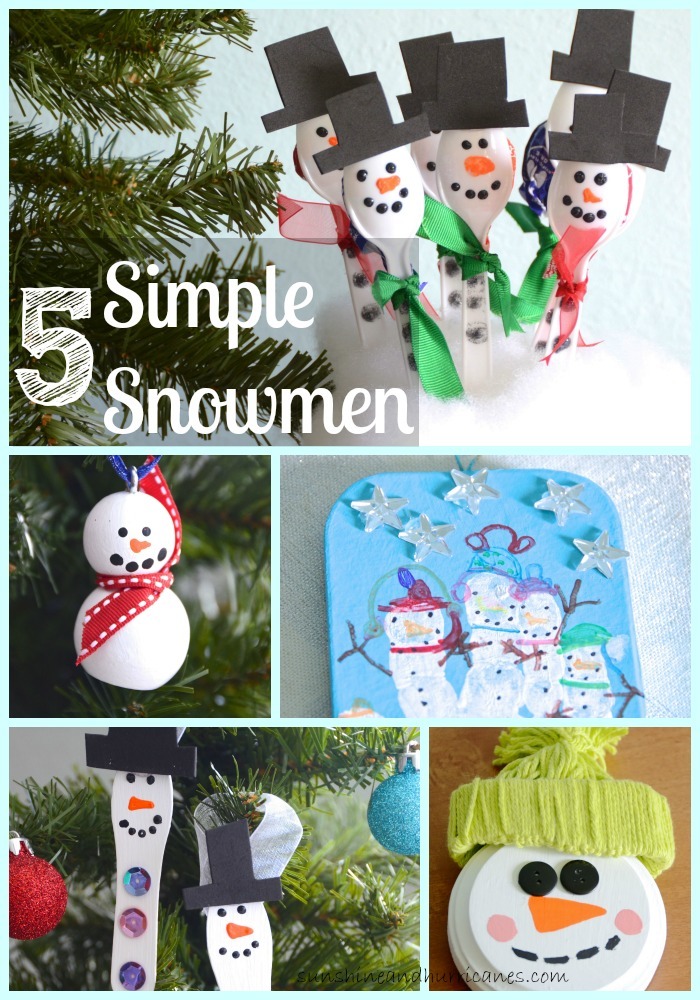 Living in sunny Florida, we don't get to build too many snowmen but we sure do love how adorable they are! The kiddos and I came up with some fun crafts that are great for the holidays or any Winter day!
Handprint Snow Family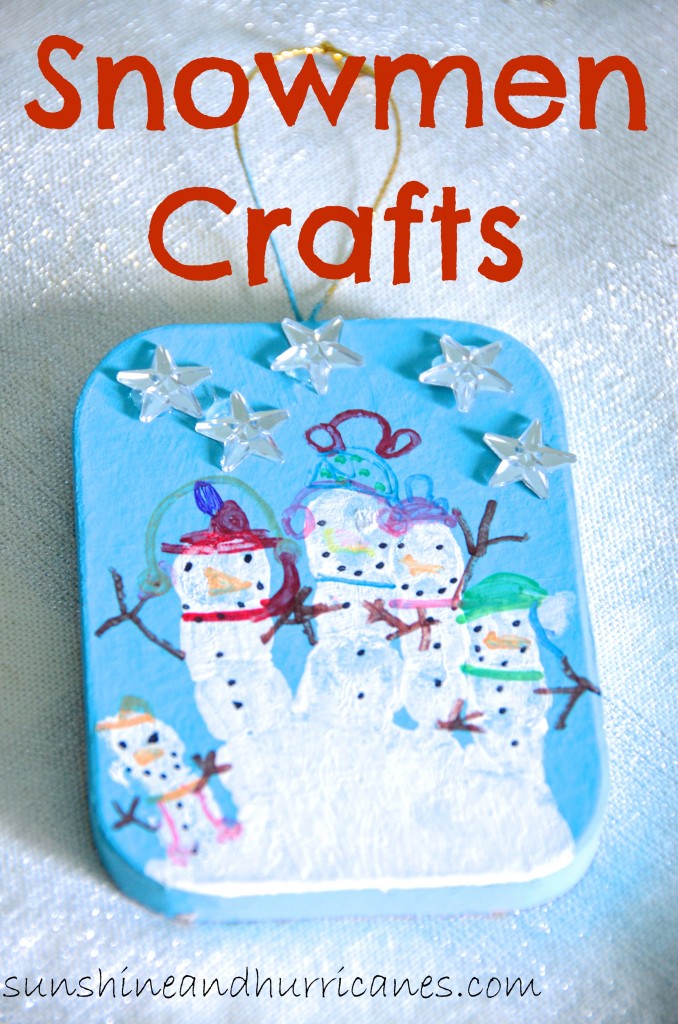 This is a family favorite and we've made the ornament version a few times as well as just making it on blue paper.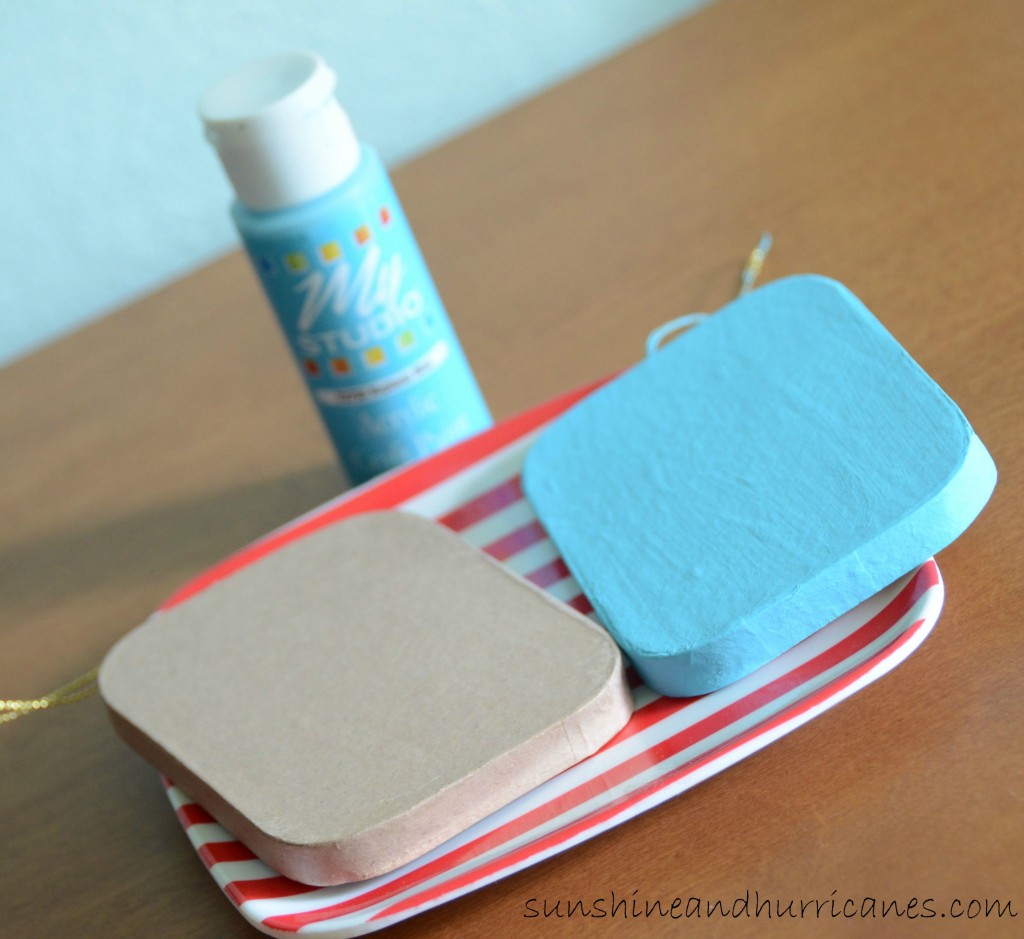 I purchased a paper mache rectangle ornament at the craft store(less than $1), had the kiddos use acrylic paints to create a solid background. After that dried, we painted our fingers, pressed them onto the ornaments and let them dry. We gathered up a variety of Sharpie makers and added color and character to our snow people!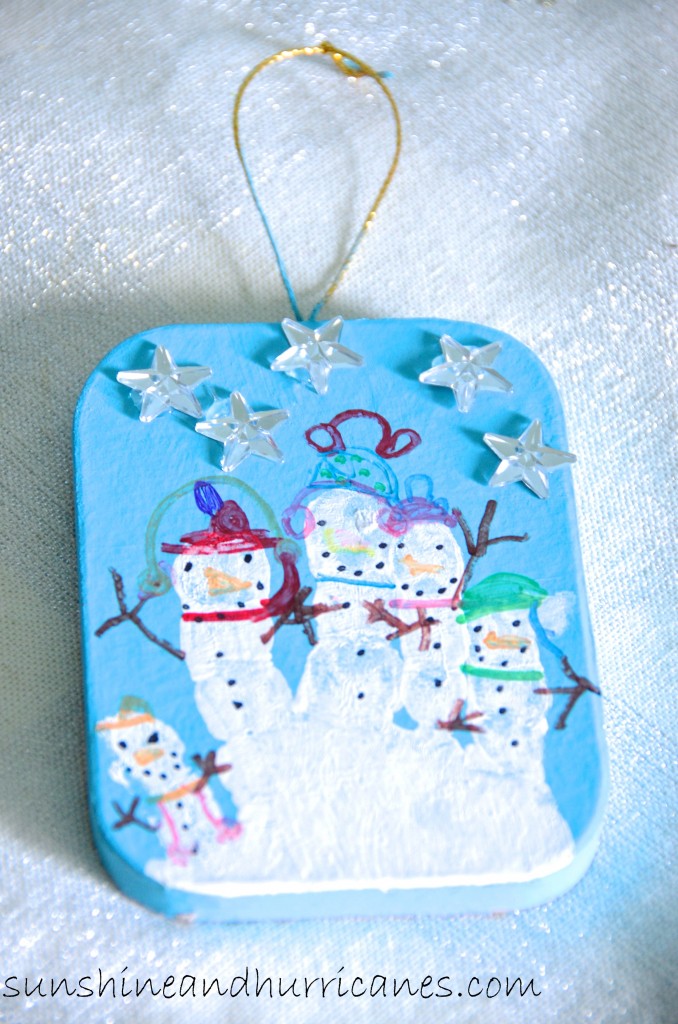 I've tried letting the kids use paint to add the details but they tend to have better outcomes with the Sharpies. Be sure to have the kids write their name and the year on the back if you're creating an ornament version! Last, we added some star beads we had leftover from another project. We've used Q-tips or toothpicks, dipped them in white paint and created snow flurries/flakes all around our snow family!
Spoon Snowmen
These were always a hit when I'd make them with my Kindergarteners each year. I've also made them for class gifts with my own children and even added fishing line to create ornaments for the kiddos to keep.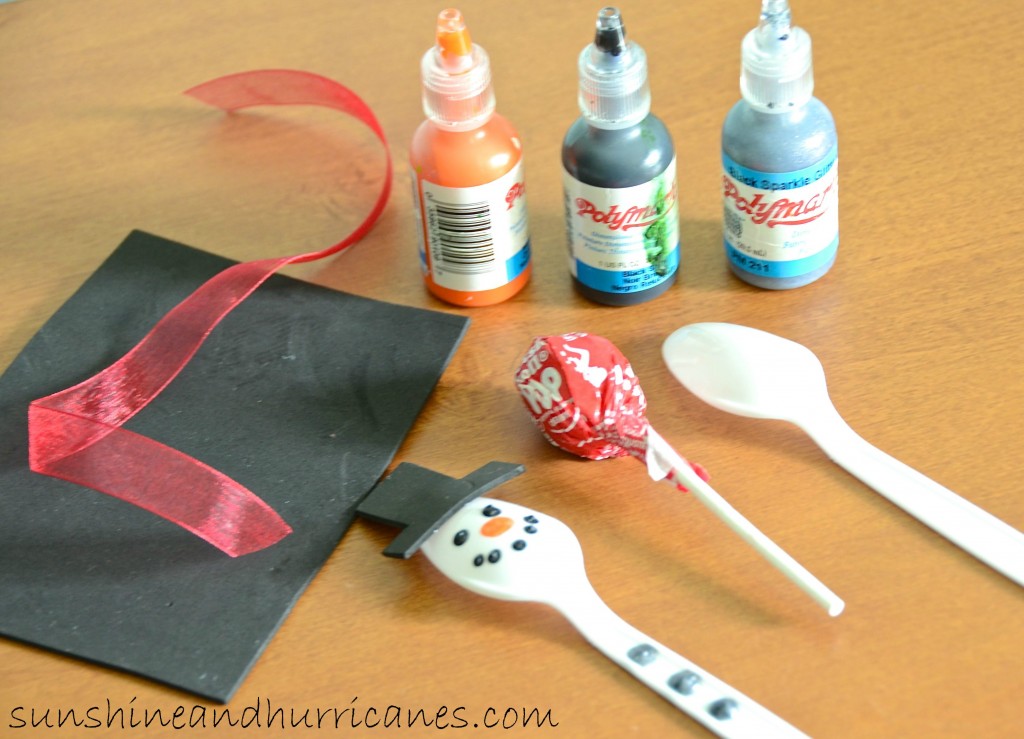 Using white plastic spoons, paint on a face and buttons with puff paint(available at any craft store) then set the spoons aside to dry. I generally let them set up overnight just to be safe. Use black craft foam to fashion hats and festive ribbon(approx, 1/2″ wide) to attach a lollipop surprise! If you'd like to turn these into ornaments, I would fold 6-8″ of fishing line in half, add a dab of hot glue, attach the fishing line and stick the black top hat over the line.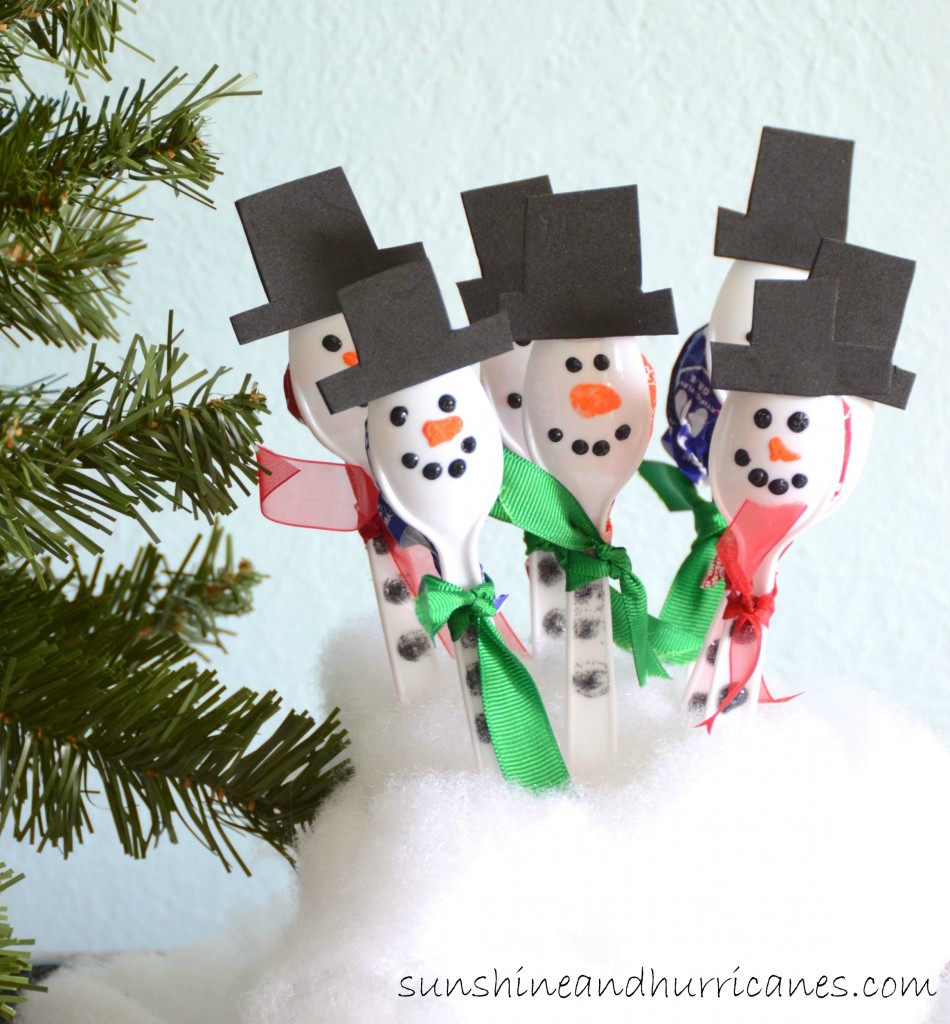 For the presentation, if you're giving them to the neighbors or as a class gift, take a piece of styrofoam(I've cut a foam "ball" in half before to make 2 separate hills or I've used a square, whatever you have on hand or can find at the dollar/craft store). I cover a flattened cereal box or piece of sturdy cardboard with foil, then hot glue the styrofoam in the center. Then, you can cover the foam with cotton balls, batting, or poly fiber fill to create a snowy look! When making with the kiddos, I use Elmers glue for the snow and let it sit overnight to dry. I am an impatient crafter so I've also just carefully used the glue gun to attach "snow" if I'm pressed for time. Stick the snowman spoon into the foam and arrange attractively! This would be great to use as decor in your home, too and let guests choose a snowman when they visit!
Ice Cream Spoon Snowmen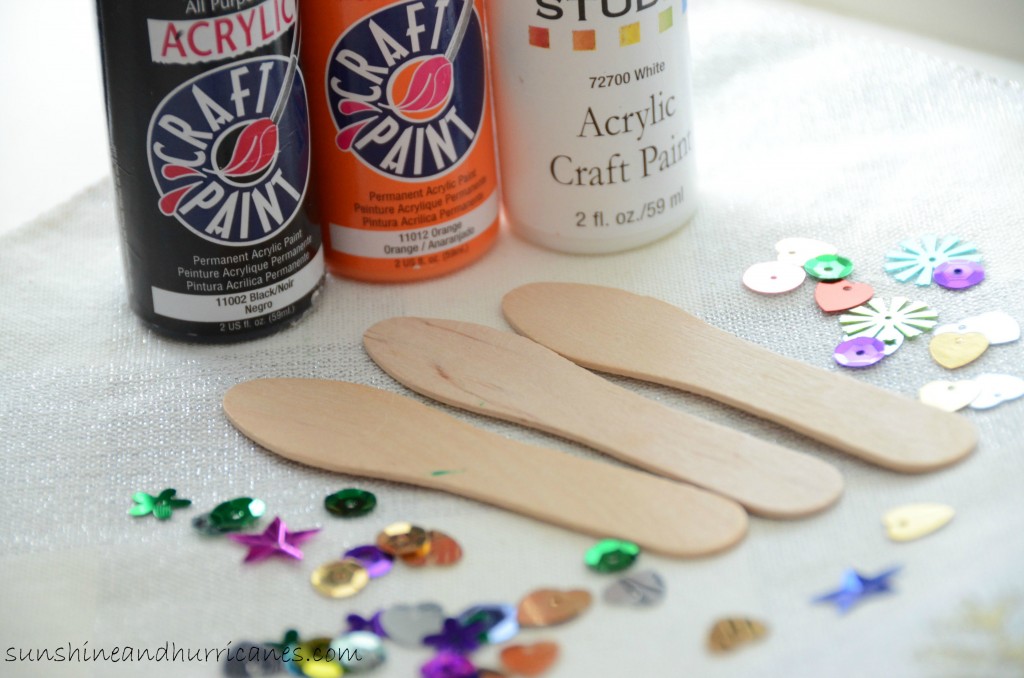 These little guys are perfect for a large group or classroom craft! Snag some wooden ice cream spoons from the school cafeteria or the craft store, have the kiddos apply a coat or two of white acrylic paint and while it's drying, cut out top hats from construction paper and pick out a few shiny, sparkly sequins. Add facial features, attach a ribbon for hanging, hat, & the sequins and you'll have a snow buddy!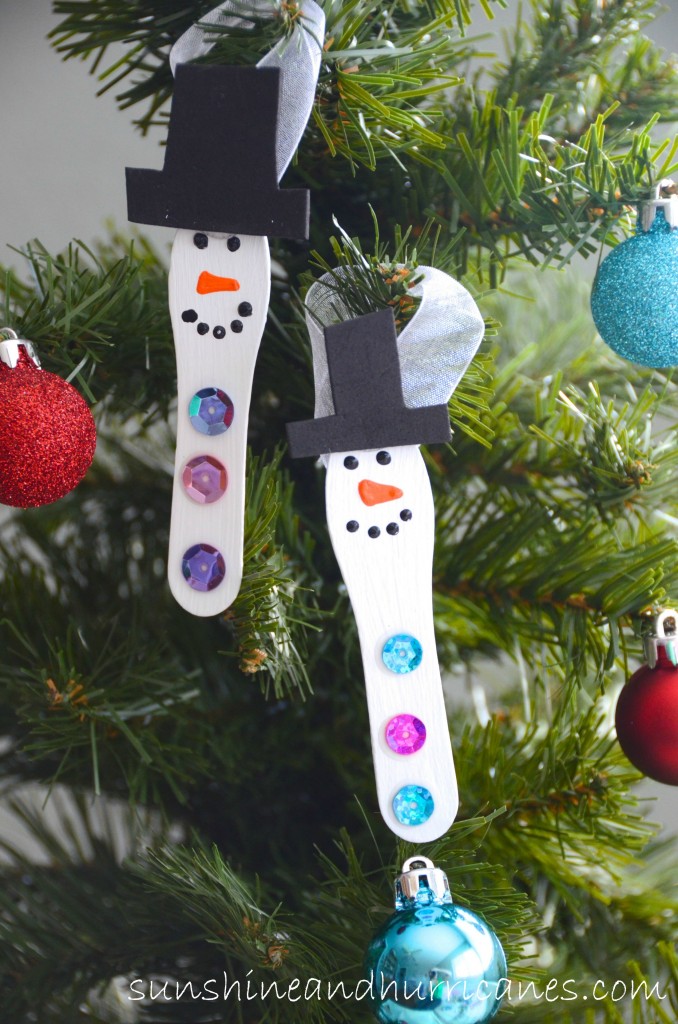 Smiley Snowman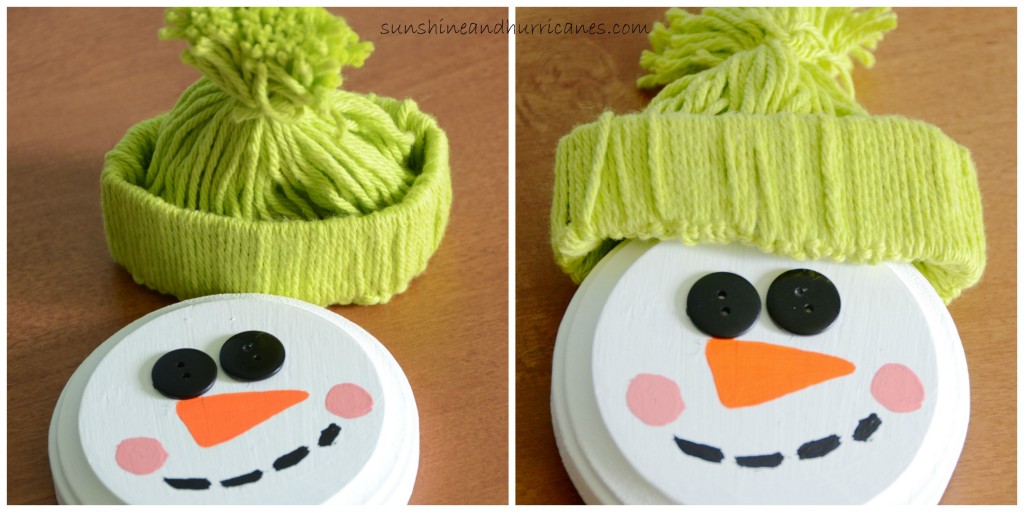 Simple & sweet- Paint a round wooden circle white, add the black button eyes, other features, and then follow this fab tutorial to make the cute hat with yarn! Because my piece of wood was larger than the toilet paper roll used in the tutorial, I just fit a piece of cardboard around the "head", taped it into a circle and continued with the hat making process. My oldest made a bunch of just the hats one year and they were completely adorable ornaments on their own!
Roly Poly Snowman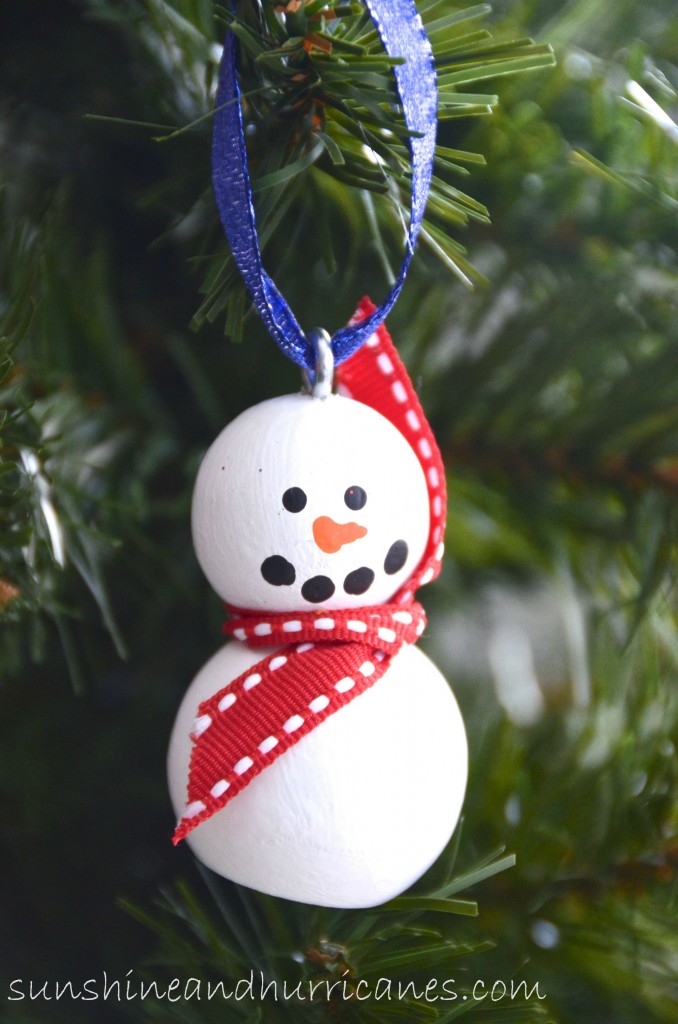 This chubby fella is just too cute! He came to life while we were working on the Little Angel Ornaments and was snatched up as a toy by my youngest. I managed to reclaim him and add a little eye screw and ribbon to his head and he know resides on our tree. I used 2 different sized wooden balls that each had a flat bottom, paint, and a scrap of ribbon.