This post may contain affiliate links.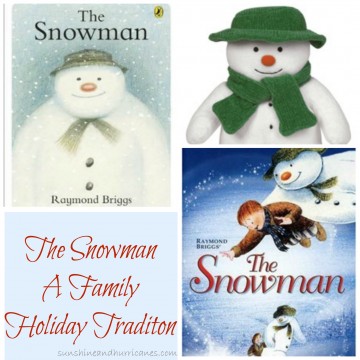 The Snowman – A Family Holiday Tradition
(We are so thrilled to have this guest post from our book loving friend Rebecca at A Book Long Enough. A children's librarian, she has so much to share about books and raising children who love to read. Definitely go peruse her site or follow her here on Pinterest. She's provides an invaluable resource for parents today)
Maybe you're like me, and long to throw the mad Christmas rush out the window, settling in to experience a quieter, more thoughtful holiday with your children. Each year I look forward to the time in which the parties and recitals come to a close, school lets out, and I can finally enfold my three little ones in the warmth and peace of Christmas at home. At my house we snuggle toasty by the hearth, hot cocoa in hand, and enjoy simple time together with bedtime stories and family movie nights. I treasure this retreat in the midst of what can otherwise be such an over-the-top season.
I'm a children's librarian and an extreme bibliophile, and I also love great film. Sometimes all the stars align and a kids' book and subsequent family movie are produced that are purely a joy to share with my children. Raymond Brigg's classic book The Snowman, and the movie of the same name are a must-read-and-see set that my kids look forward to every year.
In 1978 English cartoonist Briggs published a picture book that would earn him an unprecedented third nomination for the Kate Greenaway Medal, the UK's highest prize for children's literature. The Snowman is made up of simple cartoon panels, hand drawn in colored pencil: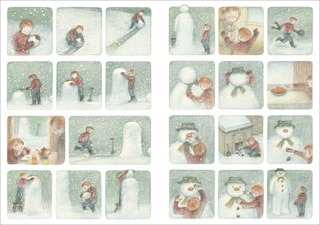 The wordless story conveys the adventure of a young boy who awakes to find snow has fallen in the night, leaving a magical landscape that he can't wait to explore. The boy builds a snowman, and finds it difficult to sleep that night for thinking of his creation. He ventures outside to find the snowman has come to life, and the two journey together both inside the house and out, until in a single magic moment, the snowman takes the boy by the hand and the two fly together by night. In the morning, the boy awakes to find the snowman melted, and readers are left to ponder the adventure as dream versus reality.
The 1982 film version of The Snowman, which was nominated for an Academy Award, adds a moving and mystical score to the story, and a world in which the boy and his frozen companion meet some lively dancing snow-people, as well as a warm and loving Father Christmas. It remains wordless but for a simple voice-over introduction: "I remember that winter because it had brought the heaviest snows I had ever seen. Snow had fallen steadily all night long and in the morning I woke in a room filled with light and silence, the whole world seemed to be held in a dream-like stillness. It was a magical day… and it was on that day I made the Snowman."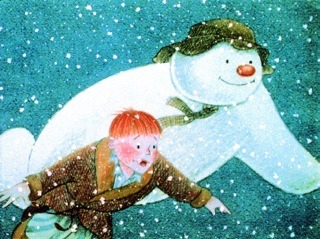 The Snowman book and movie strike the perfect tone for celebrating a relaxed, quiet Christmas. Children of any age will respond to the excitement of running out in fresh-fallen snow to a magical world of white, as well as the charm of the boy's nighttime enchanted trek to another world. Our elf Candy Cane delivered the book, DVD, and cuddly soft snowman plush early one morning; the three have been a fixture of our quiet Christmas at home ever since.