This shop has been compensated by Collective Bias, Inc. and its advertiser. All opinions are mine alone. #SpringIntoFlavor #CollectiveBias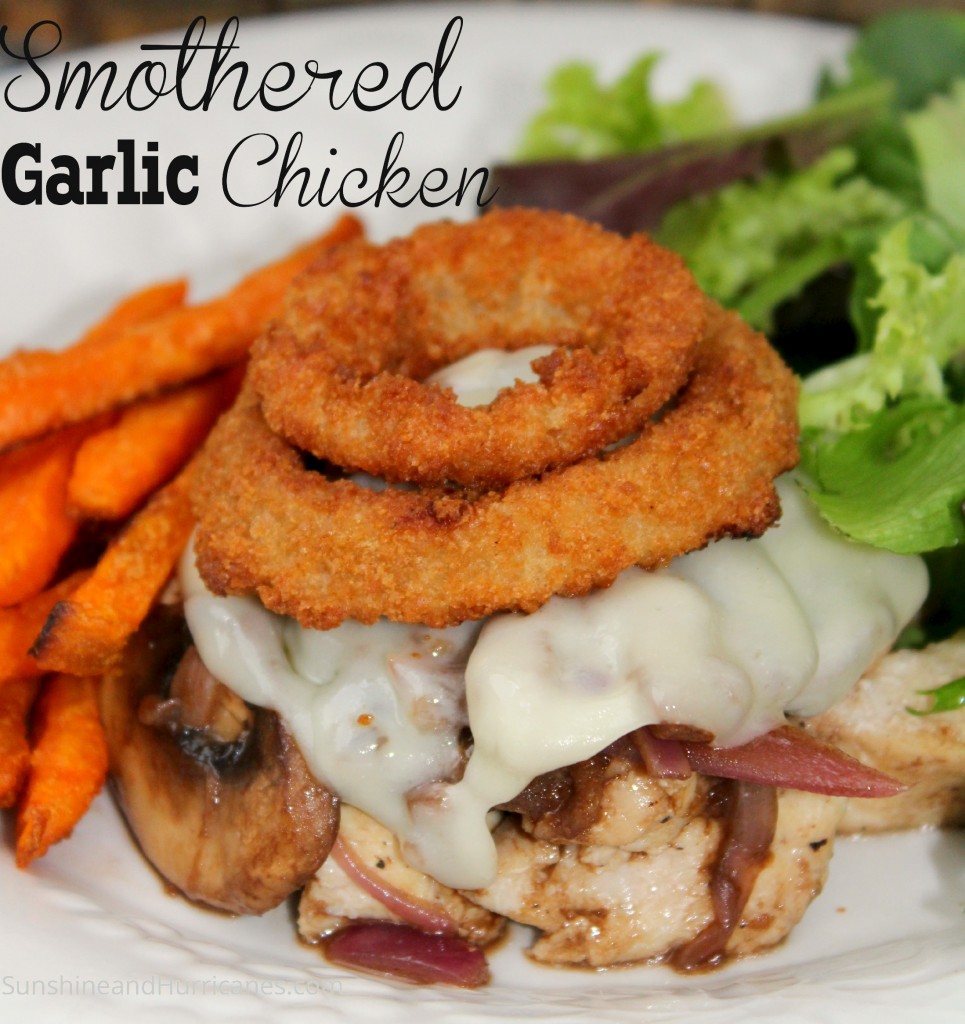 If your life in the mommyhood is anything like mine, trying to get a nutritious dinner on the table amidst the myriad of sports practices and extra-curricular activities in the evenings is practically an Olympic event. I've found that easy meals I can pull together in 30 minutes or less are perfect for our schedule and help us make healthier choices. I am so thankful for the all natural Alexia products that help me achieve this goal.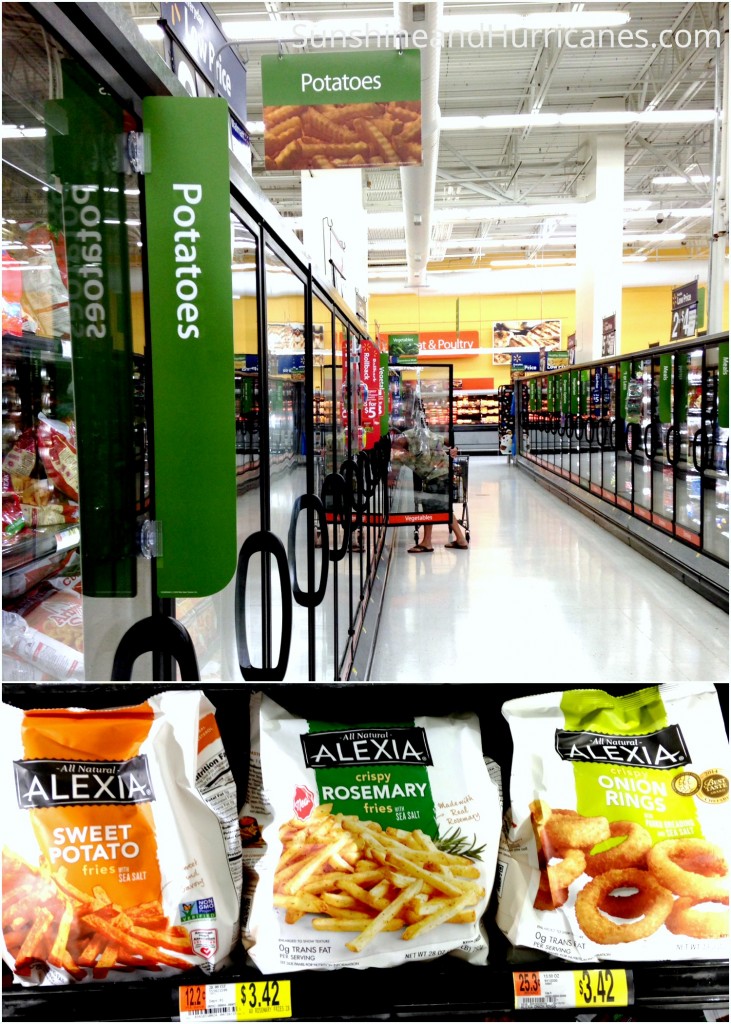 One of my secrets for getting dinner on the table quickly is using some carefully selected frozen foods like the high quality products from Alexia. My kiddos love fries and the sweet potato ones are a healthier alternative and the new Rosemary and Sea Salt flavor is absolutely a delicious gourmet delight! The onion rings are a perfect compliment to the smothered garlic chicken I'm sharing with you today. You can find the Alexia products in the frozen foods area of your local WalMart and a quick stop after school helps me prep for dinner in a flash!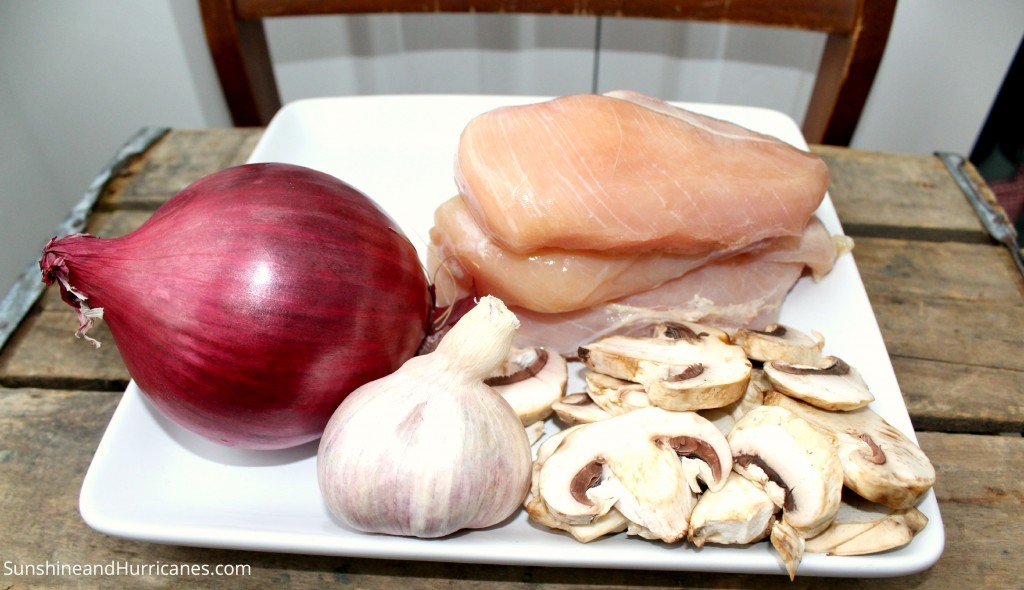 For my family of 6, I use 2 lbs. of boneless, skinless chicken breasts, red onion, mushrooms, and of course, garlic to get started. We love garlic at my house so I tend to use more than most people but you can adjust based on your family's tastes.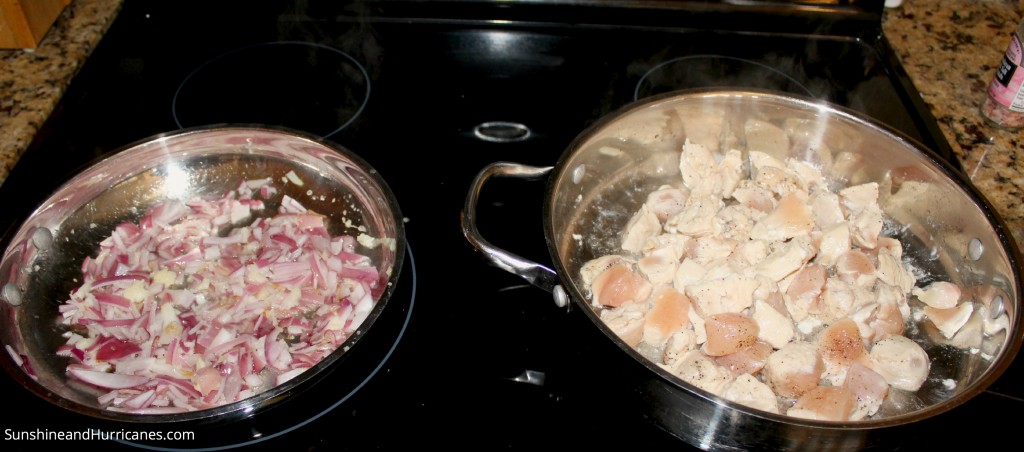 To make the cooking faster and save me from cutting meat for my kiddos, I slice the chicken into 1″-2″ chunks before sautéing in olive oil. The smell from the onion and fresh garlic bubbling away makes my house smell so good, I wish you could scratch and sniff this picture!!!!
After the onion begins to translusce, I add the mushrooms and balsamic vinegar, sauté until the 'shrooms are tender, then transfer the veggies to the cooked chicken in the pan, top with provolone cheese until melted and remove from the pan.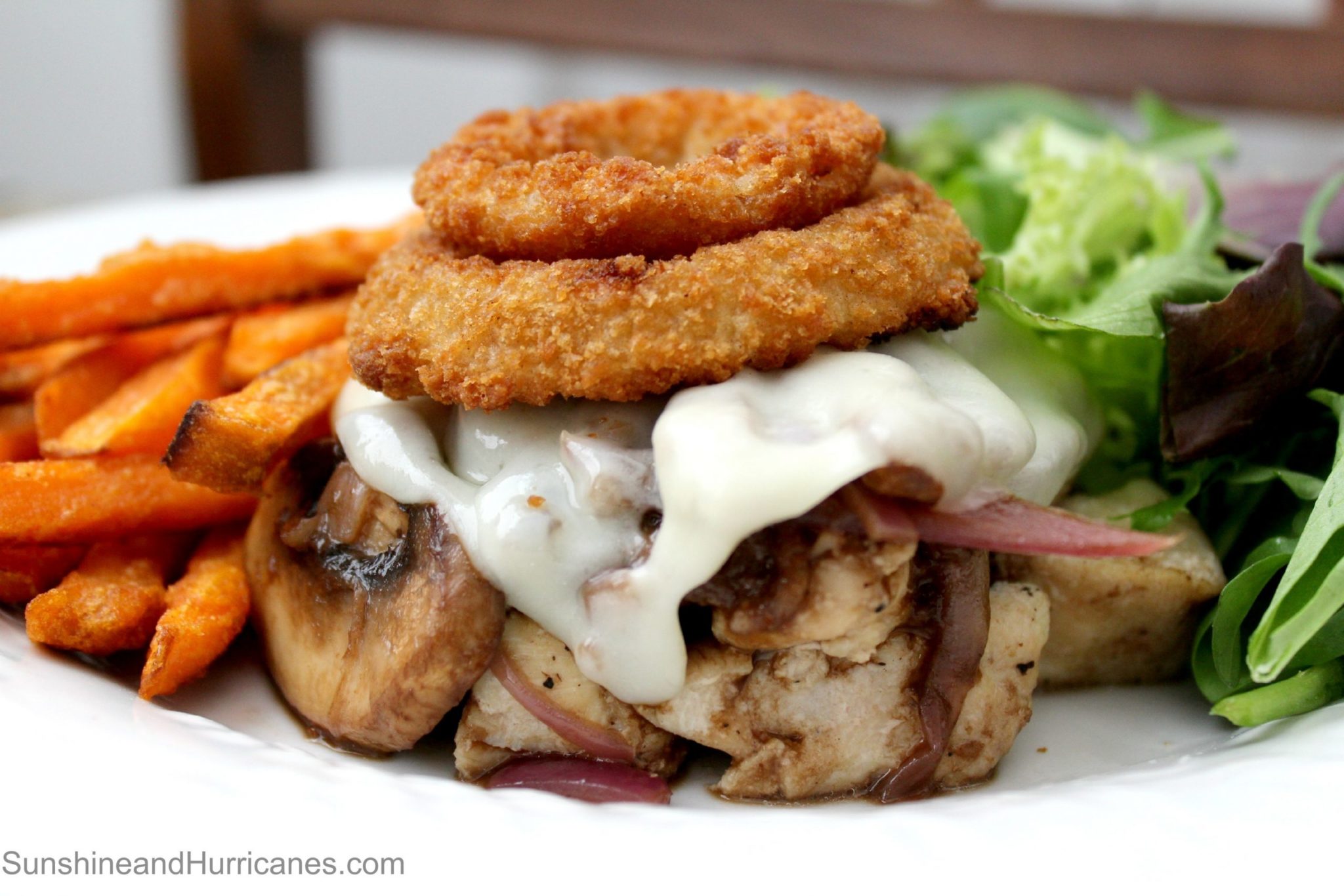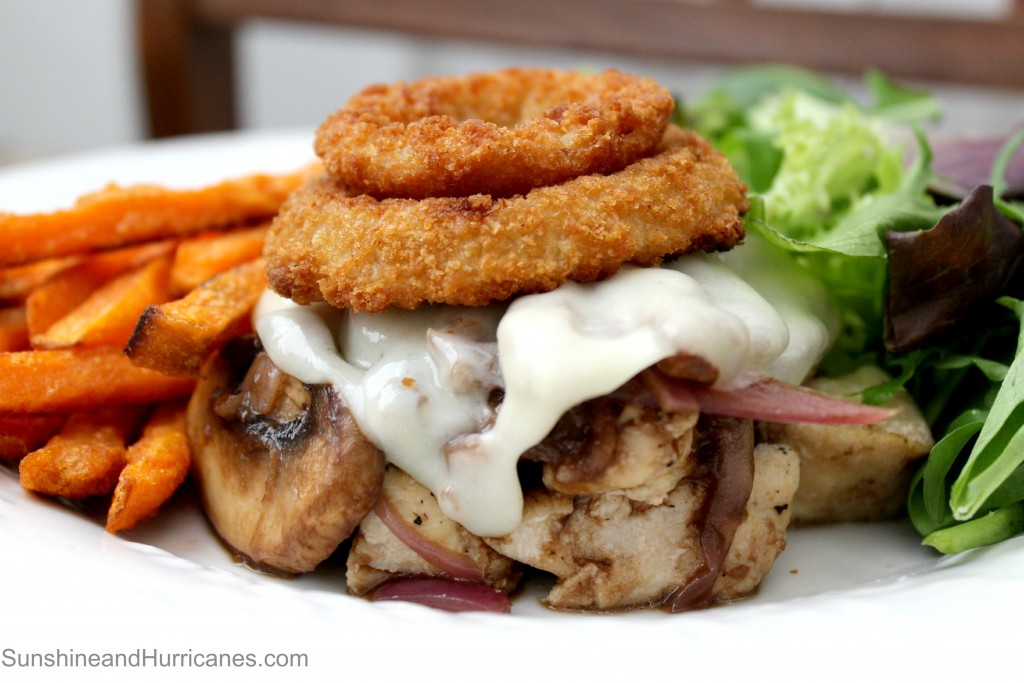 Today, I decided to add some extra crunch and flavor to the smothered chicken by topping it with crispy Alexia onion rings. We all loved the added dimension of the crunchy topping and the way it complemented the savory chicken and garlic flavors. These onion rings are delicious on their own but outstanding as the perfect topping with smothered garlic chicken.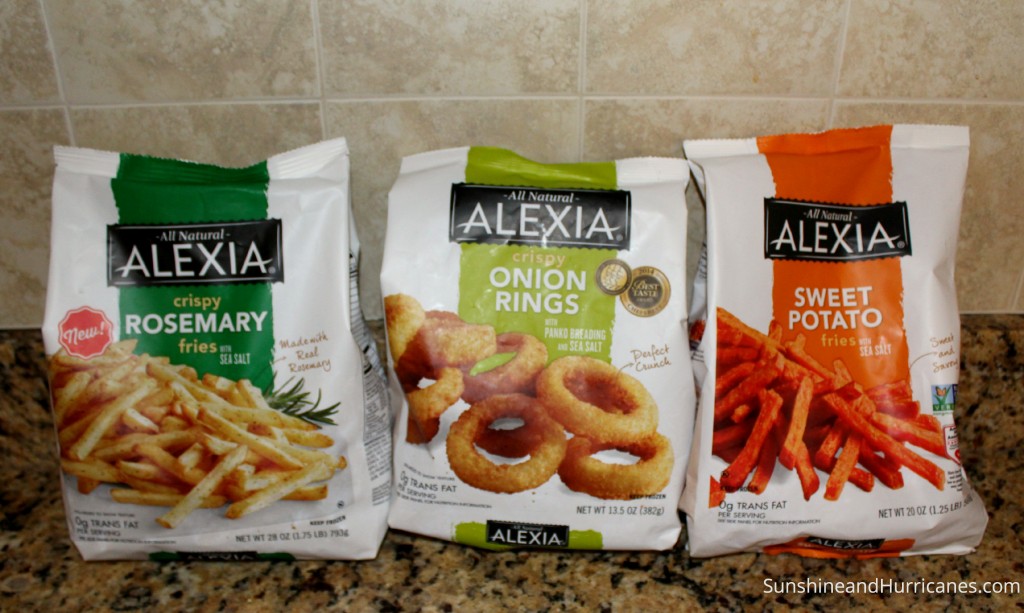 My other secret for getting dinner on the table and providing healthy choices is the delicious options from Alexia. My children love the taste and I love the all natural ingredients and versatility. Whether a fast after school snack or the perfect and simple dinner side dish, my freezer is stocked with the tasty Alexia products.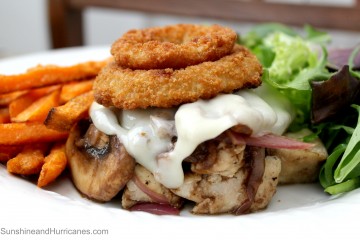 Smothered Garlic Chicken
Ingredients
2

lbs.

boneless

skinless chicken breasts, cut into 1"-2" chunks

12 0

z of sliced

washed mushrooms

1/2

a large red onion

3

+ cloves of fresh minced garlic

1-2

Tbsp.

balsamic vinegar

4-5

slices

of provolone cheese

Olive oil

salt, pepper

Alexia Onion Rings
Instructions
Preheat oven and bake onion rings according to package instructions. While they're baking, begin prepping the chicken portion, following the steps below.

Salt & pepper chicken and saute in olive oil until cooked through, usually 10-12 minutes on medium heat

Start a 2nd pan to sauté the onion & garlic in, after onion begins to transluce, usually about 5-7 minutes over medium heat, add the mushrooms and continue cooking until tender.

Push chicken and vegetable mixture towards the center of the pan, close together and lay 4-5 slices of provolone cheese over the top. Allow cheese to melt.

Top with an onion ring after plating the chicken & cheese combination.
How do you handle preparing healthy meals for your family amidst activities, sports, and general life busyness? Do you have a favorite recipe or tips, I'd love to hear them below!