This post may contain affiliate links.
Look No Further for Mother's Day Gifts She'll Adore

Mother's Day is almost here and I thought a little shopping list might be helpful. Yes, I realize it is MOTHER'S DAY, and chances are, if you're reading this, you're a mom or, at very least, a woman. However, in my happily ever after, there can often be more peace in the castle when I pointedly direct Prince Charming towards particular products. And, you may also find something that works for your mom, grandmother, or mother in law.
Personalized Jewelry
The Vintage Pearl offers a vast array of unique pieces that become lasting keepsakes. My favorites are: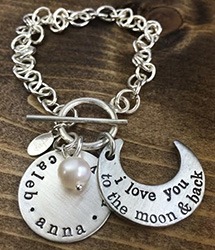 bracelet
Modern Scrapbooking
Remember scrapbooking? I was a big "cropper" until a few years ago when it became completely overwhelming for me to juggle all the photos, the time to sit down and create layouts, the shopping for supplies and so on. Enter the Project Life Kit
, a super simple, completely doable system for organizing the family pictures. It's crafty enough to satisfy my need for creativity but everything is "done" for me. Make certain your prince knows that this gifts requires mandatory "alone time" to be fully appreciated!
Travel Beverage Containers
Moms on the go, which is pretty much ALL moms, can appreciate this handy Travel Water Bottle with Storage
. The front flap opens with room for valuable, is BPA free and specially sealed to prevent any leaks between sips. Perfect for the gym, a stroll around the neighborhood, the beach, or the park. It comes in a variety of sizes and colors so there's sure to be one of mom's favorites!

A Litte Something Sweet
After all that sweating at spin class or the park, mom may need a treat… enter Mrs. Prindables Gourmet Caramel Apples. Seriously the BEST apples I've ever had the pleasure of eating. I can barely pick a favorite flavor but I am slightly partial to the Toffee Walnut. I truly think everything dearMrs. Prindables
makes is super delicious!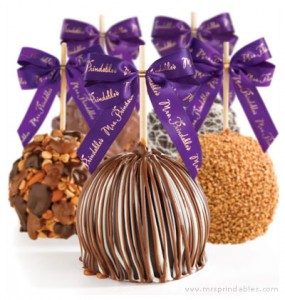 A Stylish Wallet
This is something several of my friends own and rave about. Lovely and functional for all stages of motherhood, from diaper bag to crossbody, these wallets will travel right alongside you. Women of all ages will appreciate these fashionable little carry alongs that offer many colors and styles. A perfect option for any mom!
Now, send your Prince to this post, email him, or order yourself! Happy Mom's Day!