This shop has been compensated by Collective Bias, Inc. and its advertiser. All opinions are mine alone. #SoHoppinGood #TopYourSummer #CollectiveBias
Every Summer of my childhood, I'd spend a portion of it at the beach with my younger sister and Grandfather while my parents worked the day away in air conditioned offices. My grandpa loved swimming, and the ocean, so my sister and I tagged along on his daily swim at the beach near his home in Florida. I remember the blazing hot sun, the gritty sand in between my toes, the salt on my lips from the sea, and eating mint chip ice cream, green and sweet, freshly scooped onto a sugar cone, everyday.
Those ice cream cones came to symbolize Summer for me, just like flip flops, swimming pools, and no school days. Fast forward 30 years and I still love mint chip ice cream and have passed that devotion on to my four kiddos.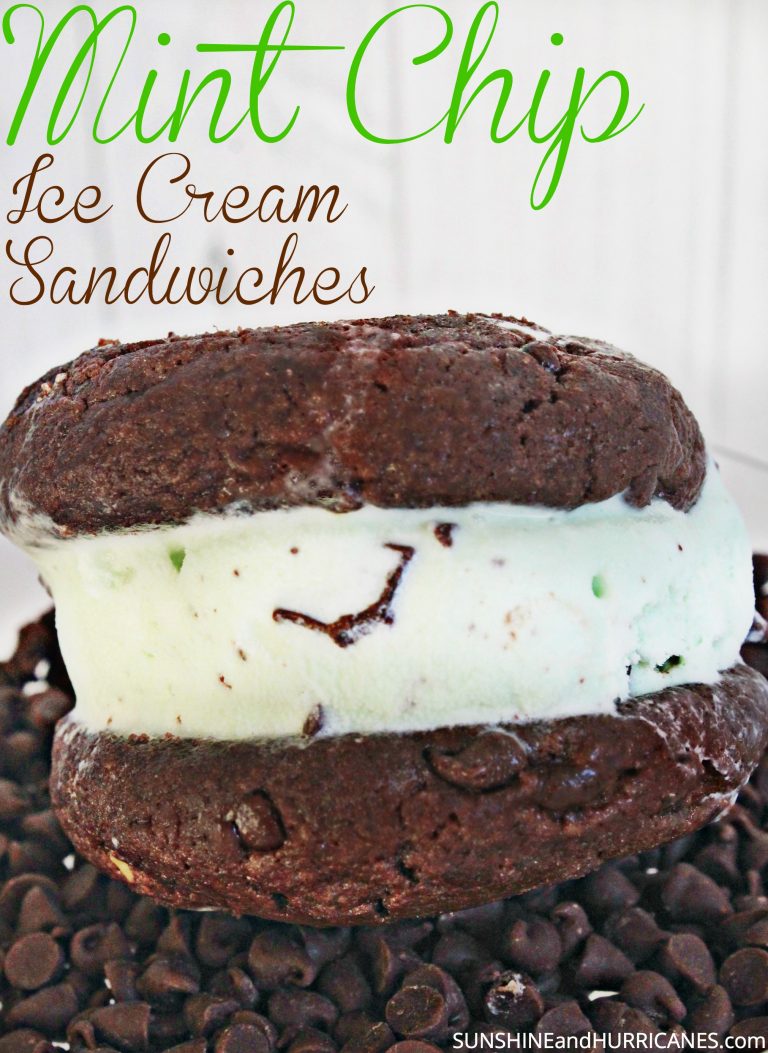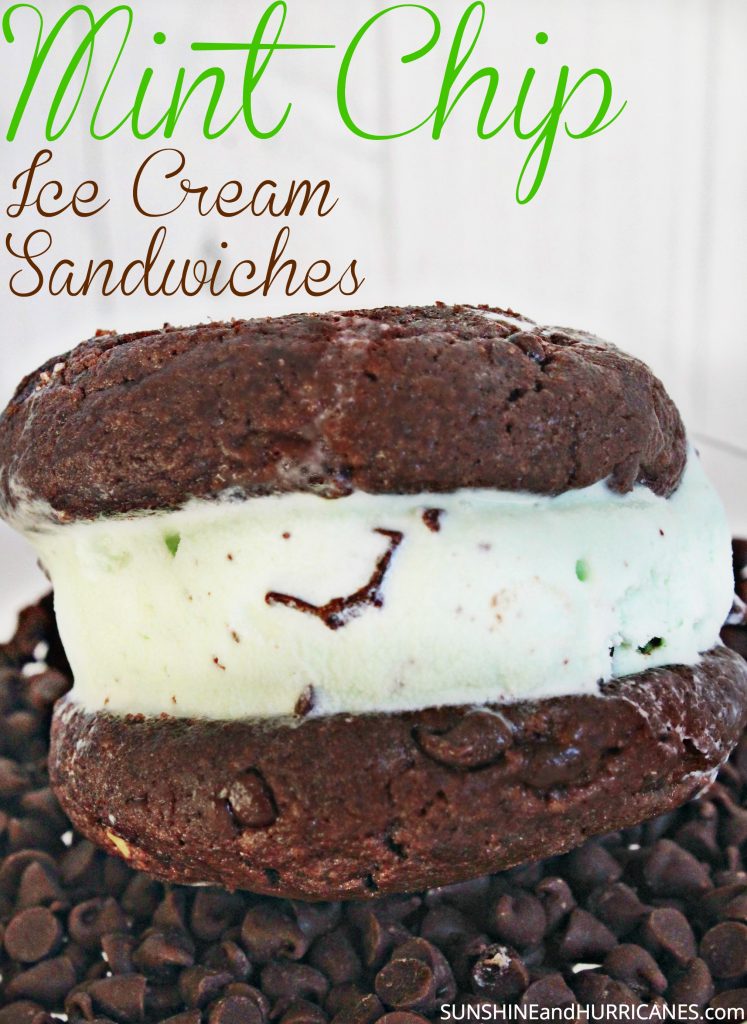 Mint Chip Ice Cream Sandwiches
Now that you know of our family's great love for mint chip ice cream, it was only a matter of time before we created our own signature dessert, perfect for beating the Summer heat. So now at potlucks and cookouts, the Myers' family is probably going to appear with a tray of refreshing Mint Chip Ice Cream Sandwiches and our famous hamburgers, ready for the sizzle of the grill!
I'm all about easy meal planning and keeping food prep simple so I can spend less time in the kitchen and more time at the table with friends and family. This scrumptious dessert certainly meets my requirement for stress free and works great for those evenings when the neighborhood gang winds up in your backyard way past sunset. You won't believe how effortless this recipe is but take note: there definitely won't be leftovers so be sure to hide some for yourself before they all disappear!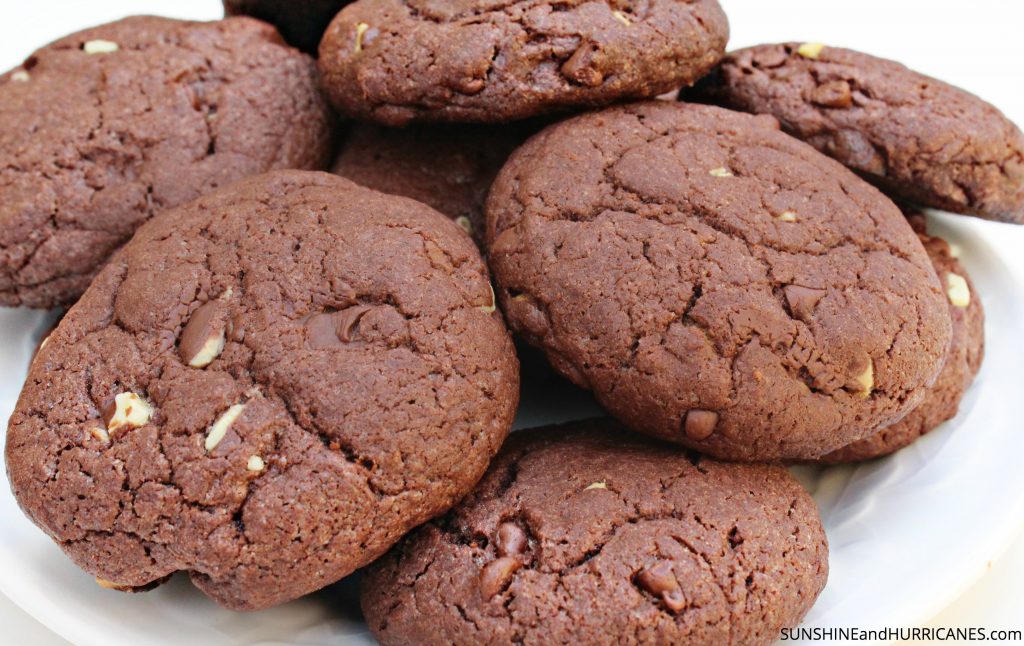 All the magic happens when you bake these craveable chocolate mint cookies. On their own, these cookies are amazing and definitely hit the sweet spot but turn them into ice cream sandwiches, using my favorite Blue Bunny® Mint Chocolate Chip ice cream and we're talking epic, memorable taste explosion!
These cookies are simple to make and freeze well so you can make them in advance. The consistency of the cookie is the perfect blend of soft enough to bite into yet firm enough to handle the Blue Bunny® Mint Chocolate Chip ice cream without getting soggy.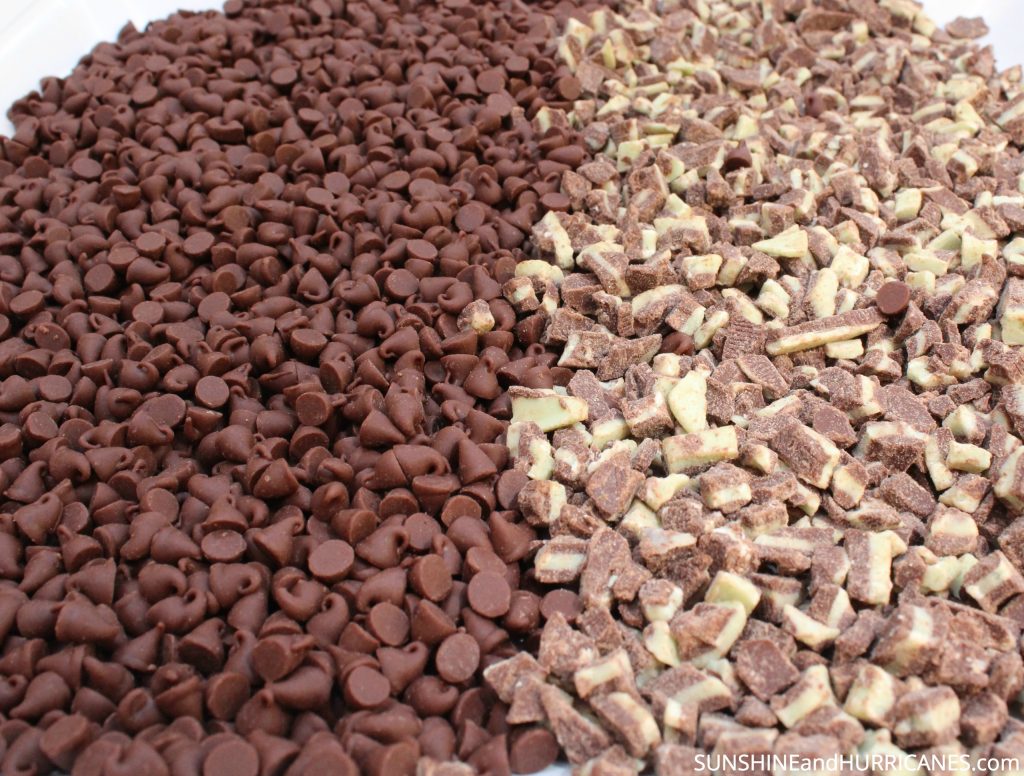 Okay, you've got the cookies, you've got the creamy and delicious Blue Bunny® Mint Chocolate Chip ice cream but you're a wild one, and like to take things to a whole different level, here we go: Pour out the remaining mini chocolate chips and mint candy pieces on a large plate; roll the sandwiches across the plate and let the ice cream pick up these yummy bits of chocolate goodness!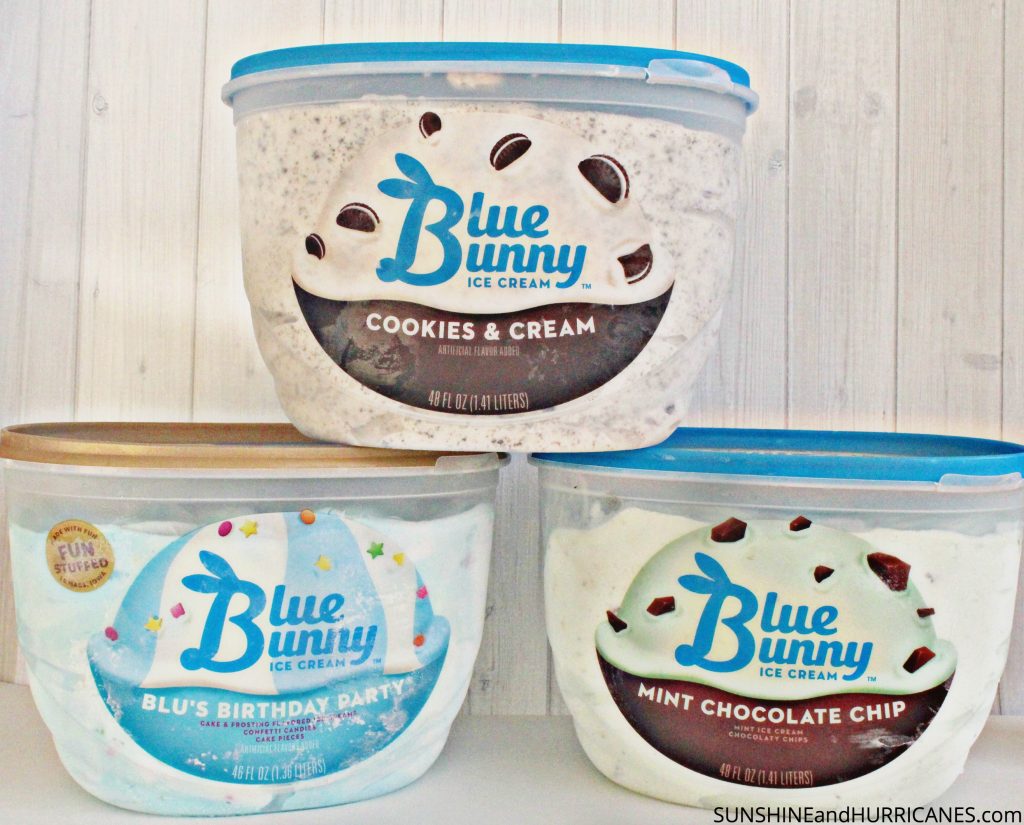 Have you seen the innovative packaging that Blue Bunny® is using? These clear containers are sleek and let you peer right inside so you'll always know when you're running low on everyone's favorite treat, ice cream! I love seeing all the mix ins and how nicely the containers stack in the freezer!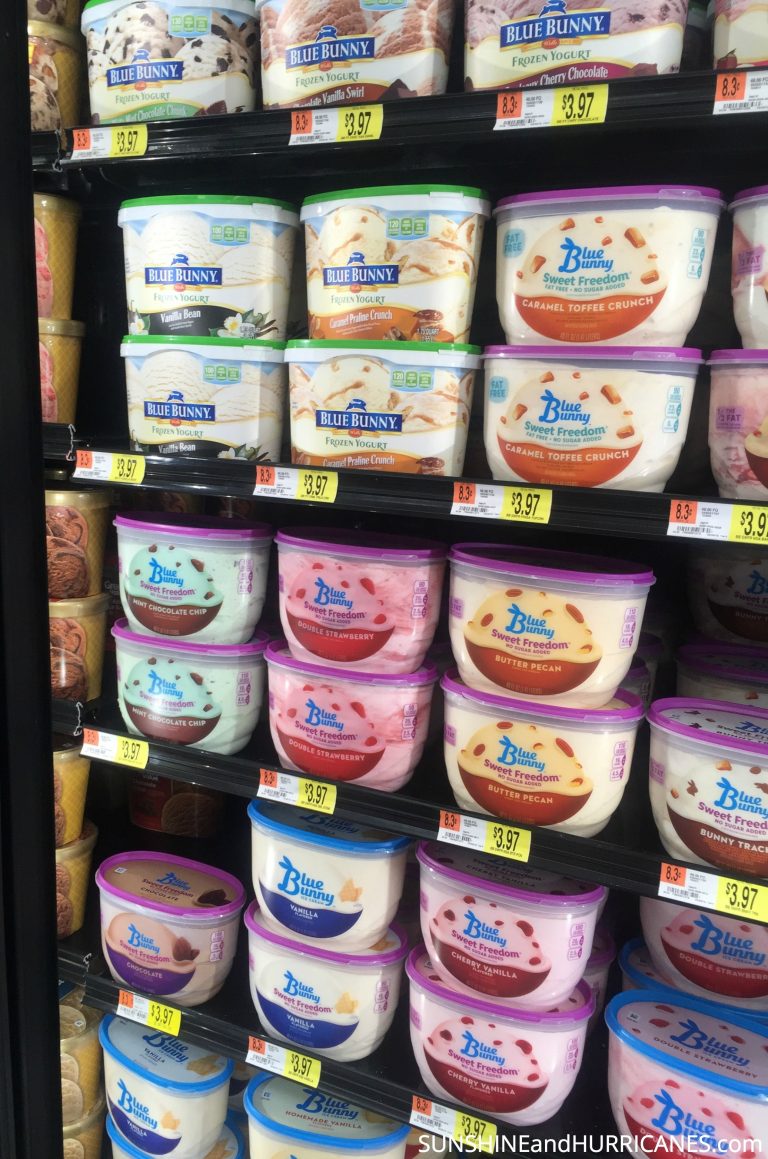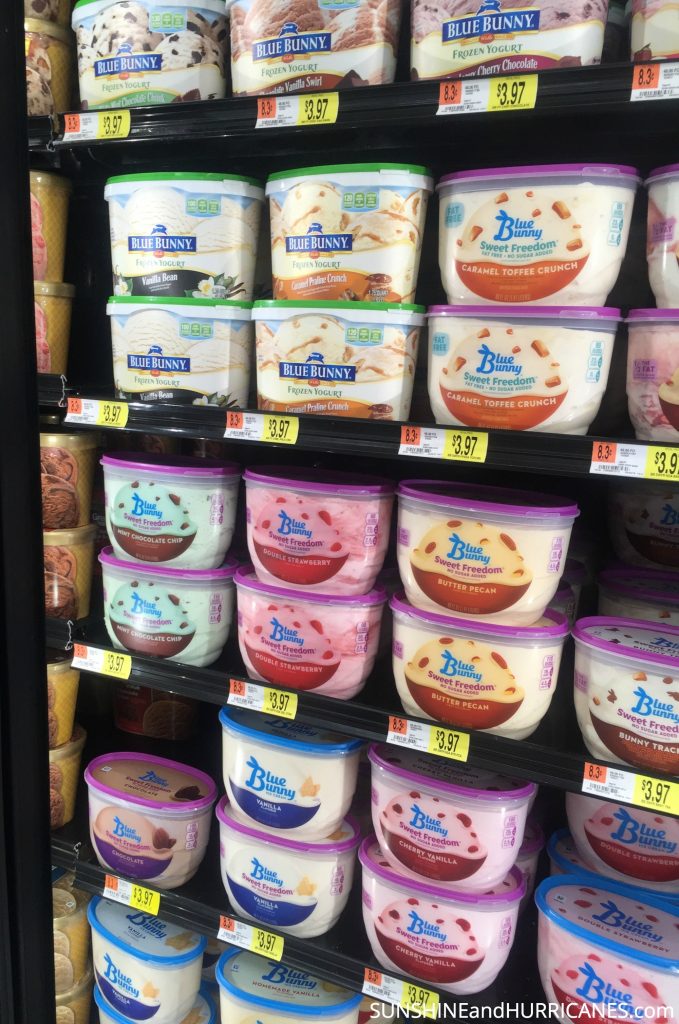 Three of my kiddos joined me on a trip to Walmart and helped select a few flavors of Blue Bunny® for a sweet afternoon treat. With all the fun and colorful choices, we had no trouble loading the cart with ice cream and everyone was especially excited to try Blue Bunny® Blu's Birthday Party®!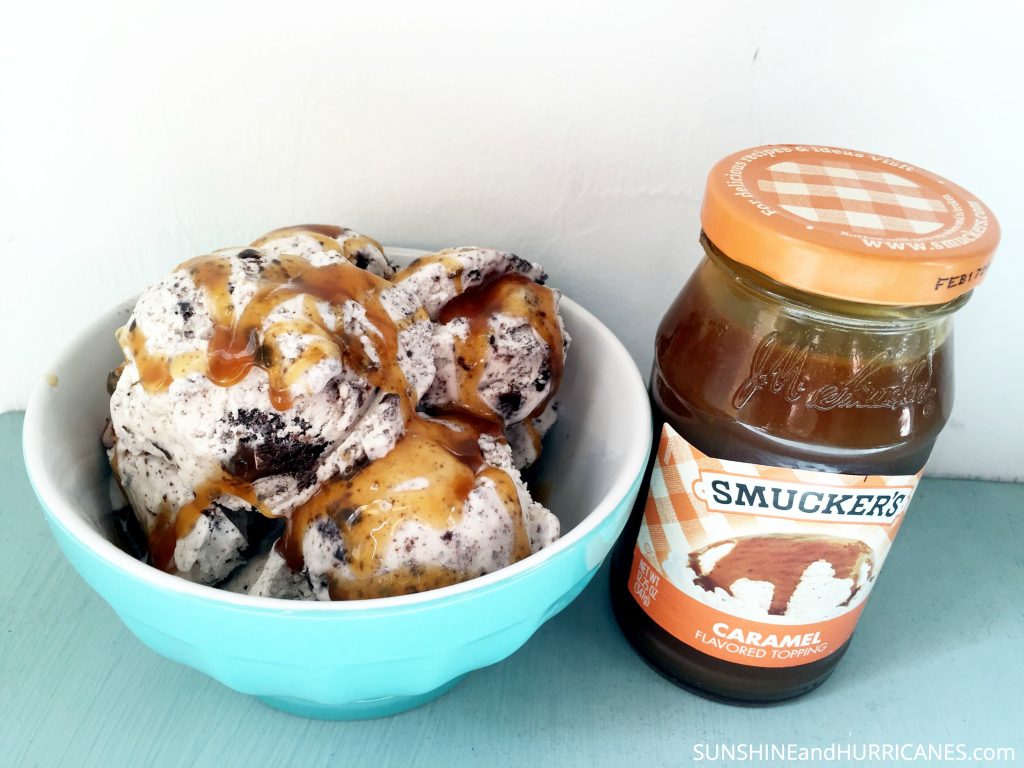 After the children scarfed up all the ice cream sandwiches, leaving not a crumb for me, I treated myself to a bowl of Blue Bunny® Cookies & Cream with some thick and creamy Smucker's Caramel Spoonable Ice Cream Topping. I love heating the caramel, directions on the jar, and swirling it into my cold ice cream. Full disclosure: I totally hid in my bathroom and ate this yumminess, away from the sticky fingers and ice cream mustaches hopping around the living room. 😉
The next time you hear, "Mom, I'm bored!", direct the kids to the kitchen and put them to work creating these scrumptious Mint Chip Ice Cream Sandwiches for the family, a tasty way to beat the Summer heat!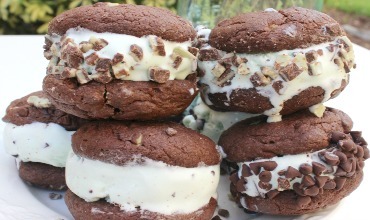 Mint Chip Ice Cream Sandwiches
Ingredients
Blue Bunny® Mint Chocolate Chip Ice Cream

1

package of chocolate cake mix

I used Devil's Food

1/2

c

vegetable oil

2

eggs

1-2

tsp.

peppermint extract

depending on your love of mint, I definitely use 2!

3/4

c

chocolate mint candy pieces

1/2

c

mini semi sweet chocolate chips
Instructions
Combine all the ingredients except the last two until well mixed. Drop by rounded tablespoons onto a greased cookie sheet.

Place in an oven that has been preheated to 350 and bake for 12-14 minutes or until bottoms are firm and cookies are cooked through.

Remove from oven and place on baking rack until completely cooled. Place in an airtight container until ready to use, can be frozen ahead if needed more than a day or two in the future.

Place 6 cookies with their bottoms up and place a scoop of ice cream on each one, then a second cookie on the top to form a sandwich.

OPTIONAL: Roll sandwich through any remaining mini chocolate chips and/or mint candy pieces.
If you're looking for even more ways to beat the Summer heat, check out our post about The Best Swimming Games For Kids: