I love dolls. Always have. They were my favorite playthings as a child and I spent many magical afternoons setting up scenarios for my dolls to shop and interact with one another, losing myself for hours in the land of imagination. There is something special about the creative activities you do as a child, I can still hold a doll in my arms and feel the security and comfort of those childhood days.
My 3 daughters love dolls like I did and we're all fans of American Girl products. And even though we love the beautiful, well made dolls, the costs add up quickly when you start adding clothes, accessories, and furniture to the mix so we're always looking for simple DIY American Girl Doll projects we can create at home.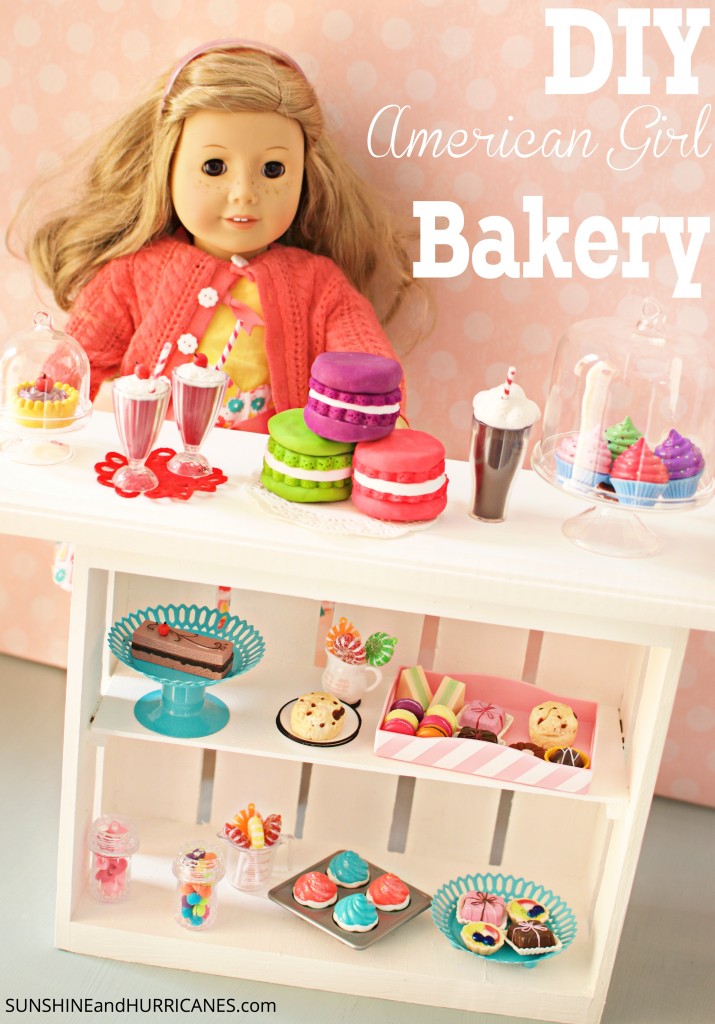 I'm not going to lie, I was super excited to create this simple DIY American Girl Doll Bakery not just because of the creative aspect but because I was so excited to set everything up and play with my girls! There is something I just love about little things; little cupcakes, little pies, and my absolute favorite, little macarons!
I bought an unfinished half wood crate(this was available in the wood craft area, it measures approx. 11″x9″) at the craft store, a 12 x 16 unfinished wood sign, and a piece of balsa wood sized to fit inside the crate to form the shelf. First, I painted everything with white chalk paint
, let it dry, then wedged the balsa wood into the crate. If you have a hard time getting the balsa to fit correctly, use a squared dowel. I trimmed the dowel to fit the inside of the crate, attached with wood glue, let dry for 24 hours, then set shelf in place. I used wood glue to attach the 12×16 sign to the top of the crate to form the countertop, clamped into place with these, let dry for another 24 hours. Lastly, I touched up with paint and my bakery was ready for sweets and treats!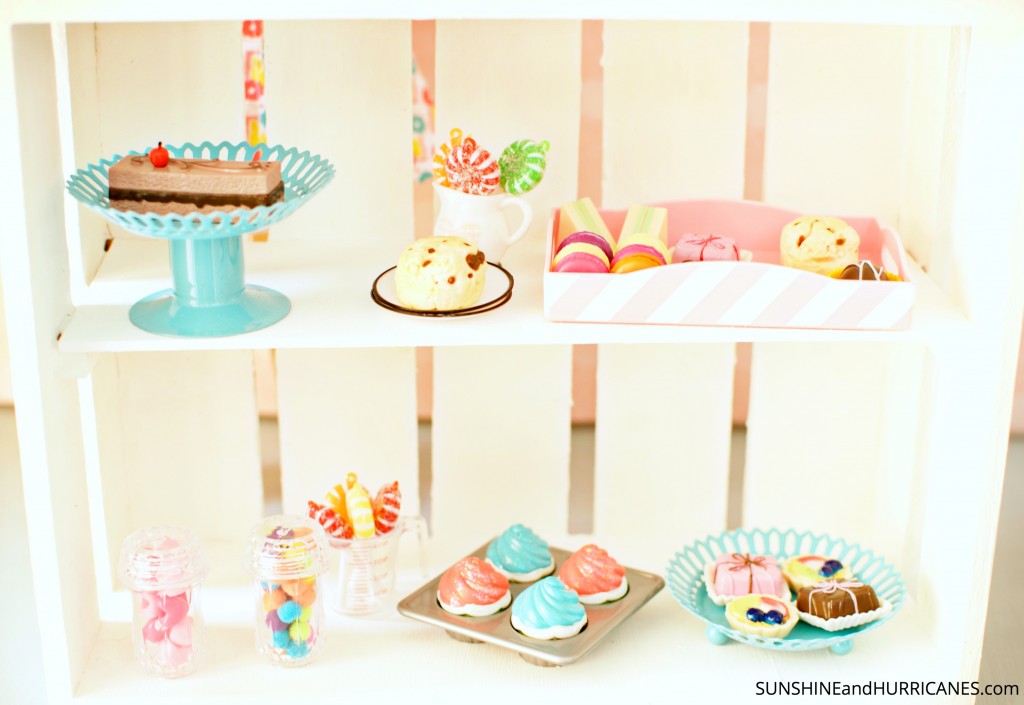 Here are the treats we filled our sweet shop with:
Sweet Shop Soda Set

Tea for Two Set
The small glass cake stands are from Jo Ann Fabrics
The turquoise plate/stand are from Hobby Lobby
The lollipops are small Christmas ornaments and we removed the string for hanging
We followed this tutorial and made our own large macarons with clay
The small jars(actually salt/pepper shakers from the $ store) are filled with tiny pom poms(gumballs!) & plastic heart beads(candy!).
The larger macarons are made from Polymer Clay
and we followed a tutorial from Get Creative Juice.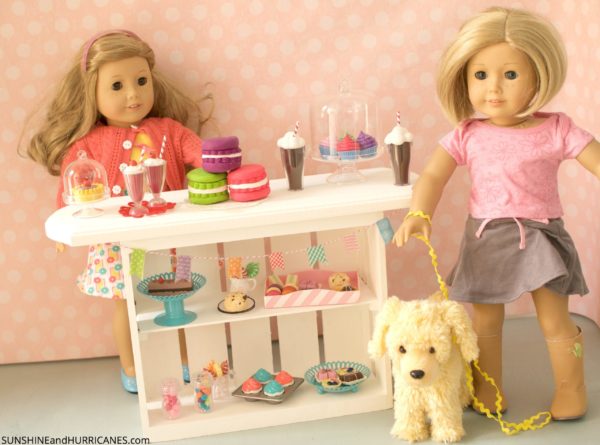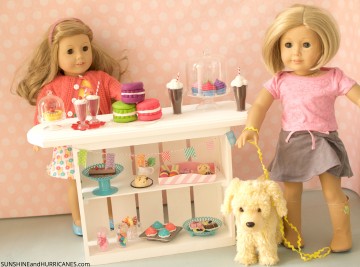 Here are a few more items that would work well and are on our future wish list:
Tiered Doll Cake
Hot Cocoa Doll Food Set

Cookie Tray
Doll Dessert Set
This bakery is versatile: you can turn it into a lemonade stand, produce market, lunch counter, spa supply holder or whatever you imagine! Hours of creativity and play await your daughter with this super easy DIY, and for less than $20, you've made something she'll have for years to enjoy with her dolls!
Have you ever done a DIY American Girl Doll project? I'd love to hear what you've created, be sure to leave a comment!
Looking for more creative ideas? Be sure to follow us on Pinterest for our latest projects!
Follow Sunshine and Hurricanes 's board Best of S&H on Pinterest.