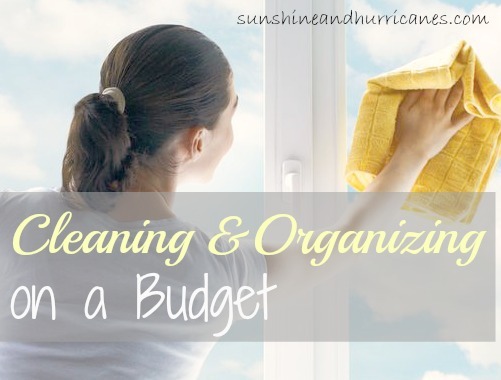 Spring has sprung and how will many of us enjoy this beautiful weather? Indoors cleaning of course. There is something about spring that creates within us the insatiable need to purge, scrub and organize. We seek inspiration in home related magazines where we wistfully yearn for color coordinated, labeled canisters and bins to hold the odds and ends of every room. We swoon over storage furniture in Pottery Barn catalogs that keep backpacks, shoes, toys and other children's paraphernalia neatly in order. As we fantasize about how peaceful our lives would be if our home resembled these pristine pictures, we sigh silently in defeat realizing the nightmare it would make of our bank accounts.
Cleaning
Believe it or not, the primary way to optimize your spring-cleaning doesn't require spending a single cent. In fact, you could actually turn a profit. Instead of focusing on accumulating new stuff to contain your old stuff, why not just get rid of some stuff. Grab a couple of laundry baskets or boxes and get your kids to help if they are old enough. Go through each room dividing the items you are ready to part with into two groups – trash and sell/donate. Once finished, you can decide if you have any energy left to hold a garage sale or you can just load it all up and take it to Goodwill. Either way, you'll come out ahead with earnings from the sale or a tax deduction for your donation. If you need group support and a guide for this process, cleanandscentsible.com has launched a yearlong household organization diet with month-by-month goals, lists and other tools to help you along the way.
So you've taken care of the purging, next step is scrubbing. You want your house to sparkle and smell sweetly, rather than it's current aroma that seems to be an odd blend of kids sneakers and peanut butter. Again, don't run to the store for a bunch of supplies and scented super cleaners. Make your own. It's easy and for around $10 you can get everything you need. The added benefit, if you or your kids have allergies and asthma, natural cleaners are proven to be a healthier alternative. You will need the following items: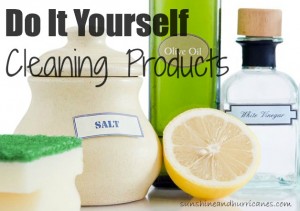 Spray bottles (dollar store)
Vinegar
Baking soda
Rubbing alcohol
Olive Oil
Kool – Aid (seriously!)
A few other options
– Scented essential oils such tea tree and lavender (health food stores)
– Lemons
Most people don't realize that vinegar is a disinfectant that can be used for just about any cleaning job throughout your home.
For surfaces like countertops and even wood floors,
Mix 1 cup vinegar and 1 cup water in a spray bottle.
Use another spray bottle for glass
Mix together 1 cup rubbing alcohol, 1-cup water and 1Tbsp of vinegar.
While the smell of vinegar may bug you at first, it dissipates within a matter of minutes. You can always add a few drops of an essential oil like lavender for a fresher scent.
For a gentle scrub that will remove stains or soap scum
Create a thick paste using baking soda and just a bit of water.
Rub it on and leave it for 10-20 minutes and then come back and wipe off.
Need a handy mix for dusting wood furniture?
Try 1 cup of olive oil with 1/2 cup of lemon juice, shake well.
Apply a small amount to a cleaning rag, run across furniture, flip cloth to the dry, unused side and polish away, removing dust and bringing back shine!
Toilets
Here's a fun chore the kids might enjoy, take one of the powdered packets of Kool-Aid(the acid in the crystals eats away at stains and hard water marks) preferably the lemonade flavor, empty into the toilet before bed time, give it a brief scrub and allow to soak all night. Flush in the morning and your bathroom will be lemony fresh smelling!
Organizing
Now for the fun part – organizing. It's hard not to be tempted by all the stylish organizational products one can buy. However, you often already own much of what is needed to replicate the looks from the pages of your favorite magazines and catalogs. You may need to invest in a glue gun and a labeler (the most basic will do), but beyond that you can keep your out of pocket expense in check with a computer and little creativity. Many everyday items we use in our homes, with minor makeovers, can be repurposed for clutter control. A quick search on Pinterest for "budget organizing" will deliver a wealth of these cheap, cute and clever ideas. Everything from tissue and cereal boxes, to soup cans and pasta jars can be covered with inexpensive wallpaper or fabric remnants to help you recreate the latest in organizing chic.
Should you find that you still require a few key furniture pieces for storing and stashing your remaining stuff, use the cash earned from your garage sale to pick up some gently used bargains on sites like Craig's List or eBay. Also consider stopping by your local Habitat for Humanity ReStore, a well kept secret where there are many hidden gems to be found. Don't worry if your treasures are in need of a little TLC, a quick transformation will be no problem with the tutorials available at myrepurposedlife.net, a blog dedicated giving new life to old furniture.