Has this ever happened to you, maybe at your child's Birthday party or Christmas?
You're lovingly looking on as your child maniacally rips the brightly colored wrapping paper from one of the thirty gifts they've received that day and as you catch a glimpse of what is underneath the festive packaging you hear yourself silently screaming in your head, "NOOOOOOOO!".
Now, your face remains completely neutral, still beaming down with that frozen smile, if only maybe a little more forced now. However, underneath it all, you are cursing whoever it was that brought that gift and wondering what in the world they were thinking.
"Did I do something awful to this person and I don't remember?" "Is it possible that there is a mom that doesn't know about The Mom Code?" "Are they completely clueless that there are just some gifts NOT to give a kid?"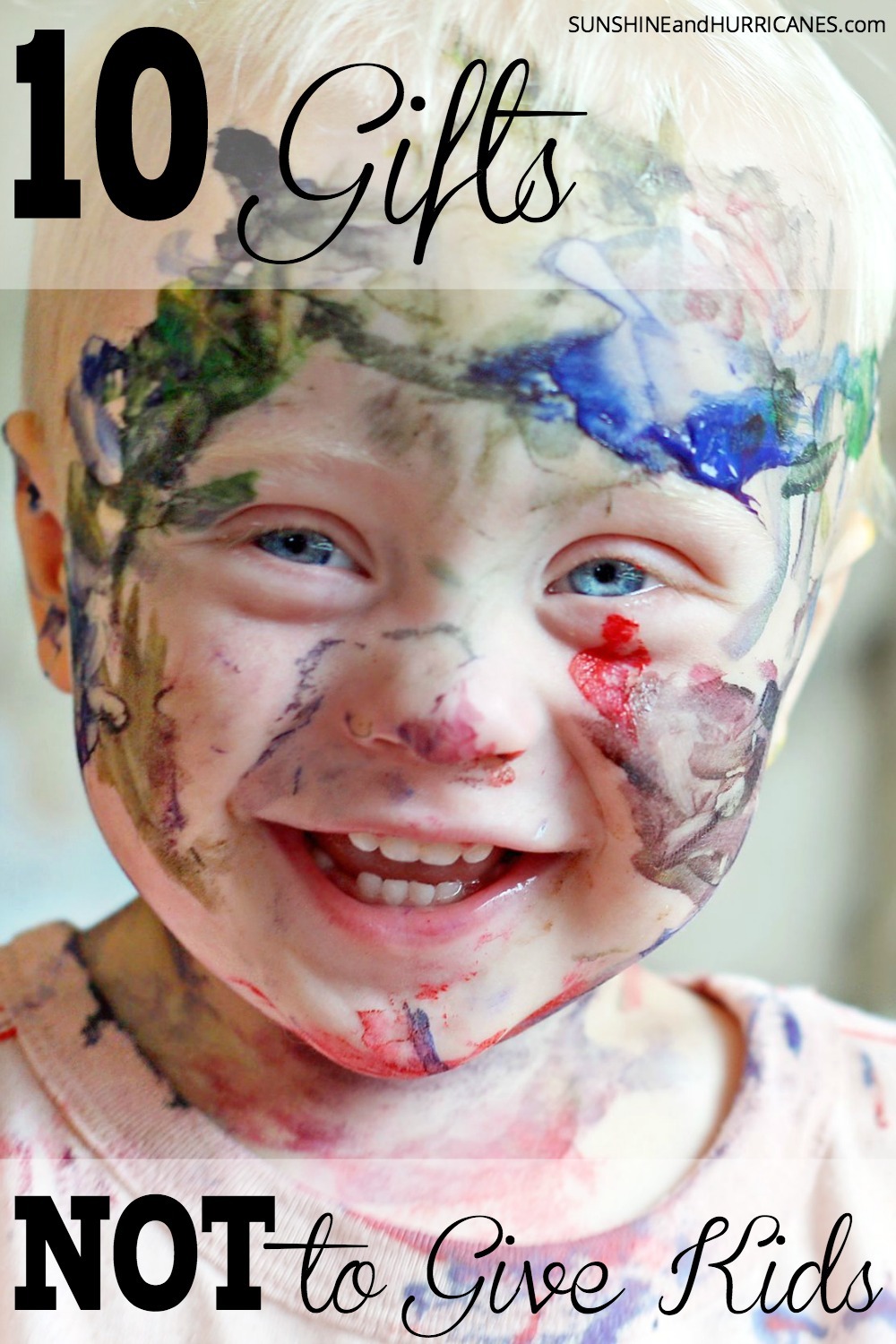 We hate to sound ungrateful, but let's be honest here. We ALL should know that there are Gifts NOT to give a kid, unless of course the parents themselves want to take on the unique tortures associated with that particular choice. Many of us have already suffered through the rookie mistake of buying these items ourselves and dealing with the parental fall-out.
Since we realized that maybe there are a few newbie and non-parents who mean well and so maybe aren't totally aware that there are some definite gift giving pitfalls to be avoided at all costs when it comes to children, we thought it was important to create a handy little guide. OR, perhaps you've got some well-meaning grandparents who aren't taking the hint and need some help, you can just print this out for them and leave it somewhere convenient or anonymously send it to them in the mail.
The 10 Gifts NOT to Give a Kid
1. Anything that Breathes
This seems pretty self explanatory and we would truly hope that ANYONE would know better. This includes everything from a new puppy or a cat to those smaller animals that might seem less problematic like lizards or fish. At the end of the day, if it breathes, someone has to take care of it and in most cases it's not going to be the kid.
2. Anything that Poops
Nope, this isn't necessarily fully covered by #1, because thanks to the marketing geniuses who develop toys for kids, some smart A$% developed a way to make inanimate objects likes dolls actually go to the bathroom. It's gross, it's disgusting and it's just a big N-O!
3. Drum Sets (or really most musical instruments)
I'm really hoping this doesn't need further explanation and you can bet what goes around comes around. Unless the family has a sound proof room or their children live over the garage, then consider a good music appreciation book instead.
4. Glitter and Paint
I gave my kids some glitter puffy pens for a project three years ago and my house still sparkles every time the sun shines in. While some parents have the Martha Stewart gene and can somehow inspire artistic masterpieces from their children while keeping the entire house spotless, the rest of us send our kids to school or craft day at Michael's to fulfill the arts and crafts parenting requirement.
5. Playdough, Kinetic Sand, Moonsand, Clay, etc…
Yes, we acknowledge these are universal favorites for kids, but not so much for many parents. These sort of sticky substances can easily be spread around an entire house in only moments, but can take months to fully clean out of carpets and other nooks and crevices. While some moms may find cleaning fun and relaxing, unless you're also giving these products to a child along with a gift certificate for a maid service, go find another aisle in the toy department.
6. Nail Polish and Children's Play Make-Up
You know how hard nail polish is to get off your finger nails and you've probably ruined a favorite shirt at some point in your life by getting make-up on it. Now, imagine trying to get nail polish out of long curly hair and Hello Kitty blush and lipstick off an entire bedding set, towels, three rooms of carpeting and hundreds of dollars worth of American Girl dolls. You've got the mental picture now, enough said.
7. Toys with Annoying Sounds
Whether it's a toy fire engine with a siren that wails like a chorus of dying cats, a toy that plays the same catchy jingle over and over in an off key loop or a doll with a motor mouth that never stops, kids make enough annoying noises you don't need to add to the sound pollution. Plus, this is how grandparents exact revenge on their grown children, so don't ruin their fun!
8. Science Kits
Children don't need instruction manuals and tools for mixing questionable substances and blowing things up. They already come pre-wired to pursue these types of experiments. Most parents spend the better part of their days trying to discourage these types of activities and they definitely don't want to nurture them any further.
9. Stuffed Animals
We all know these seemingly lifeless cuddly creatures with their irresistible fuzzy little faces should not be able to reproduces and yet somehow at night when everyone is sleeping there must be some toy bin hanky panky going on because we swear every time we look there are twice as many of them as there were before. We shove them into bags to take to the Goodwill each time our kids aren't looking and yet they continue to multiply. Please, help keep the plush pet population under control and don't cave to the cuteness.
10. A Toy that Requires Batteries without the Batteries
Nothing says meltdown faster than a child with battery powered toy with no batteries. Inevitably the parents will have EVERY kind of battery in the house, BUT the kind that the toy requires. Festivities will be interrupted, emergency trips to the nearest store will be made, batteries will be purchases that often cost more than the toy itself and everyone will be grumpy. Way to ruin a party. Next time, remember the batteries or go low tech.
Yes, we realize this is quite a list, and it may seem a little bit restrictive. However, we promise there are still plenty of good options available.
Have you been in the toy section of Target lately?
Trust us, you won't have difficulty finding an alternative to these 10 gifts NOT to give a kid and your child won't be banned from the Birthday party circuit for life. (although, that might not be all bad…..)
If you'd like some ideas for gifts that are parent approved check out these posts:
The Gift of Experiences Over Things
We've also got plenty of other suggestions on Pinterest:
Follow Sunshine and Hurricanes 's board Christmas Gifts & Tips on Pinterest.
Do you have anything to add to our gifts NOT to give kids?