This post may contain affiliate links.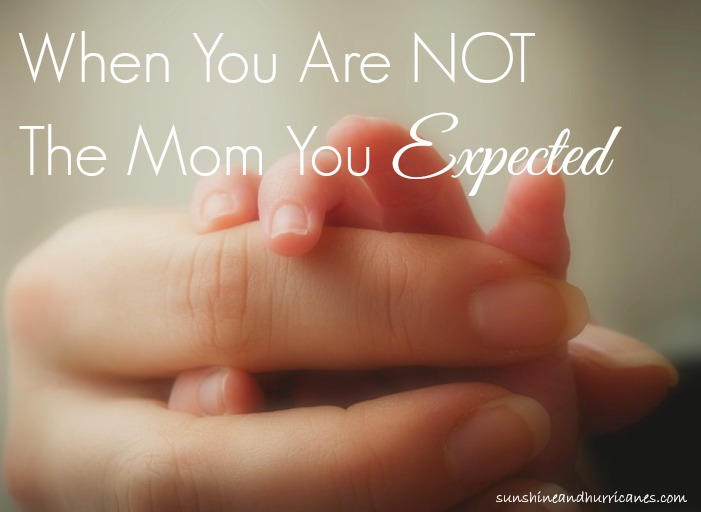 When You Are Not The Mom You Expected
I knew I was going to be a great mother. Not to sound pompous and arrogant, but I thought I was more prepared than most. I'd grown up volunteering my heart out in the church nursery, teaching Sunday School, leading VBS, babysitting dozens of kids. Every job I'd had was related to children: camp counselor, kid's library aide, and teacher. Clearly, the years of experience working with kids from cradle to college had ensured I'd be a whiz at mothering, right?
Okay, even I was not quite that confident…so I read a catalog full of parenting books, took three different classes, and then I knew for sure I was going to be an amazing mother.
And then, my first child arrived and the proverbial bottom fell out of my well laid plans, even before we'd left the hospital. All those books and lovely instructors had promised me if I did the prep work, created a plan and stuck to it, everything would be fine, except my little one wasn't much for plans. Or schedules. Or nursing.
Days melted into weeks and the lack of sleep compounded with attempting to exclusively pump every few hours, being constantly ill myself, and dealing with a newborn while living in a town we just relocated to left me exhausted, lonely, and desperate. None of the books, classes, or prior experiences had prepared me for this.
And as I cried alongside my sweet baby girl, I began to just pour my heart out to God. I told Him I knew nothing about this mothering thing, I promised never to have another kid if He'd just let me survive this one. And the longer I cried, and just said aloud everything I was scared of, the better I felt.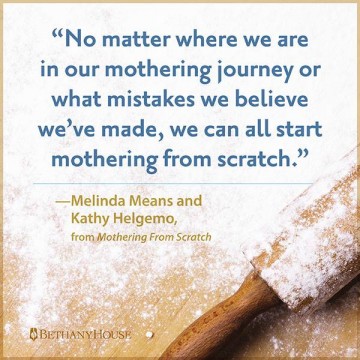 And even though things didn't magically change overnight, they did change, because I changed. I realized that the books were fine but not the end all expert on my baby. I realized that the only way I was going to make it was admitting I couldn't figure it all out. I realized that God had chosen me to be my daughter's mama. Me, with all my imperfections was the perfect fit for this girl. I took things hour by hour, talked to God a lot and somehow, survived those months of motherhood initiation.
And now, 13 years have passed, 3 other babies have joined our family, and I'm still not sure I'm doing things "right" all the time but I do know that God thought, with His help, I could mother my 4 kids, and He is always right.


This post was inspired by our sweet friends, Melinda & Kathy, authors of the fabulous new book, Mothering From Scratch: Finding the Best Parenting Style for You and Your Family
. I found it comforting and inspiring. It really addresses what to do when you are not the mom you expected to be with care and compassion and then gently guides you in finding a style that does fit you and your family. Every mom, in any stage of mothering, will benefit from the encouragement and wisdom offered in this book. Go grab yourself a copy, you won't regret it!
OR enter to win a copy below along with a $15 Starbucks E-Card.