What is "Tech Shaming" exactly?
Last year, a group of sorority girls were caught on the jumbtron at an Arizona Diamondbacks baseball game taking selfies. The announcers immediately seized the opportunity to mock them and the entire internet enthusiastically joined in over the days that followed. A captured image of the girls making sexy pouts and sweet smiles for their cell phones spread and people everywhere condemned them for representing everything that is wrong with today's youth.
I'm ashamed to admit, I jumped on that bandwagon.
I shared the photo on Facebook with some pretty unkind comments.
I judged them based on a single moment.
It wasn't long after that I learned, like much of the world, that I had been wrong. Just moments before that incriminating photo was taken, a selfie contest had been promoted over the speakers at the stadium. It was all in good fun. The girls were playing around, maybe hoping to win a t-shirt or something.
Once the truth came out, in an attempt to make things right the TV station broadcasting the game and the Diamondbacks came together to offer the sorority girls free tickets to another game. The girls declined and instead asked for the tickets to be donated to a charity serving families who were the victims of domestic abuse. Looks like they weren't quite so self-centered after-all.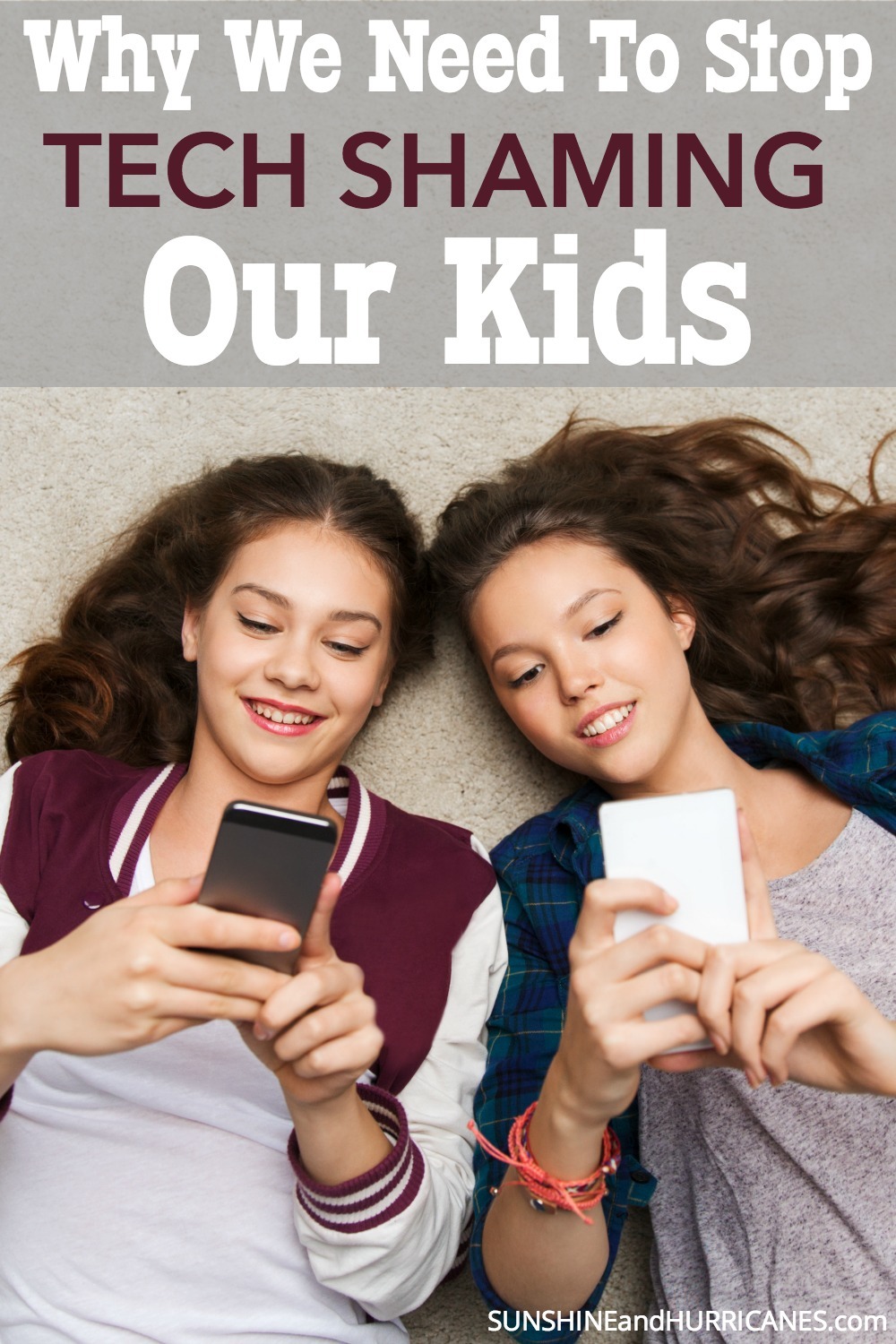 We're Telling a False Story
The sorority girls are far from the first occurrence of blatant tech shaming of today's young people. It has almost become a sport on social media. I see memes shared almost daily that put down our kids for their technology use and that constantly imply that their lives, their character and of course their summers are far inferior to previous generations because they are too busy playing Minecraft, taking selfies or texting.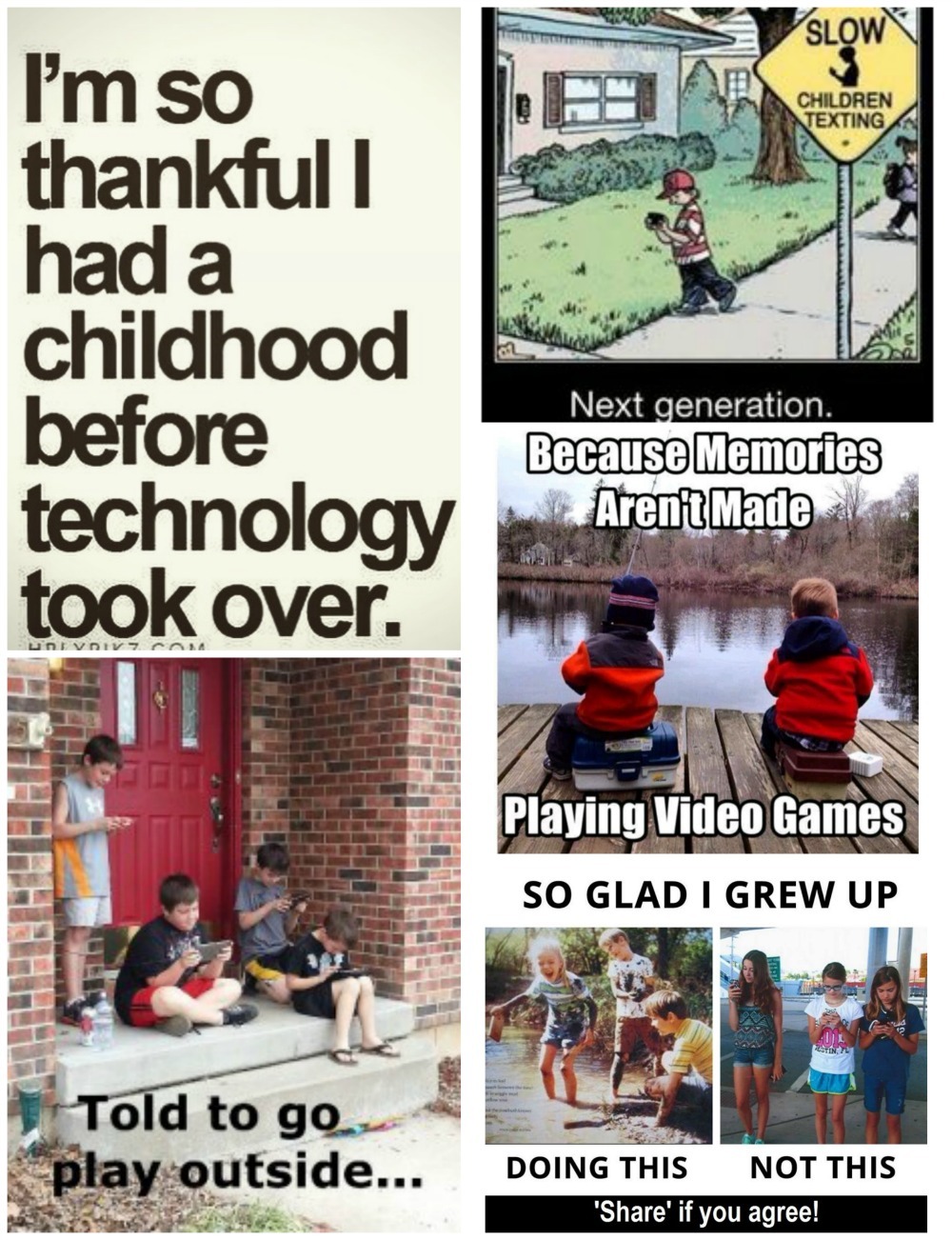 When we promote these messages, maybe we think we're talking about other people's kids and not our own in these situations. But no matter what we're creating a narrative for an entire generation that they often don't deserve.
Here's yet another example. It took less than 24 hours for this photo snapped by someone not affiliated with this group of students to spread almost globally with 1,000's of snarky comments holding it up as further proof that technology has ruined our youth.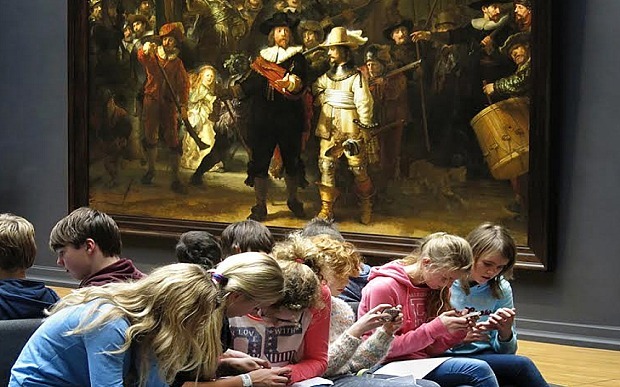 Yes, that's a famous Rembrandt painting on the wall and it does look like these kids are completely ignoring a masterpiece in favor of the phones. What those who see only this photo don't know is that they had already done an observation of this painting and had been instructed to use the museum's app to learn more about all the different artwork they had viewed that day.
We're pretty quick to jump to conclusions aren't we?
This could easily have been any of our kids on a school field trip today.
All Generations Have Different Childhoods
All this condemning of technology and declarations of the imminent destruction of childhood is usually followed by a non-stop flow of nostalgia for days gone by where Tom Sawyeresque kids roamed freely outside every minute of their waking lives and used nothing but their imaginations for fun and entertainment.
While I'm always up for a good dose of nostalgia, can we be real for a minute.
A lot of our rosy colored reminiscing focuses in on the very best parts of our childhoods, while ignoring all the other less than perfect realities that also existed. If you are raising a child today, then you were NOT brought up during some Little House on the Prairie era without technology.
You most likely watched your own fair share of television. I know I had the entire line-up of Saturday morning cartoons memorized!
Oh, and as far as video games, while we didn't have an iPad or a Playstation, there was still Atari and other ancient gaming systems in households and pizza joints across America. I had the top score on Ms. Pac Man at our local arcade and could crush Donkey Kong and Q-Bert like nobody's business. That didn't happen in a mere 30 minutes of allocated screen time a day.

We're Raising Good Kids
Was technology as big a part of our lives back then as it is today? No, it wasn't.
However, I'm quite sure if we were to ask our own parents, they would have viewed MTV and Pong as comparable threats to the sanctity of our childhoods. It is a cliche that every older generation always believes the newer generation's upbringing is somehow lacking or inferior to their own.
So, maybe we should be more careful about how much we romanticize our own childhoods and then use that as a comparison to our children's. If we were to truly stop all our worrying and preaching and just look around at the children around us, our own and other people's, I don't think we would see a bunch of technology overloaded zombie munchkins.
For the most part, we would see children who are happy, healthy and well-loved.
Are they growing up in a different world? Absolutely.
Does technology pose challenges for us as their parents and for them? Absolutely.
Yet, why are we so determined to see all of the bad and none of the good?
Tech Shaming is A Cop-Out
Technology is a part of our kids lives and a part they embrace and enjoy. We need to stop implying that their childhoods are somehow less because of it. That isn't fair to them. It is our job as parents to help them learn to use technology safely, responsibly and in moderation. Perhaps that is hard, because we ourselves are struggling to do the same. But that isn't technology's fault.
Last time I checked, all technology comes with an off button or the ability to remove the batteries or unplug it. We have control, it's just whether or not we are choosing to use it. If we continue to tell this story where somehow technology, rather than we as parents, has all the power and that our children are suffering as a result, then is it really technology that is ruining childhood or is it is us?
Want to make peace with technology? Check out our whole series – TECHNOLOGY 101 FOR PARENTS.

You can also follow our Kids and Technology Board on Pinterest:
Follow Sunshine and Hurricanes 's board Technology for Kids on Pinterest.
Other posts that might interest you:
Taking Control of Technology Before Technology Takes Over Your Family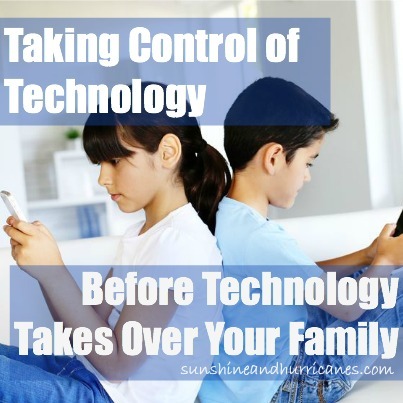 The Worst Apps for Kids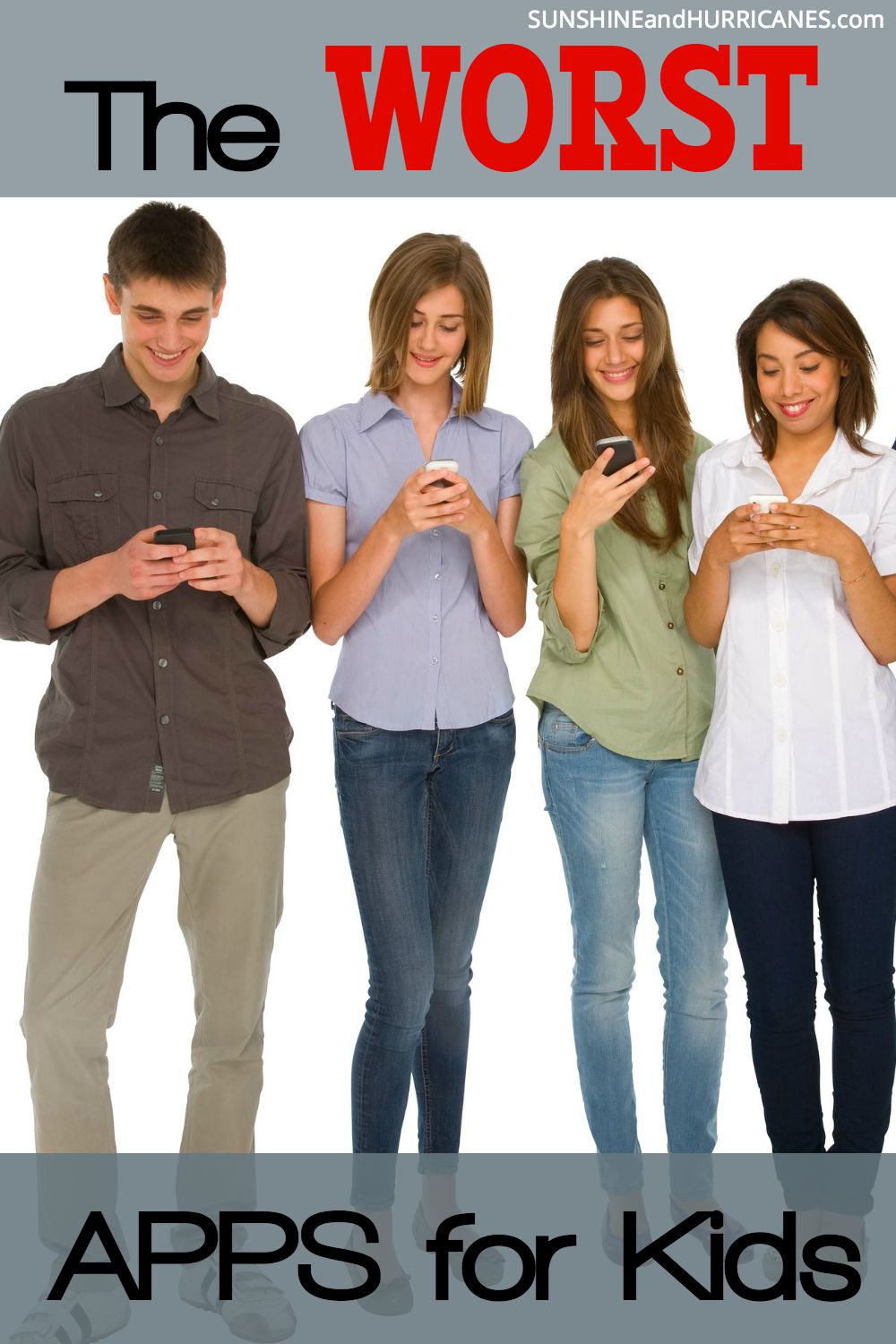 What do you think is contributing to our culture of tech shaming?