Michelle and I are fairly new bloggers and we're still in the process of finding the full identify of our blog. Overall, we know that our underlying motivation was to create a space where we can encourage other parents to let go a little, both for their own well being and for their kids. We keep saying we're like the anti-helicopter parents but we just can't come up with the right title for what that is exactly. (If you've got any suggestions, we'd love to hear 'em).
We want to create a space where parents (or non-parents for that matter) can find ways to make life easier and more meaningful. Where they can learn ways to foster more independent kids. Where they can find friendship during difficult times and where they can find all sorts of ways to just have more fun in life. We also really want to help moms. We know so many moms out there, whether they admit it or not or show it on the outside, are struggling and just aren't enjoying their life and aren't enjoying being parents. They feel like they are doing it all wrong. But they're NOT!!!
You know what, Michelle and I are great moms. Yes, I said it, I know that's crazy, right? In today's world, we're not supposed to feel like great moms, let alone actually announce it to the world. We're supposed to always feel like we're not good enough, not doing enough, somehow just not measuring up. However, not only are she and I great moms, so are about all the moms we know. I would actually go out on a limb and say so are most moms that we don't even know.
Does that mean being a great mom looks the same for Michelle and I? Definitely NOT! Despite the fact that I swear we were the same person in another lifetime, as moms and as people we are quite different on many fronts. There could be two dozen kids running through her house every day of the week and she wouldn't look even a little bit phased by it, in fact she would probably like it. Me on the other hand, I would need anxiety medication. She will absolutely be the mom who has "that" house where all her kids friends want to hang out as they get older along with the entire neighborhood. I will be the mom curled up with a book enjoying the silence knowing my kids are hanging out at her house and they are perfectly fine. You know what? That is totally okay. We are all our own kind of mothers and we are exactly the kind of mothers our kids need.
However, I'm going to be honest here, there is one kind of mother that none of us should be. That is the mom that counts sprinkles. What does that mean exactly? Well, during one of our 10, 321 phone calls, texts and in the car chats that take place every week, Michelle had told me about this quote she had seen somewhere, she wasn't even sure where at the time. I was skeptical that such a statement could exist, but sure enough, I found it on Pinterest.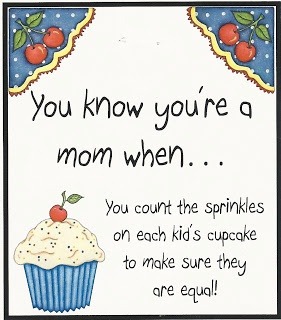 She said to me, " I swear, if one of my mom friends ever tells me she's counting the sprinkles on her kids cupcakes, I'm going to hit her over the head like Bunny Foo Foo". On this one, Michelle and I are on the same page. At the end of the day, if you feel you have to go so far as to count sprinkles to be a good mom, then you truly have lost yourself to all the external messages of Pinterest and Facebook and Parenting Books and Magazines and TV and judgey other moms telling you the kind of mom you SHOULD be. And if you're acting out the role of the mom you think you SHOULD be, then you're not being the mom you are meant to be.
Being a mom, and definitely being a great mom, has nothing to do with counting sprinkles. However, it has everything to do with you being the person you were meant to be, and accepting the mother that makes you. When you are able to do that, then by your example, your children learn how to love themselves and how to accept the people they are meant to be. To me, wanting that for your children, now THAT is when you know you're a mom!