Yeah, I know, we've all seen those elaborate lunches on Pinterest where parents make artwork out of a few slices of bread and some sandwich meat. They're fun to look at, but who has time for all that? Plus, do we really think it's still going to look like that by the time the kids gets to lunch? What we really need are easy school lunches that are healthy and we feel reasonably sure our kids will actually eat.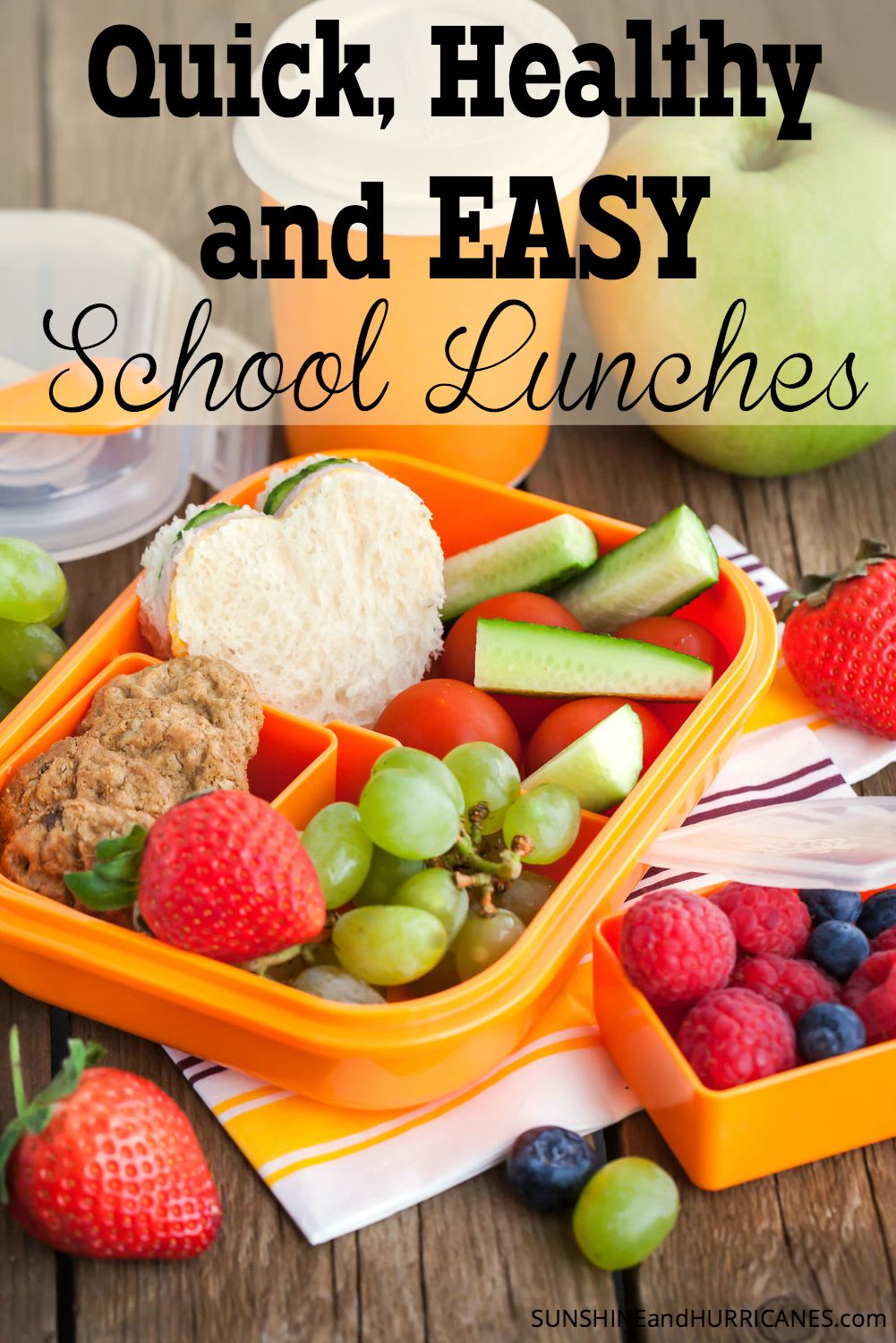 Now, despite poking a bit of fun at the "Pinterest Perfect" lunch, I do appreciate the care those parents show and their attempts to make healthy eating fun. However, I don't think all that effort is necessary to prepare quality, easy school lunches for our kids. We can find a middle ground where we feel good about what our kids are eating AND we know they actually ARE EATING IT without making ourselves crazy trying to carve Disney characters out of fruits and veggies.
First, I believe in being prepared. Yep, you guessed it, I was a Girl Scout. However, when we have the tools we need, for making easy school lunches that is half the battle. I've got a handful of lunch prep items that I rely on when it comes to pulling together quick, healthy and easy school lunches for my kids. To learn more about it check out my post "Armed and Ready to Make School Lunches"
Alright, now that you've got the tools, let's take about how to use them to create easy school lunches that are quick & easy and sure to please the both little and big kids alike.
A Full Week of Healthy and EASY School Lunches
Day 1 – Yogurt Parfait
Using Reusable Lunch Containers with Built In Freezer Packs
, put low-fat yogurt in one, diced up fruit or berries in another and then granola(or any type of healthy low sugar cereal) or slivered almonds in a third. The kids can mix them together or eat them separately.
If you are still concerned about the yogurt sitting in the lunch box for a couple of hours and not staying cold enough with the ice packs alone, you can freeze the yogurt the night before and by lunch time it should be thawed. You can also use Insulated Food Jars
that will keep cold foods cold and hot foods hot.
Day 2 – Better than Pre-Packaged Cheese and Crackers
Avoid the prepackaged cheese and cracker lunches. They can be extremely high in sodium and preservatives. Instead, you can still come up with easy school lunches and for far less money, by making your own "lunchables" using Ziploc 3 Compartment Containers
Try multi-grain or even gluten free crackers, spreadable cheese (like laughing cow) or string cheese and slices of turkey and ham deli-meat or even chunks of rotisserie chicken. Serve with grapes or berries and either a packaged lower-sugar chewy granola bar or make your own.
Preheat oven to 350. Coat a baking sheet with cooking spray or parchment paper. Mix 1 cup honey or maple syrup with 1 cup nut or seed butter ( almond, sunflower seed, pecan, hemp, hazelnut, pine nut) Add in 3 cups of either (only one, not all three) Old Fashioned Oats, Rice Cereal or Corn Cereal. Blend in a couple handfuls craisins, sunflower seeds, dark chocolate chips, or just get creative. Press onto the baking sheet into a square about 1/4 inch thick. Bake for 10-12 minutes or until golden brown. Let cool and cut, you can store in an airtight container or even freeze a batch to use later.
Day 3 – Bagelwiches
Whole-wheat bagel thins, mini-bagels, wraps spread with organic or veggie cream cheese and thinly sliced cucumbers, traditional PB&J, PB& Monkey (peanut butter and banana) or even just plain cream cheese and strawberries. Sides can include fresh fruit or a packaged container of fruit or natural unsweetened applesauce (read the labels on the fruit or applesauce you choose, some varieties have serious sugar added and others are now including sugar substitutes that are also questionable for kids).
Day 4 – Dipping Delights
Dippers:
Pita Chips
Carrots
Thinly Sliced Peppers (Use different colors and tell them to dip a rainbow, it's all in the story)
Cucumbers
Broccoli or Cauliflower Florets
DIPS:
Hummus – my absolute favorite. If you're child has never eaten hummus (or you for that matter) this may sound a bit foreign. However, many kids are all about the dipping and are less picky about the dip itself.
Awesome Avacado
2 Tbsp milk
1/2 tsp worcestershire sauce
1 avocado pitted, peeled and quartered
1 12 oz carton small curd cottage cheese
1/4 small onion
Put all ingredients in a blender and run until smooth.
More standard , but probably more acceptable to picky eaters would be Ranch or some kind of salsa (try the fruity ones, sooo good!) but then be sure to include some protein with a hard boiled egg, some cheese or small serving of nuts.
Day 5 – Lunch Kabobs
Okay, this one may be a bit tricky if you're concerned that your child might wield a toothpick as a weapon in the cafeteria (in that case, try lollipop sticks you get at craft stores). The idea is to create a fun and funky sandwich on a stick. I will often have the person at the deli cut an extra thick slice of chicken and then at home I'll cut it into chunks or I do this the night after we've had chicken breasts for dinner and I'll just make an extra or plan leftovers. To assemble the "sandwich" , you can alternate on the toothpick a piece of chicken, a chunk of cheese, a chunk of apple or pineapple, a grape tomato and a piece of green or red pepper. Usually between 4-8 of these per lunch will work depending on the age and appetite of your child and then mini-muffins are a nice compliment. Try this super easy recipe below, freeze what you don't use and pull them out as needed for future lunches.
Preheat the oven to 350 degrees F (180 degrees C). Using cooking spray on the cups in two mini muffin pans. In a large bowl, stir together 1 1/4 cups natural bran (not cereal), 1 cup all purpose flour, 1/2 cup brown sugar, 2 1/2 tsp baking powder and 1/2 tsp cinnamon. In another bowl, whisk together 1/2 cup milk, 1/3 cup canola oil and 2 eggs. Add the milk mixture to the bran mixture, stirring until just combined. Fold in 1 medium peeled and chopped apple. Spoon batter into the prepared muffin pans, filling each cup to the top. Bake for 12 to 14 minutes or until a toothpick poked into the middle of a muffin comes out clean. Makes 20 to 22 miniature muffins.
You've now got a simple rotation of easy school lunches you can use and that is more than enough for kids. Keep in mind that kids can often be happy eating the same thing for days on end. Plus, you've still got old standbys like PB&J to rely on or a good old turkey sandwich.
What Kind of Easy School Lunches Do You Make That Your Kids Love?
Looking for Other School Lunch Ideas?
Follow Sunshine and Hurricanes 's board Kids Lunches on Pinterest.