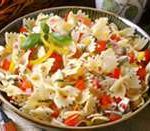 My allergies are driving me crazy! So, what does that have to do with pasta and coupons? Well, when my allergies are acting up, I'm exhausted and grouchy and I don't want to cook. This is when take out, the ultimate destroyer of spare change, becomes really appealing. However, I've discovered more and more, that I can beat the unnecessary and unplanned for spend with one simple recipe (and various slight variations). What is always on sale at the grocery store and fairly healthy (especially if you buy the whole wheat variety)? PASTA. Here is a simple recipe that is quick and easy and even kid friendly:
Pasta of your choice (like I said, whole wheat is the best choice. Not sold on whole wheat, try mixing a box of whole wheat and regular together for a 50/50 mix)
garlic – chopped (you can buy this in a jar at the store for about $2 when you want to cheat and not chop up the fresh stuff)
1/2 a red onion diced
tomatoes – seeds removed and diced (I often use grape tomatoes)
2 tsp chopped basil or oregano (fresh or dried, it's up to you)
2 tbsp Olive Oil
Boil the pasta as directed. Put about 2 Tablespoons of olive oil in a skillet, heat on medium high. Add the garlic and onions and cook for about 5 minutes. Follow with the tomatoes and basil or oregano along with salt and pepper to taste. Cook another 5 to ten minutes. Drain pasta and add the tomato mixture, mix and serve topped with parmesan. You can also make variations on this by adding some chopped peppers or spinach or even some zucchini. It will add to the veggie content, which is always a plus.