This post may contain affiliate links.

Brown Paper Packages Tied Up With String
These are a Few of My Favorite Things
Giving someone a gift of your favorite things, can be one of the most thoughtful gifts you can give someone special in your life. If you love these things, most likely other people will too! Michelle actually introduced me to this idea for my 40th Birthday. She gave me the cutest brown paper package all tied up with string and inside were all these amazing goodies. I was SOOOOO excited and I LOVED everything in it. Now some of her favorite things have become mine (see the Katie Daisy notebooks on MY FAVORITE THINGS below, I totally stole that from her!)
You could also consider making it a mix of things that you love as well as some of the small indulgences you know the other person loves, but will rarely buy for themselves. Once you've collected the items that you want to include, wrap them all up using basic brown paper (you can get it at almost any retailer like Target, Wal-Mart, drugstores, etc or even online at Amazon Postal Brown Wrapping Paper
.) Then choose a favorite type of string and print out the little gift tags we've included for you and you're ready to go. Here's an example of the one Michelle did for me, prior to being opened.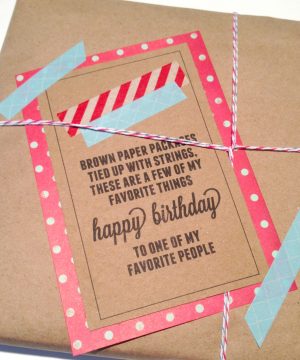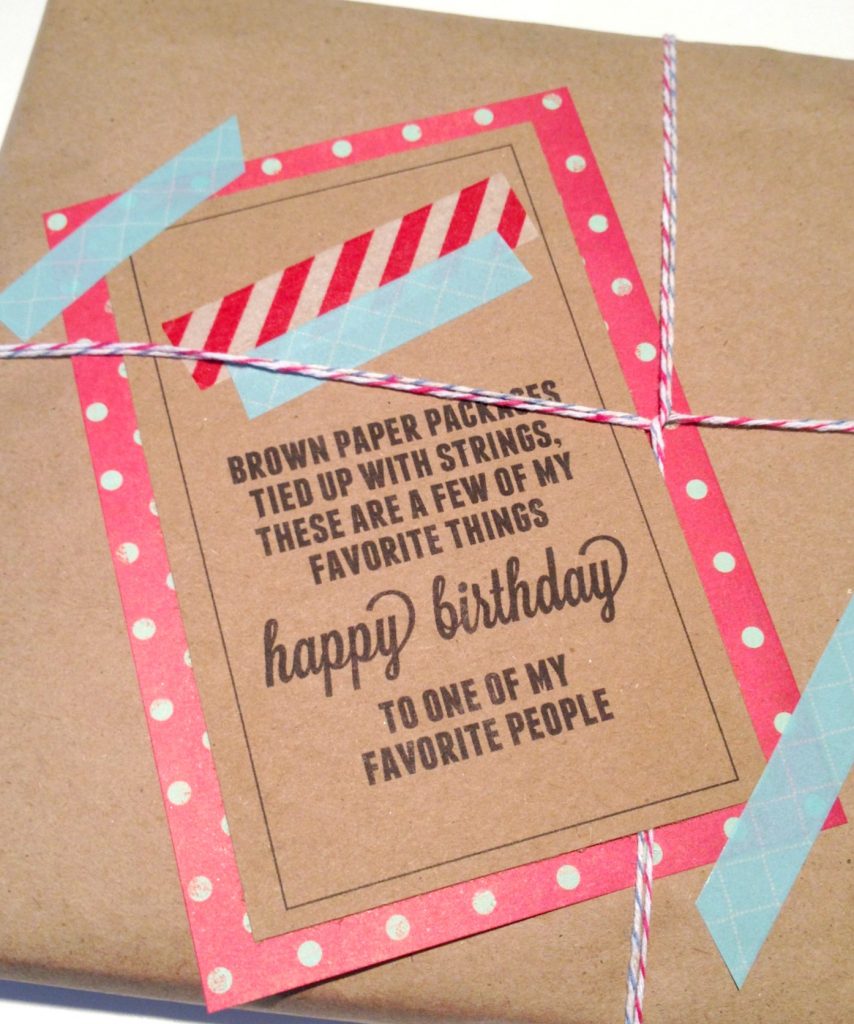 It truly is a one of a kind gift that is sure to make the receiver feel special. However, if by chance you are needing a little inspiration to get you going, Michelle and I have included a round-up of OUR favorite things below. You'll see that none of the items are very pricey, but put together they create a package that is sure to be memorable and fun to open!
Michelle's Favorite Things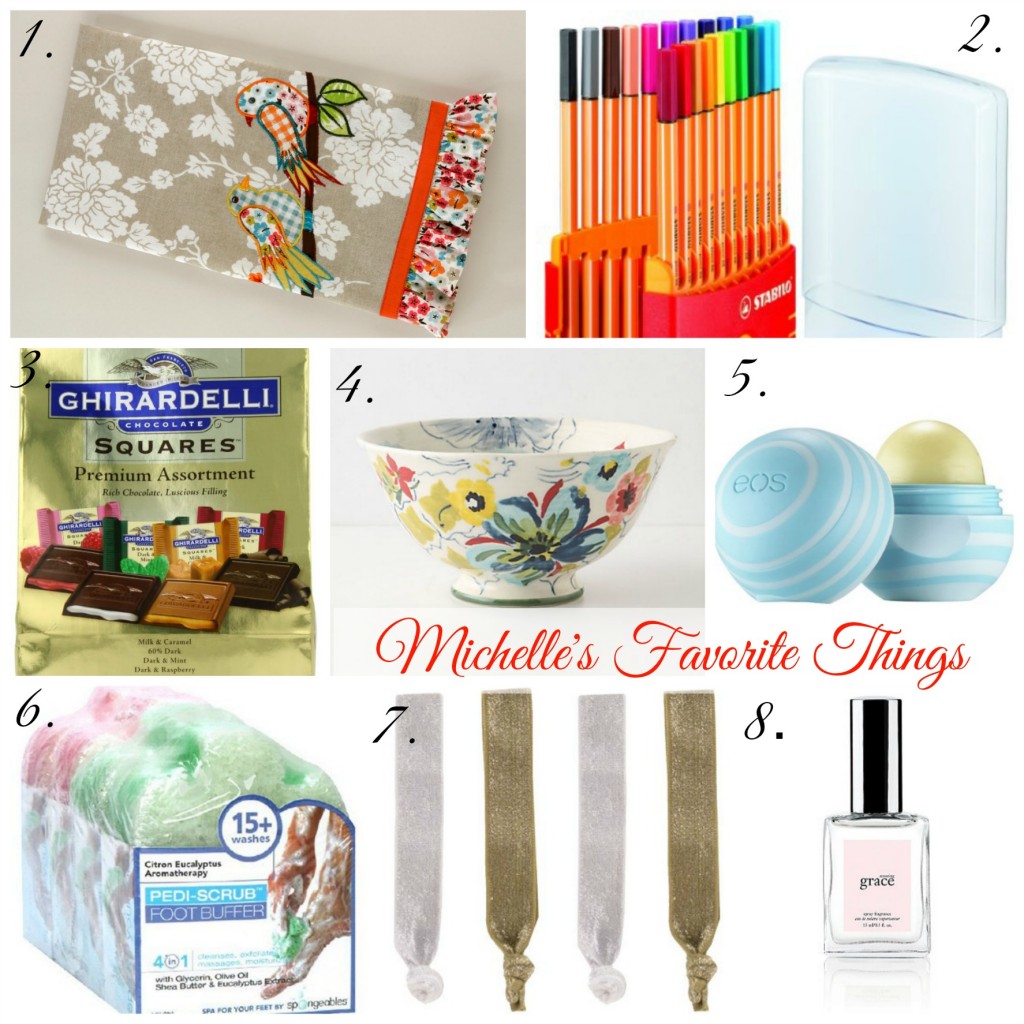 1. Love Bird Dish Towels – These sweet towels can be found at World Market
2. Stabilo Point 88 Pen Sets color parade adjustable set set of 20
– Available on Amazon. Michelle's Current Favorite Pens (she has an obsession with pens).
3.Ghirardelli SQUARES Premium Assortment Gold, 18.59 oz.
– Available on Amazon or retailers like Target, Wal-Mart and Drug Store Chains. Who doesn't love chocolate!!!
4. Decorative Bowls – From Anthropologie. A nice little decor item or they come in many styles and can be made into a collection.
5. Soft Vanilla Mint EOS Lip Balm– You can find these yummy little lip balms at Target, usually in the check-out aisle.
6. Spongeables Pedi-Scrub Foot Buffer, Citron Eucalyptus and Lavender Tea Tree Oil Aromatherapy – Available on Amazon. Michelle says these are THE BEST Pedi Foot Scrub Sponge for your shower at home and that you can divide these and use for four different gifts.
7. No Crease Hair Bands– Found at Target. Quick and easy way to stylishly keep hair out of your face.
8. Philosophy Mini Spray- Available at Ulta. A nice subtle scent that just about anyone will find appealing.
Kira's Favorite Things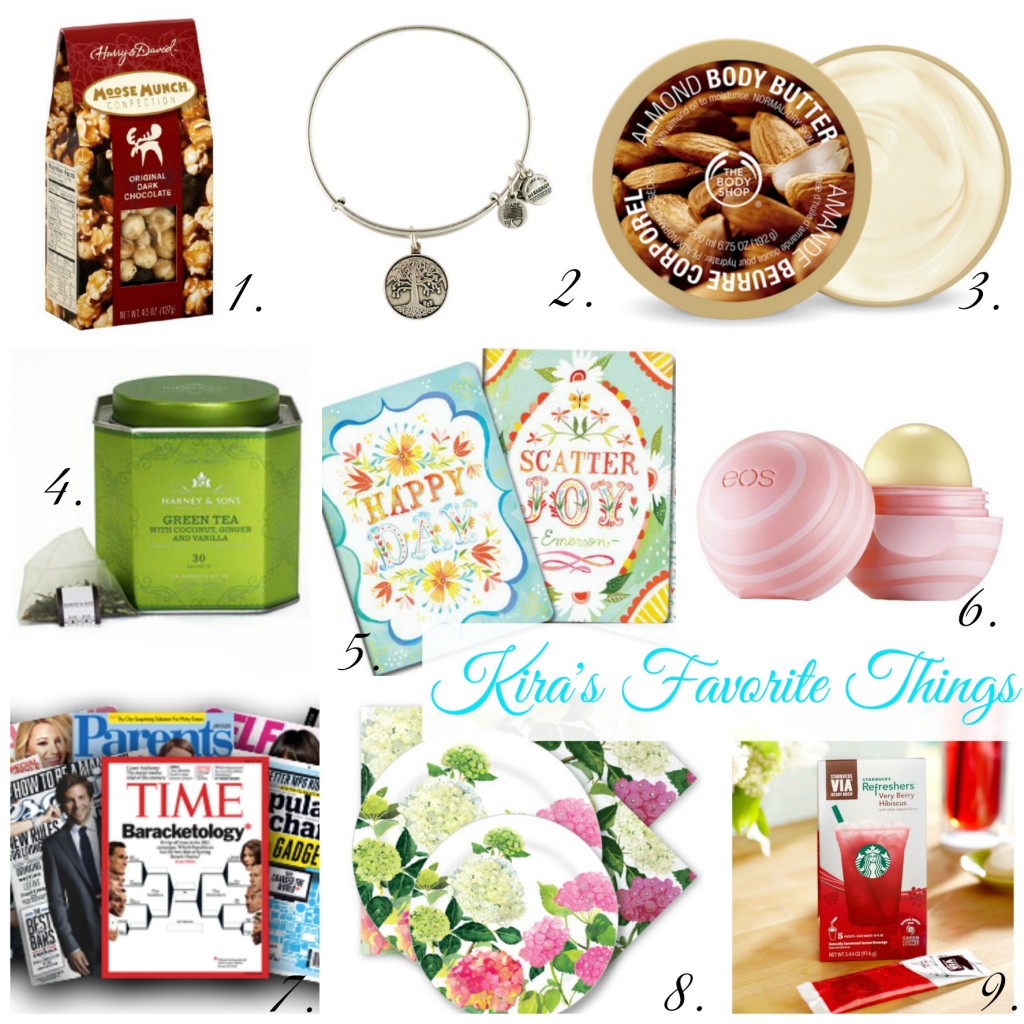 Kira's Stuff
1. Harry & David Moose Munch Original Dark Chocolate – Available on Amazon and at most Barnes and Noble Book Stores. Totally addicting. One of my favorite little indulgences.
2. Alex and Ani Tree of Life Bangle – Available from Alex and Ani. I have decided I can not possibly own enough bangles with quotes or special meanings. These are some of my favorites.
3. Body Shop Almond Body Butter – Available at The Body Shop online or in stores. Smells so good, you might be tempted to eat it. Will leave your skin feeling softer than anything you've tried before.
4. Harney and Sons Green Tea with Coconut – Available on Amazon or at most Barnes and Noble stores. I'm a big fan of all Harney and Sons teas from their pretty containers to all their unique flavors. This green tea with coconut though is one of my favorites.
5. Studio Oh! 3-Count Notebook Trios -Available on Amazon. The designs are by Katie Daisy, one of our favorite artists here at Sunshine and Hurricanes. You can purchase these at Target as well in the stationary aisle. (yep, totally stole these from Michelle!!)
6. Eos Visibly Soft Lip Balm -Coconut Milk
– Available on Amazon, at Target or most drug store chains. Yes, this is one that Michelle and I share as well, but while she likes the vanilla, I'm a coconut girl all the way.
7. Magazine Subscriptions – I may or may not have subscriptions to over a dozen magazines. Most people overlook what a great gift this can be. Super affordable and lasts all year long! (Link is for magazines.com, which offers great discounts on magazines.)
8. Coordinating Party Plates and Napkins – My own personal obsession, I just can't get enough cute little plate and napkin sets for all our various special occasions. I find the best ones with the best prices at TJMaxx and Homegoods stores.
9. Starbucks Via Very Berry Hibiscus – A great afternoon pick me up for people who don't want the full force of coffee and far more affordable than a daily stop at an actual Starbucks.
Whether you use our ideas, or your own personal favorites, we know that this is a gift you will enjoy giving and the receiver will certainly love getting!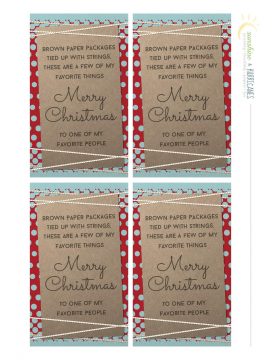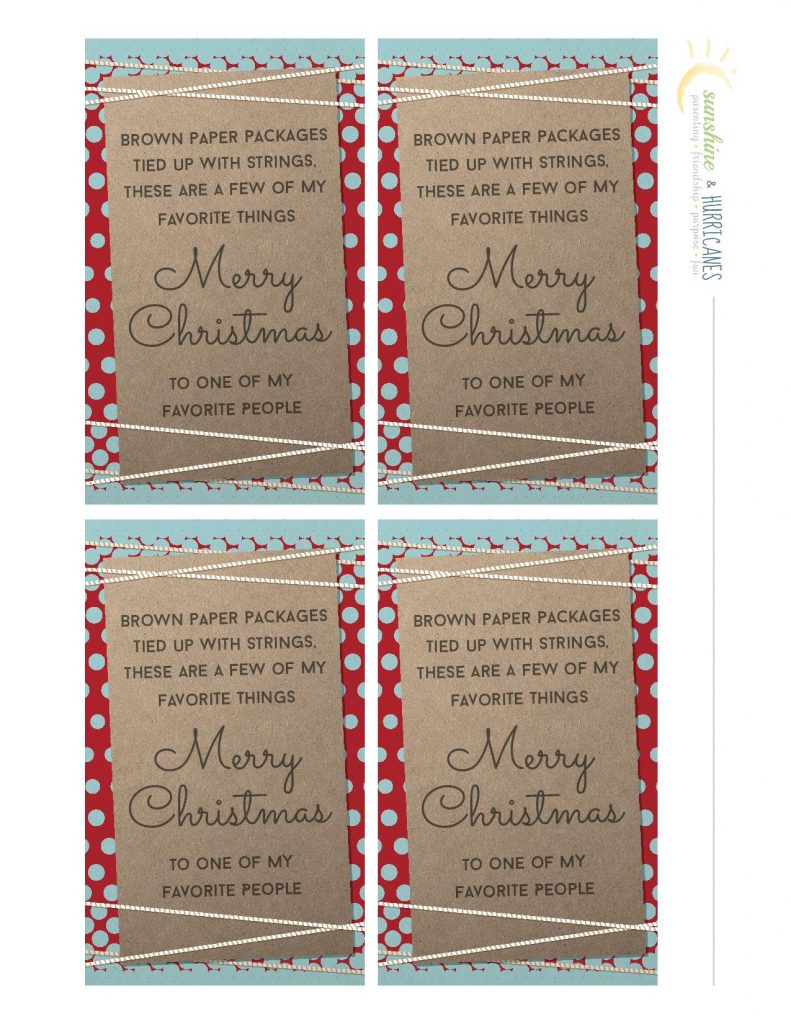 For more great gift ideas, be sure to check out our whole series 12 Days (Give or Take) of Christmas Gifts – you'll find meaningful ideas for all the important people in your life!