This post may contain affiliate links.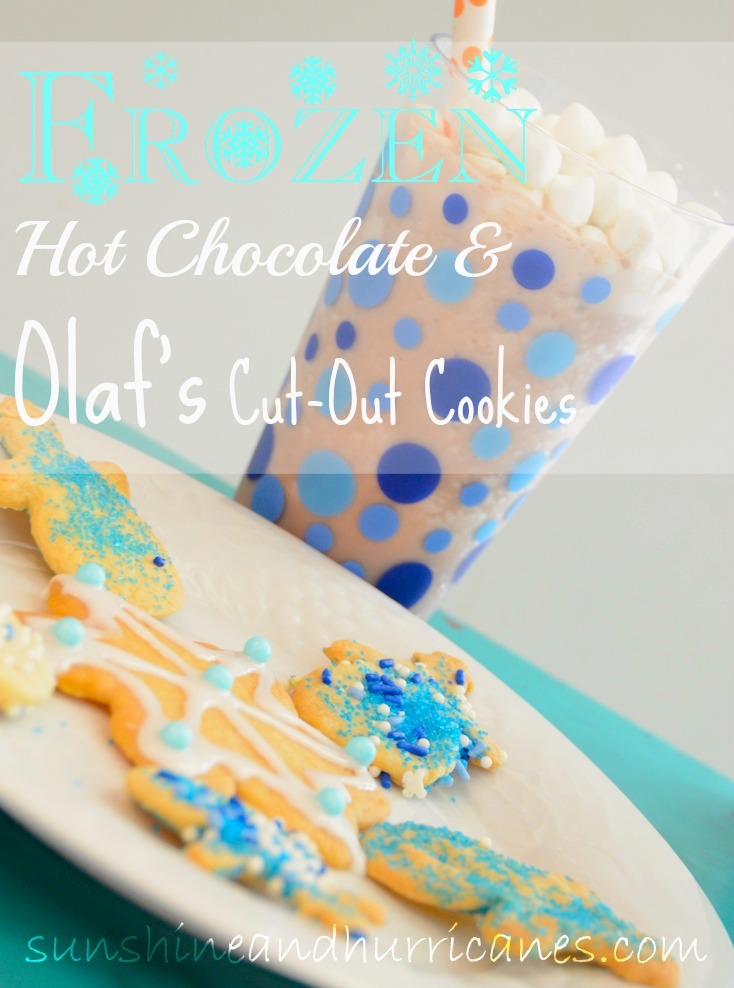 Nothing says WINTER like Hot Cocoa and Cookies, but seeing as it's SUMMER, we decided to slightly adapt the traditional take on these cold weather goodies to create some "cooler" versions for these warmer temperatures. So, today we bring you Frozen Hot Chocolate and Olaf's Cut-out Cookies.
Start with the cookies, because you want them to be ready to eat with the Frozen Hot Chocolate and they will take a bit more time. There is a recipe that has been passed down in my family for years that we use during the holidays to make cut-out cookies. It's always been my favorite and I'm including it below. HOWEVER, don't feel a bit of guilt if you want to make this SO much easier by simply using refrigerator dough you can buy pre-made at the grocery store. Any simple sugar cookie dough will work.
We picked out some perfect cookie cutters for our Olaf's Snow Day in Summer theme – Snowmen and Snowflakes. I'm guessing like us, many of you have these common cookie cutters hanging out in your house. If not, you can find them at local craft or cooking stores or even online at Amazon.com – Snowflake Cookie Cutter
and Snowman Cookie Cutter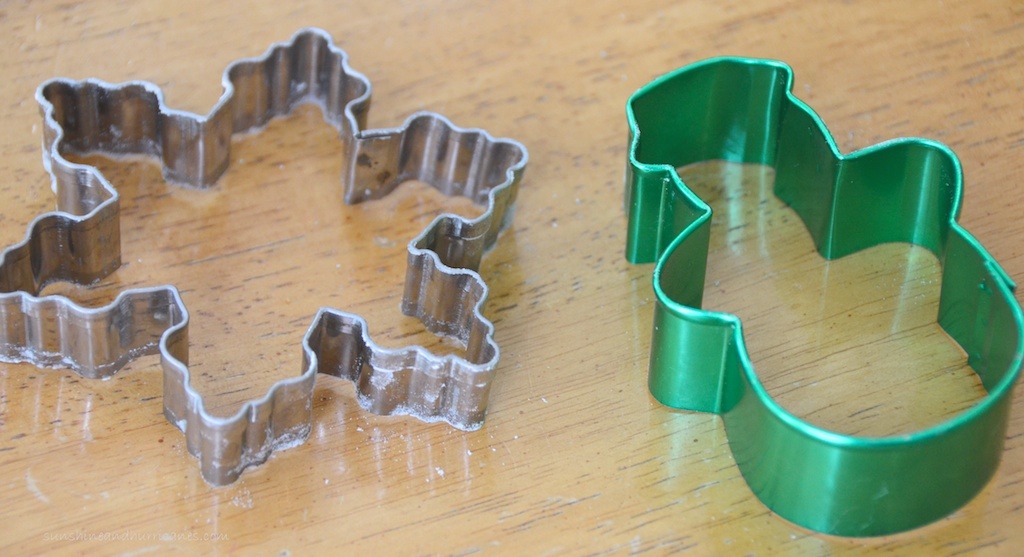 Kira's Family Cut-Out Cookie Recipe
Pre-heat the oven to 400 degrees. Then cream the following ingredients together:
1 Cup Shortening
1 1/2 Cups Sugar
2 Eggs
Next, stir in the following ingredients:
2 & 3/4 Cups Flour
1 tsp Cream of Tartar
1 tsp Baking Soda
1/2 tsp Salt
Chill the dough in the fridge for a couple of hours or even overnight.
Whether you are using this recipe or store bought store the directions are pretty much the same from here on out.
Once chilled, flour a flat surface and put a little extra on a rolling pin too and roll-out the cookie dough to be about 1/4 inch think (nice and thin basically, but not too thin that the dough breaks too easily with the cookie cutters). Press the cookie cutters gently into the dough and then slowly push down. Transfer the cut-out cookie to a cookie tray. Quick Tip: If you've got parchment paper handy, it can save a lot of clean-up time if you line the trays first.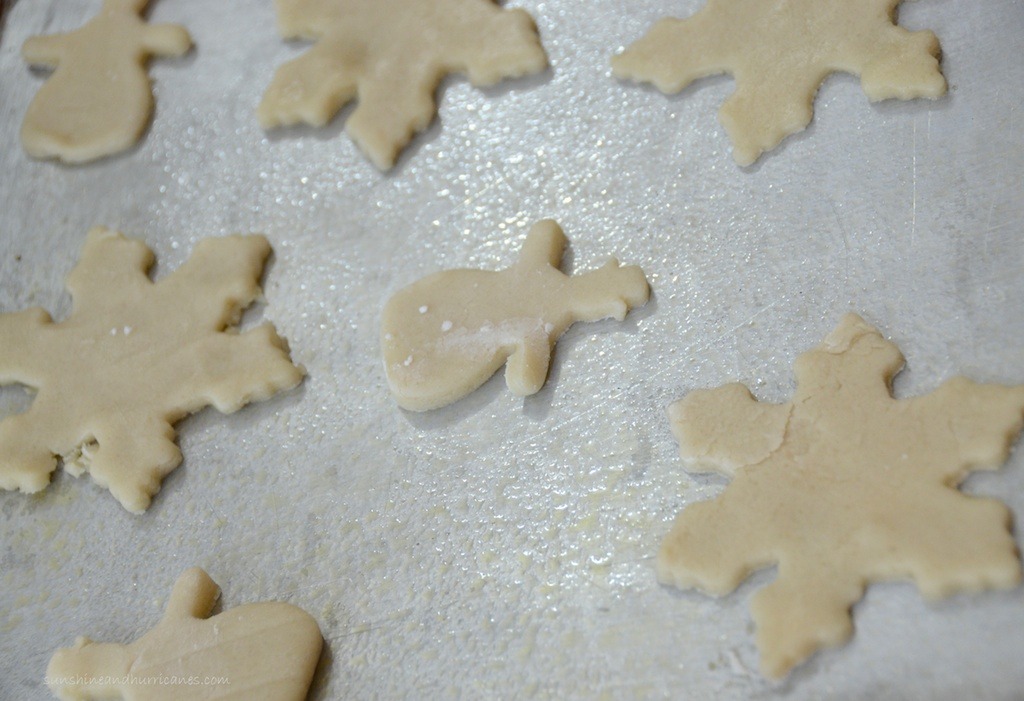 Once you've got a couple of trays full of cookies, go ahead and let the kiddos decorate them. We chose a variety of blue and white sprinkles to go with our Frozen theme. You can find these sprinkles at most grocery stores or even at Target and Wal-Mart. I even find them for a good price at stores like Home Goods if you have one near you.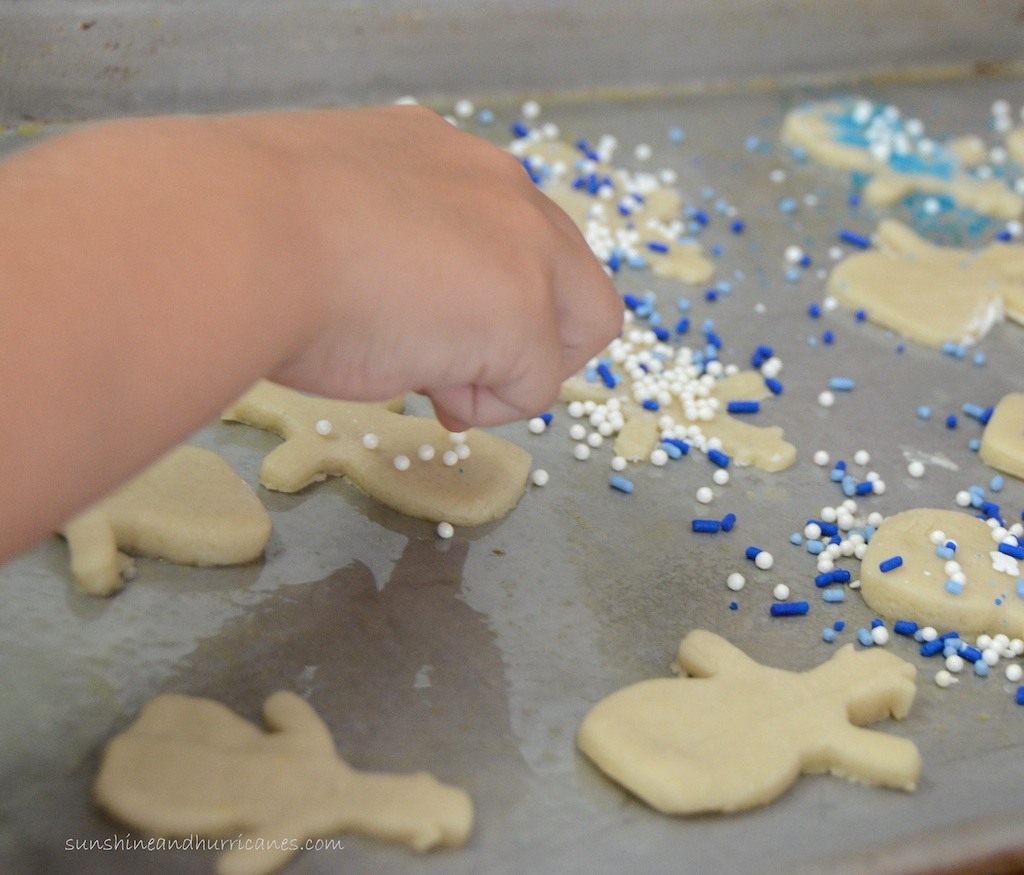 When your creative geniuses have finished their cookie art work, place the cookies in the pre-heated oven to bake for 8-10 minutes or whatever the packaged dough directions suggest. Also, if you want to leave a few plain, you can do so and then frost and decorate after they've baked.
Ta Da…the final product. Yummy. Okay, Now let those cool and get ready to make the Frozen Hot Chocolate.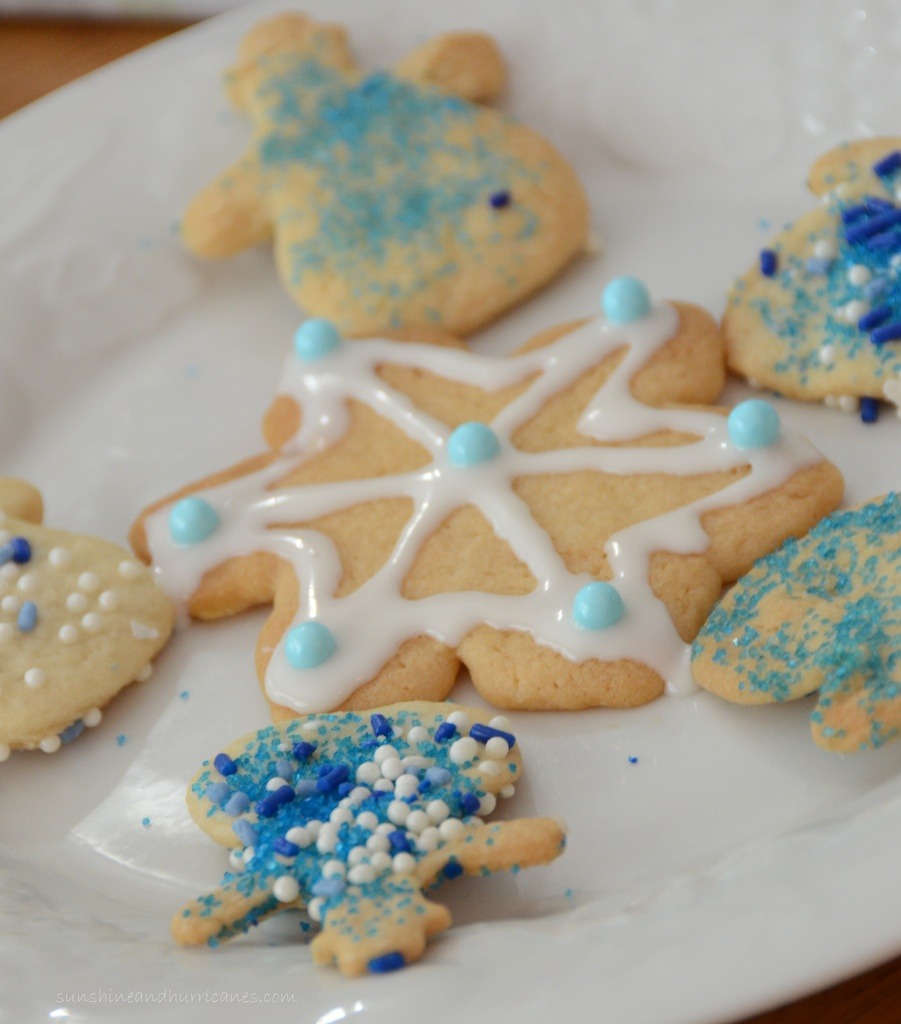 Here's what you'll need for the Frozen Hot Chocolate:
Hot Cocoa Mix (preferably a high quality mix – packets or from a can. Hershey's syrup ain't gonna cut it)
Milk
Ice
Mini- Marshmallows
A Blender
Crushed Ice
Fun Cups and Straws are a Nice to Have – We Got Ours at The Dollar Store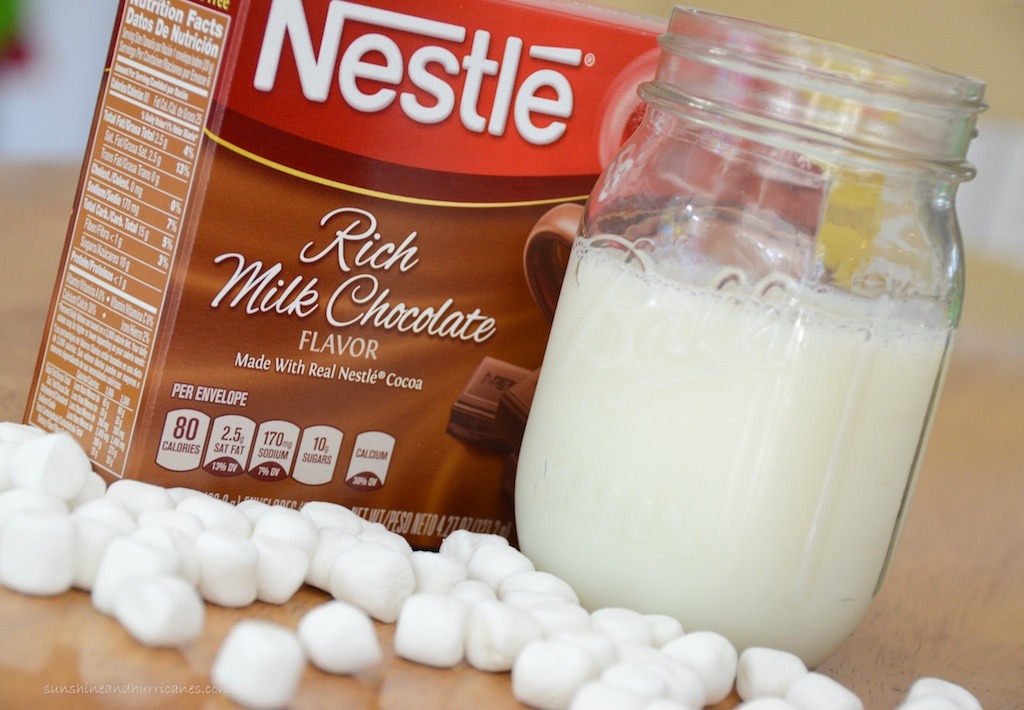 Mix together 3 packets of the hot chocolate with 6-8oz of milk (If you're using another kind of mix, you basically want to triple the amount of cocoa required to one serving of the liquid). It is easiest to mix the cocoa and the milk together in a bowl using a whisk and it will take a little more stirring than usual to get the two to combine since the milk isn't hot. You'll end up with a fairly thick syrup like mixture, which is just want you want to get a nice rich tasting final beverage.
Fill a blender with 3-4 cups of crushed ice. Pour in the hot cocoa mix and blend til smooth. Pour into a nice tall glass leaving a good amount of room at the top for marshmallows. You can also go all out and top with whip cream and sprinkles too!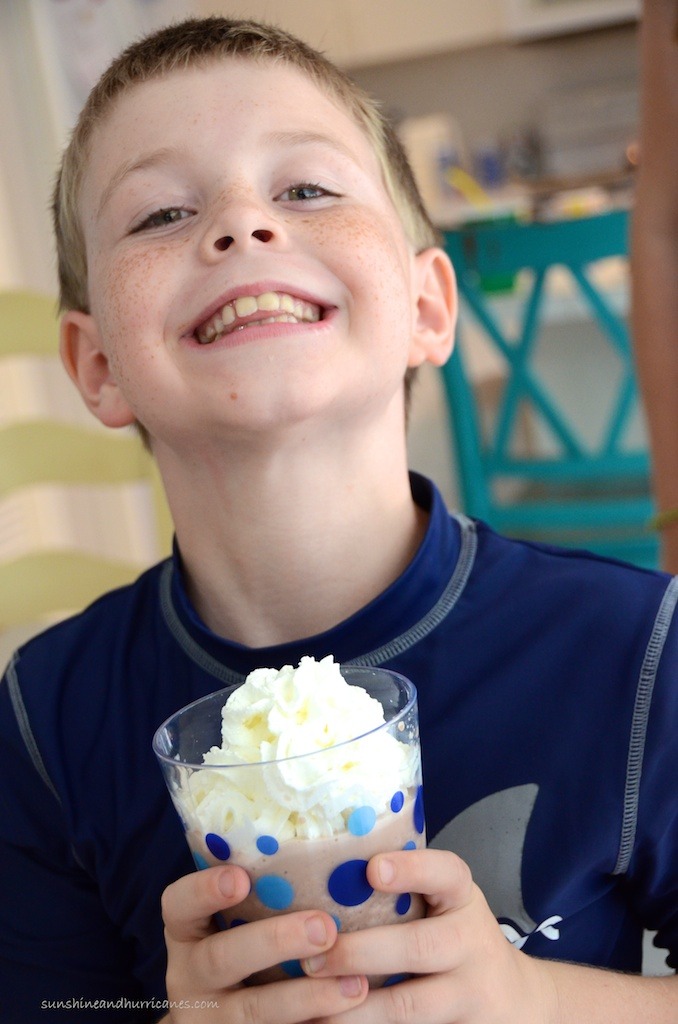 Now, while you're enjoying that Frozen Hot Chocolate and Olaf's Cut-Out Cookies, hop over and check out the other fun activities that are part of Olaf's Snow Day in Summer Week and be sure to enter our…….