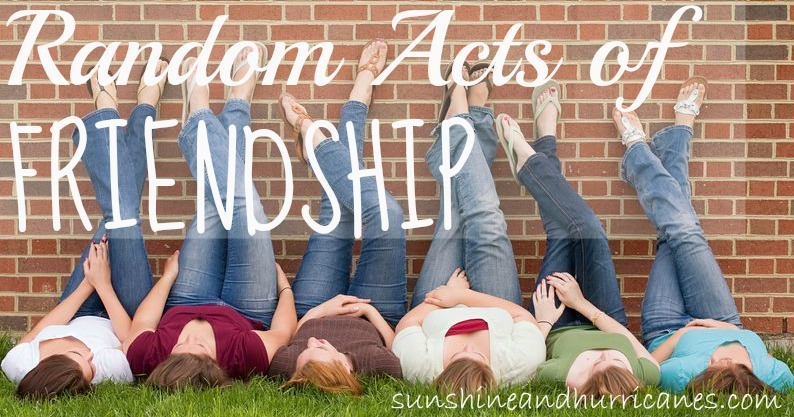 I shared in my other post today, Friendship – My Secret to Turning 40 with Joy, about my lifelong friendships with six incredible women. They have been one of the best gifts in my life, filling my days with sunshine and also helping me survive through the hurricanes.
As I have been pondering exactly how to commemorate the major milestone of turning the BIG 4-0, I considered lots of different ideas. I was inspired last year when I learned about The Birthday Project and people who perform a number of random acts of kindness that corresponds to the years of life they are celebrating. However, as my Birthday got closer and closer, a slight variation on this idea began to take shape.
To me, there are few gifts as great in life as friendship. Yet, I know in our crazy world and busy lives, maintaining friendships can be challenging. It's sad to me that I see so many people today sacrificing friendship in their attempts to keep up with our pace of life. It's gotten to the point that we often even feel GUILTY making time for something like friendship and that friendships have come to be seen almost as frivolous or secondary. The reality is FRIENDSHIP IS ESSENTIAL, to our mental health, our ability to cope, our parenting and it is a crucial piece of the foundation of our happiness. That is part of why our tag line at sunshine and hurricanes is Parenting. FRIENDSHIP. Purpose. Fun. We can't ignore any one of those elements in our lives and expect for things to be alright. They all work together to bring us fulfillment, contentment and success.
So, I decided I wanted to celebrate my 40th Birthday, by celebrating friendship. Instead of 40 acts of Random Kindness, I am hoping to inspire 40 Acts of Friendship in the next 40 days. That doesn't mean we all have to do 40!! Lets just try together to reach 40 in total, OR MORE, I'm aiming for more. I'll list some ideas below and I am challenging you to go out in the coming weeks and at least do one of these random acts of friendship. When you do, come back and tell Michelle and I and all the rest of the Sunshine and Hurricane community about in the comments. Lets share our stories and inspire others to put friendship back on the priority list, and better yet, somewhere near the top.
Wait…Im not stopping there, this is 40, a girl's gotta dream big!! Since Michelle and I formed Sunshine and Hurricanes as a result of our friendship, and since we made it one of our four focus areas, we want to expand the friendship circle here to go beyond the story of just our friendship. We want to hear YOUR stories and we want to SHARE them with others. If you would like to have your friendship story featured here at sunshine and hurricanes, here are the details:
1. Email us your friendship story in 500 words or less to sunandhurricanes@gmail.com
(please put "Friendship" in the subject line of the email so we know to open it right away!)
2. Include a picture (make sure anyone else in the picture knows you are doing this, just so you all stay friends)
That's it!!!! If we select your story, we will notify you before it publishes so you have plenty of time to tell people. 😉 My goal, since this is in honor of my 40th Birthday, is that we will get enough submissions to fill the next 40 weeks with at least one story per week.
Thank you all for being part of our community here at Sunshine and Hurricanes. Michelle and I look forward to adding many more friends and their stories to our circle in the coming months and years. Now, go and connect or reconnect with a friend today and come back here to tell us all about it. I can't wait to hear!
Ideas for Random Acts of Friendship
1. Call a friend you haven't had time to talk to in awhile and that you are really missing
2. Text a friend a funny joke just to give them something to laugh about today
3. Buy a friend a cup of coffee or lunch and sit down and talk with them for a few minutes to catch up
4. Double the recipe for a dinner you are making this week and take it to a friend going through a rough time
5. Send a far away friend an e-card just to let them know how important they are to you
6. Offer to pick up a friends kids from school today so she/he can have a few extra minutes of quiet
7. Forgive a friend who made a mistake
8. Surprise a local friend by leaving a greeting card on her car "just because"
9. Bake or buy some cookies or another sweet treat and take them (or even send them) to a friend
10. Create a small photo book for a group of friends of some of your best memories and give to each friend
11. Plan a much overdue night out with a friend or group of friends
12. Donate money to a charity in the name of a lost friend
13. Apologize to a friend you may have hurt
14. Offer an hour of free babysitting to a friend who has a young child
15. Tell a friend who has always stood by your side how much she/he means to you (sometimes we forget to just say it out loud)
16. Text a friend your favorite quote or words of encouragement just to make it to the end of another day
17. Go for a walk with a friend and really listen to what is going on in their life
18. Recognize a friend's recent achievement in a meaningful way
19. Send a friend a small "eGift Card" to starbucks or amazon as a little surprise to brighten their day
20. Give a friend who really needs it a hug, a smile of encouragement a reminder that they are NOT alone