If your kids are anything like mine, by the morning of November first they will have some seriously stomach ache producing quantities of Halloween candy. Between church, school parties, extra curricular activities, Fall Festivals and let's not forget trick or treating, we'll have pounds and piles of candy at our house. There is NO WAY they could or should eat it all, so we've got some ideas for what to do with all that leftover Halloween candy.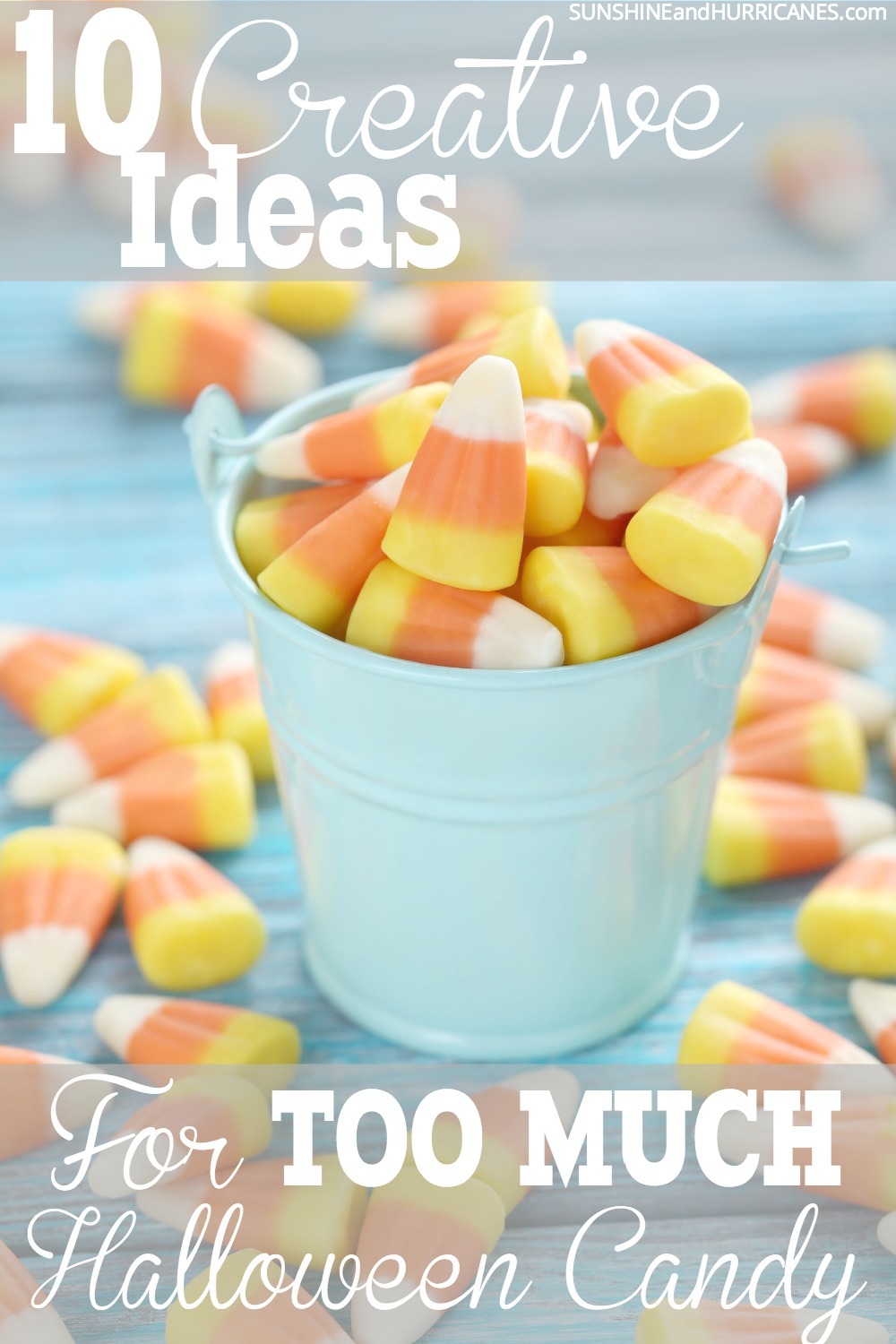 In the US, it's estimated a child consumes between 3500-7000 calories in candy alone on October 31st!
While it's fun to indulge in all the sugary fun at the holidays, there is a point where you almost feel like you're drowning in all the treats. Plus, let's be real, they aren't the only ones eating it.
So, not sure what to do with leftover Halloween candy? Here are some fun options that you might not have heard about or considered.
What to do with leftover Halloween Candy – 10 Creative Ideas
Donate:
Candy can be sent to US soldiers, you can find a list of accepted items here, along with information about where to send the packages. There is also good information about additional items if you're interested in contributing to care packages for the military. There is a list of additional donation opportunities below as well!
Baking:
The holidays are right around the corner and there are tons of yummy cookie, cake and bar recipes that call for candy in the ingredients. Have the kiddos separate the different varieties and you'll have a start on the next round of treats!
Sell It:
Many dentists will buy the candy from children and then donate it. If you check here, it will tell you the names and information of dentists in your area that participate in this program.
Trade It (AKA the Switch Witch):
Kira uses this approach with her kiddos. For 3 days, it's an all the candy they can eat policy. Then the Halloween Fairy arrives and swaps out all the remaining candy for a toy of their choosing that costs under $20. She keeps some of the candy for school lunches and desserts at home, and then yes and truly, she tosses out the rest. Otherwise, she would be eating it all.
Gingerbread Houses:
The more choices the merrier when it comes to creating these holiday houses! Round up a few friends and invite them over to sort through the stash and create gingerbread houses with your family! Another idea would be to partner up with a few parents in your child's class and organize a gingerbread house making extravaganza instead of regular holiday party!
Drop Off:
Local shelters for women and children especially appreciate candy donations around the holidays, as well as home baked goodies. A group of friends and I packaged up several little bags of candy that were placed on each child's pillow Christmas Eve.
Learning:
All those brightly covered wrappers make for some fun sorting & patterning activities! There are some great ideas right here about extending learning and some science explorations via all those Halloween treats!
Crafting:
You can create some pretty amazing things with candy wrappers: jewelry, purses, bowls and much more! There are great ideas right here and many of them would make fun holiday gifts as well!
Re-Gift:
Filling up decorated mason jars or holiday themed jars for friends, neighbors, or co-workers can be a good way to rehome that candy around the holidays…you may want to remove the obvious Halloween pieces, though. 😉
Do A Random Act of Kindness:
Make little bags or packages with thank you tags and leave them for the mail carrier, UPS driver or trash collector. Deliver to the fire or police station, set out in baskets in the waiting rooms at the hospital or the staff lunchroom. Brainstorm with your kids about people who often go without even a thank you that help your family and community, such a simple but meaningful lesson!
Ideas for Donating Leftover Halloween Candy:
Local children's homes, food pantries, soup kitchens, addiction treatment centers(often those struggling with drug or alcohol abuse use candy to help themselves through withdrawal), Operation Christmas Child, Ronald McDonald House, and local retirement centers.
It is estimated that over 250,000 pounds of candy is donated each year vs. the 600 million pounds purchased!
Related Posts:
Raising Kids Who Serve: Spreading Kindness
Christmas Printables – Gifts, Activities, Decor and More
Family Technology Rules – Take Control of Tech Before Tech Takes Over Your Family
Do you have any other creative ideas for what to do with leftover Halloween Candy?