Do you find packing a school lunch for your children overwhelming? Looking for some ways to make it quick, easy, healthy and even stress free? Yep, it's possible and we'll show you how! We've got all the lunch box ideas covered to help you become a lunch packing professional. This time consuming chore will be a problem no more.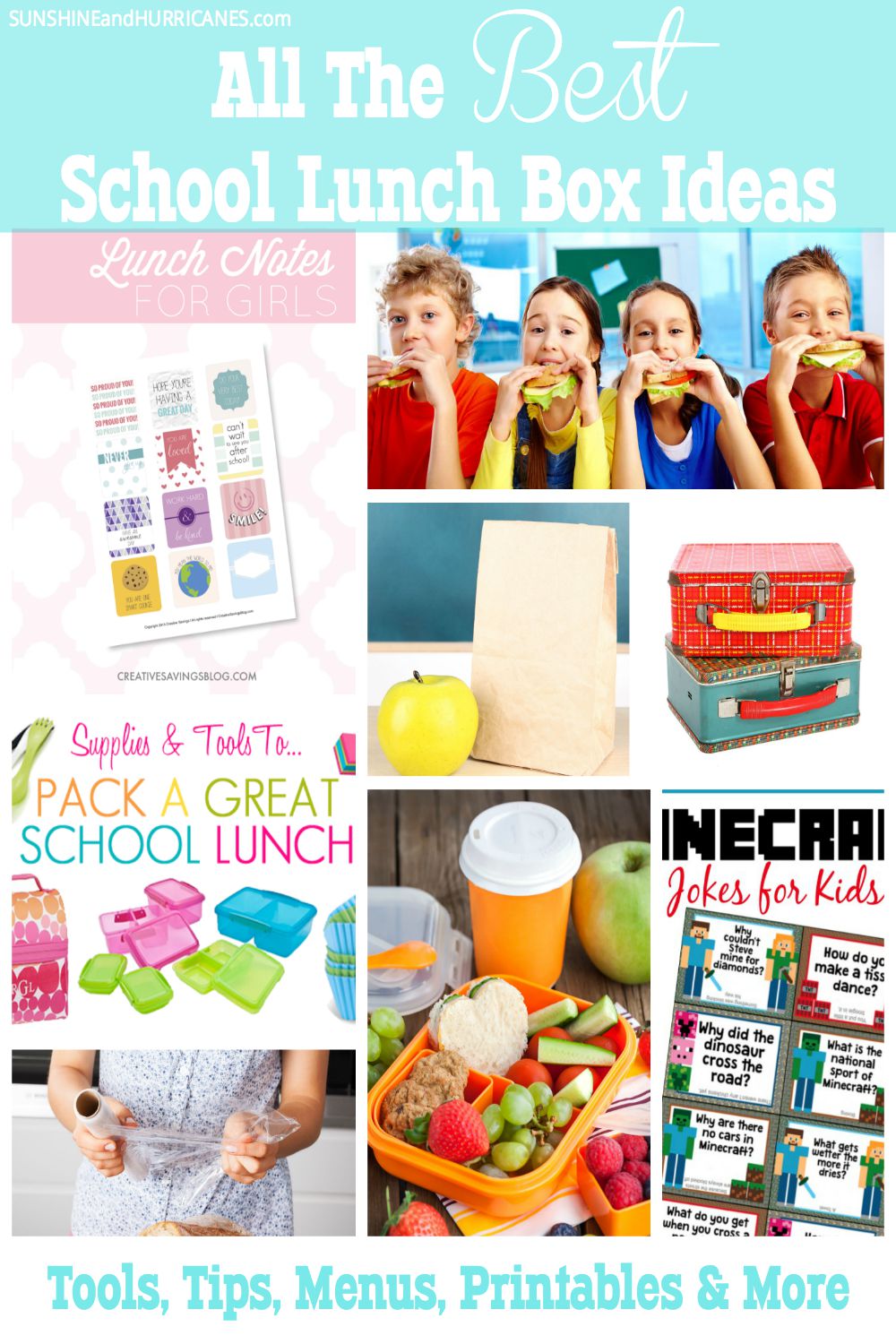 Lunch Box Ideas – Best Lunch Boxes, Containers and Other Gear
Armed and Ready to Make School Lunches – All our favorite basics for making school lunches. Lunch bags that last (and won't smell), reusable containers, water bottles and more. All you need to get lunch made and maybe even save a little money.
Awesome Lunch Supplies – Quirky and fun supplies to make lunch a little outside the ordinary
Lunch Box Supplies and Tools – Cute and color coordinated, if you like everything to look pretty this is for you
20 Best Lunch Boxes for Kids – If you can't find one to suit your little one here, I'm not sure what to tell ya. 😉
Lunch Box Ideas – Printables (Planners, Notes, Etc)
Printable Lunch Box Planner – A cute printable to help you plan a week of lunches ahead of time, instead of stressing out trying to pull things together at the last minute.
Free Printable Lunch Box Notes for Kids and Husbands – Super adorable printable lunch box notes to remind the special people in your life how much you care.
Printable Lunch Box Jokes – Give your kids a little giggle, even if you're not right there.
Printable Lunch Box Notes for the WHOLE Year – Every holiday is covered here with a variety of notes your kids will love. It's always fun to celebrate!
Minecraft Printables – Are your kids as crazy about Minecraft as mine? If so, then these will make you the coolest mom ever!
Lunch Box Ideas – Helping Kids Make Their Own Lunch
Teaching Kids to Make Their Own School Lunch – Moms, making school lunch doesn't all have to be on you. Even kids as young as five can help and older kids should be packing their own. These are important life skills when it comes to raising independent kids. We'll show you how it's done.
Grab and Go Snack Stashes – Create a super easy system that allows moms to do one prep for a week or longer of school lunch and then the kids can handle it all from there.
Printable for Helping Kids Plan Their Own Lunches – A great way to put the kids in charge of their own lunch in an organized, with a fun and easy approach. They've gotta learn sometime!
Simplify the Lunch Routine – A way to set-up making lunch that is intended to make it easier for mom, but could be just as easily used to create a lunch station for the kiddos to use.
My First Make My Own Lunch Printable – A great tool for kids just starting to make their own lunches.
Lunch Box Ideas – Quick & Healthy Lunch Ideas for Kids
Lunch Box Hacks – Easy School Lunch Ideas – Do you have kids that don't love sandwiches or just looking for a few really quick ways to change up the regular lunch routine. These lunch hacks are a great short-cut for moms and lunch box ideas that are sure to please even picky eaters.
Healthy, Quick and Easy School Lunch Ideas – 5 days of school lunch box ideas that go beyond the everyday sandwich and yet offer truly healthy options that are easy for mom to fix and that will be a hit with kids.
Make Ahead School Lunch Ideas – A few simple recipe ideas that you can make in batches and then store and use for lunches over time. A great way to plan in advance and save time.
Lunch Box Ideas for Grown-Ups – Many of us have to pack lunches for ourselves or a spouse. So, this bonus post is for all of you. 🙂 Kids may actually be on board with some of these as well.
Want Even MORE Great Lunch Box Ideas?
Follow Sunshine and Hurricanes 's board Kids Lunches on Pinterest.