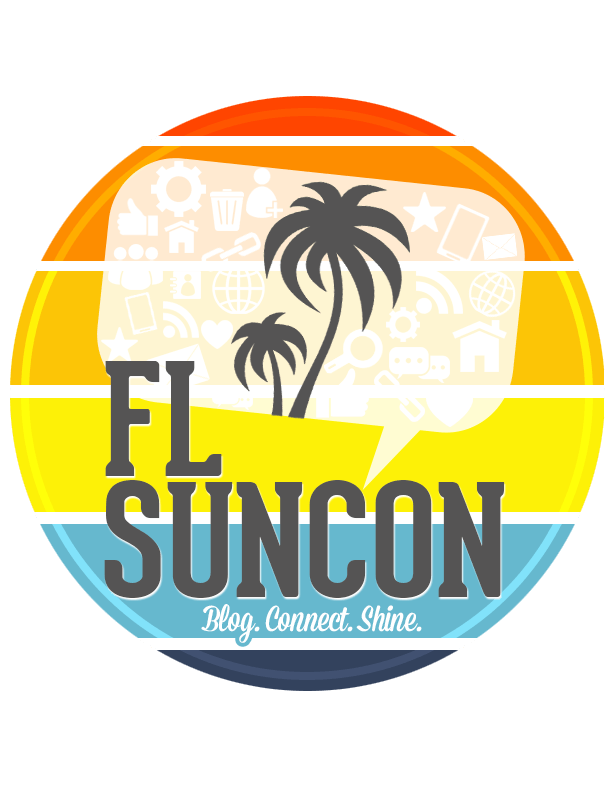 What is FloridaSunCon:
Do you feel like the blogging landscape has changed, but you're not sure what that means for your blog? Are you unsure of how to focus your efforts to grow your audience and your earnings? Do you want to not only build a blog, but a business?
Whether you answered yes to all of these questions or just one, FlSuncon will be a blogging event you don't want to miss. This one-day conference for Florida bloggers is meant to provide actionable insights and real resources to help YOU meet your goals – RIGHT AWAY!!!
We've pulled together a team of bloggers and professionals who have each excelled in specific areas and who can help you with hands-on learning. This isn't just about sitting back and listening to a bunch of people talk at you. Come and be ready to learn from and interact with the speakers and your fellow attendees.We want to make sure you leave ready to make your blog SHINE. Don't wait to sign-up, we are limiting attendance to 25 bloggers.
Website – floridasuncon.com
Follow us Facebook – facebook.com/flsuncon
Find us on Twitter -Use #flsuncon
Date: Friday, May 15th
Cost: $45 per person
Location:
Nova South Eastern University
3650 Colonial Court
Fort Myers, Florida 33913
Time: 9am-4pm
(Doors will open at 8:30 for coffee and registration)
Hosted By:
Michelle Myers, Kira Lewis, Kalyn Brooke and Mary Katherine (MK) Backstrom
Schedule & Sessions:
8:30 – Registration
(coffee, donuts, networking)
9:00 -9:30 – Welcome
9:30-10:15 – Session 1 – Social Media Forum
Moderator- Krystal Butherus of KrystalsKitsch.com
10:30 – 11:15 Session 2
1A) Building Blog Traffic: 3 Essential Strategies
Speaker: Kalyn Brooke of CreativeSavingsBlog.com
2B) Brands, Branding and Making Money
Speakers: Kira Lewis and Michelle Myers of SunshineandHurricanes.com
11:30 – 12:15 Session 3
3A) Get Kinda Famous: Expanding your Readership through Outside Publication
Mary Katherine Backstrom & Jennifer Oradat of MomBabble.com
3B) Expanding your Platform and Profits – Books, Ebooks and More
Melinda Means of MotheringFromScratch.com
12:15 – 1:00 Lunch
A Little Networking, A Little Fun, A Few Awesome Giveaways
1:00 – 1:45 Session 4
Q&A with Ruth Soukup from Living Well Spending Less
2:00 – 3:30 Session 5 – Video for blogging 101
Speakers: April O'Leary of AprilOLeary.com and Kristen Hewitt of MommyInSports.com
3:30- 4:00 Open Q&A & Networking
Click Here for Detailed Session Descriptions
Don't miss out, we only have 25 spots available. Sign-Up Here Now!!!
Overnight Accommodations
Should you need overnight accommodations for FlordiaSunCon, we've negotiated amazing rates with The Candlewood Suites, which are located right on the same campus as Nova South Eastern University!
There are three room types:
2 Double Beds $79.99
1 Queen/1 Pull-out $99.99
Queen Studio $74.99
To book your room at these rates, you need to make your reservations online using this link:
FLORIDA SUN CON