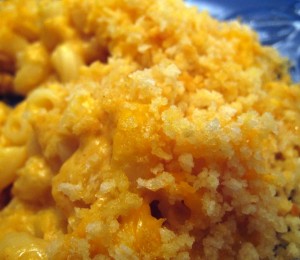 I have been waiting for the right combination of sales and coupons to come up, and the time has finally arrived. When you talk about kids favorites, I think without a doubt you will always find this one in the top five – Mac & Cheese.  I also think that it's not just kids who love it.  Despite knowing far more now than we did as kids about what exactly is in that little blue box, we can't help but devour the stuff anyway.  There is a reason it's called comfort food, whether it brings back sweet memories of childhood or just fills you up and makes you feel all warm and happy, Mac & Cheese is one food we never outgrow.  Unfortunately, nutritionally, this favorite leaves quite a bit to be desired.  Since the homemade version is typically made with cream, butter and of course lots and lots of cheese, it can be an overload of fat, calories and sodium.  Luckily, over time, many different cooks and nutritionists have taken on the challenge of giving the tried and true Mac & Cheese a much needed makeover and redeeming its reputation. You may be skeptical, but the feedback on all the different versions of this recipe were phenomenal. Give it a chance, even if you don't choose to use all the ingredients or follow the recipe exactly, you're still going to come out way ahead of the original.
Total Meal Make-Over Mac & Cheese
Ingredient prices are based on the Publix Circular starting Wed. or Thurs. depending on your location:
Ingredients:
Ronzoni Pasta 12 to 16 oz (excluding Lasagna, Jumbo Shells, Manicotti, Healthy Harvest, and Garden Delight), BOGO $1.39
$1/2 Ronzoni Smart Taste Pasta
$1/2 Ronzoni Smart Taste Pasta
$1/2 Ronzoni Quick Cook Box
$1/2 Ronzoni Quick Cooking Pasta
Sargento Shredded Cheese, 5 to 8 oz pkg, 2/4
$1/2 Sargento Shredded Cheese Manufacturer's Coupon in Winn Dixie Dairy Sale Flyer (exp 6/28/2011)
$1/1  7 oz. Sargento Classic Shredded Extra Sharp Cheddar Cheese (Redeemable only at Publix) zip 30252
$1/1 8 oz. Sargento Classic Shredded Pepper Jack Cheese (Redeemable only at Publix)zip 30252
Pompeian Imported Olive Oil, 16 oz, BOGO $5.99
$1/1 Pompeian Olive Oil
$1/1  RP 5/22
Organic Valley Organic Milk half gallon carton, 2/$7
$0.75/1 Organic Valley Milk Publix Yellow Flyer
$1/1 Organic Valley Milk Gallon or Half Gallon
Green Giant Spinach,  $1.77
$0.50/2 Green Giant Frozen Vegetables
BreakStone Low-Fat Cottage Cheese, $2
$1/1  SS 5/22
Panko Bread Crumbs, $1.59
Publix Paprika, $1.99

Publix All-Purpose Flour, $1.43
Publix Ground Nutmeg, $2.79
Directions:
Put a large pot of water on to boil. Preheat oven to 450°F. Coat an 8-inch-square (2-quart) baking dish with cooking spray. Mix 3 Tbsp breadcrumbs (plain or panko), 1 tsp oil and 1/4 tsp paprika in a small bowl. Place 1 16 oz pkg thawed frozen spinach in a fine-mesh strainer and press out excess moisture.  Heat 1 1/2 cups low-fat milk in a large saucepan over medium-high heat until hot, but not boiling. Whisk remaining 1/4 cup low-fat milk and flour in a small bowl until smooth; add to the hot milk and cook, whisking constantly, until the sauce simmers and thickens, 2 to 3 minutes. Remove from heat and stir in 2 cups extra-sharp cheddar until melted. Stir in 1 cup low-fat cottage cheese, 1/8 tsp ground nutmeg, salt and pepper to taste. Cook pasta according to pkg directions until al dente (not quite soft-it will continue to cook during baking). Drain the pasta and add the cheese sauce; mix well. Place half the pasta mixture in the baking dish, then layer with the spinach and cover with the remaining pasta. Sprinkle the breadcrumb mixture over the pasta and then bake until bubbly and golden, about 25 to 30 minutes. If you're looking for a simple side, watermelon is on sale this week at Publix for just $.49lb.
This recipe is part of my Better For You & Budget Friendly weekly meal plan. I put my meal plans together based on the weekly Publix Supermarket circular which starts Wednesday or Thursday depending on your market.  However, regardless of where you shop, the meal plan is healthy, easy on any budget and many coupons will still apply.
To stay up to date on all the latest healthy savings Subscribe or Follow me on facebook!